With Christmas round the corner, cheese board planning has taken priority over shopping for presents. I'm more interested in hearing how to move away from the classic chutney and crackers pairing, and dial my annual feast up to 11.
Christmas isn't Christmas without a show stopping cheese board, so expertly guided by cheese whiz Patrick McGuigan, my pal Sabrina and I head to Bedales in Borough Market to learn how to pair the deliciously creamy Comté with an array of interesting food.
Here's what you need for the ultimate cheese board upgrade this year:
1) Hazelnuts and honey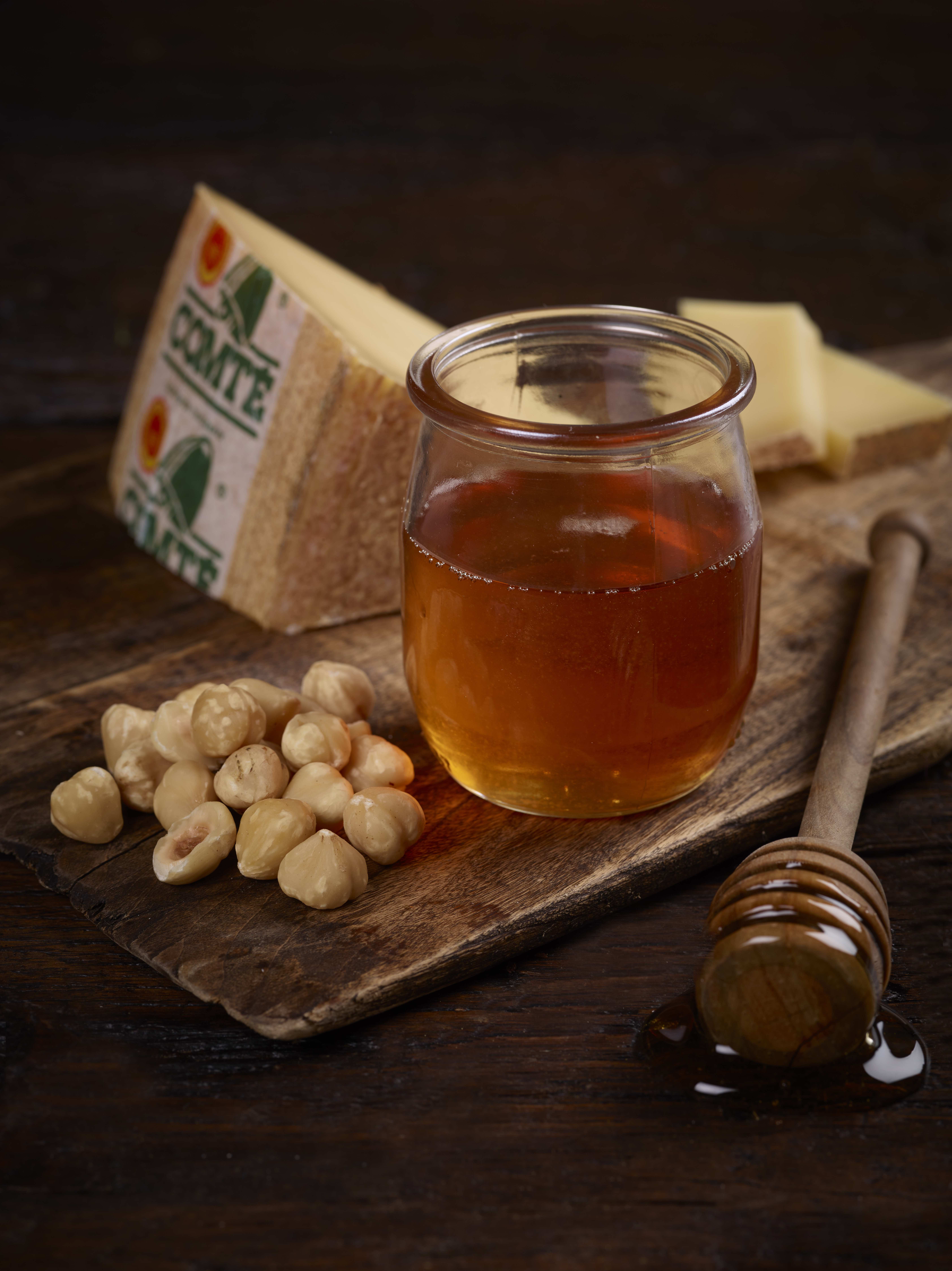 Texture plays a big role on spicing up anything you eat, but I reckon' the introduction of nuts is one I want to explore further. We paired a 9 month aged Comté with some delicious hazelnuts, generously drizzled with honey. The crunch factor is incredibly satisfying, and enhances the flavour of the cheese. What I also love is that honey is something we all usually have in the cupboard. It's a versatile alternative to chutney, and was born to be paired with cheese. I think most other unsalted nuts will be just as delicious. After all, walnuts and blue cheese are often seen together. Maybe it's time for peanuts, pine nuts, hazelnuts and almonds?
2) Cumin seeds
Here's one I would have never thought of myself, but what a revelation! Cumin has an unmistakable flavour and the earthiness brought out wonders in our 14 month aged Comté. I dipped slightly in the honey to get the seeds to stick, but when it all melts down in your mouth, there is a gentle warmth guaranteed to make you want more. Having grown up eating Indian and Pakistani food, cheese (other than Paneer) doesn't play a big role in the cuisine. The introduction of cumin seeds to my cheese board may change this for me, as I explore East meets West food further. Did someone say, Cheese Samosas?
3) Fruit cake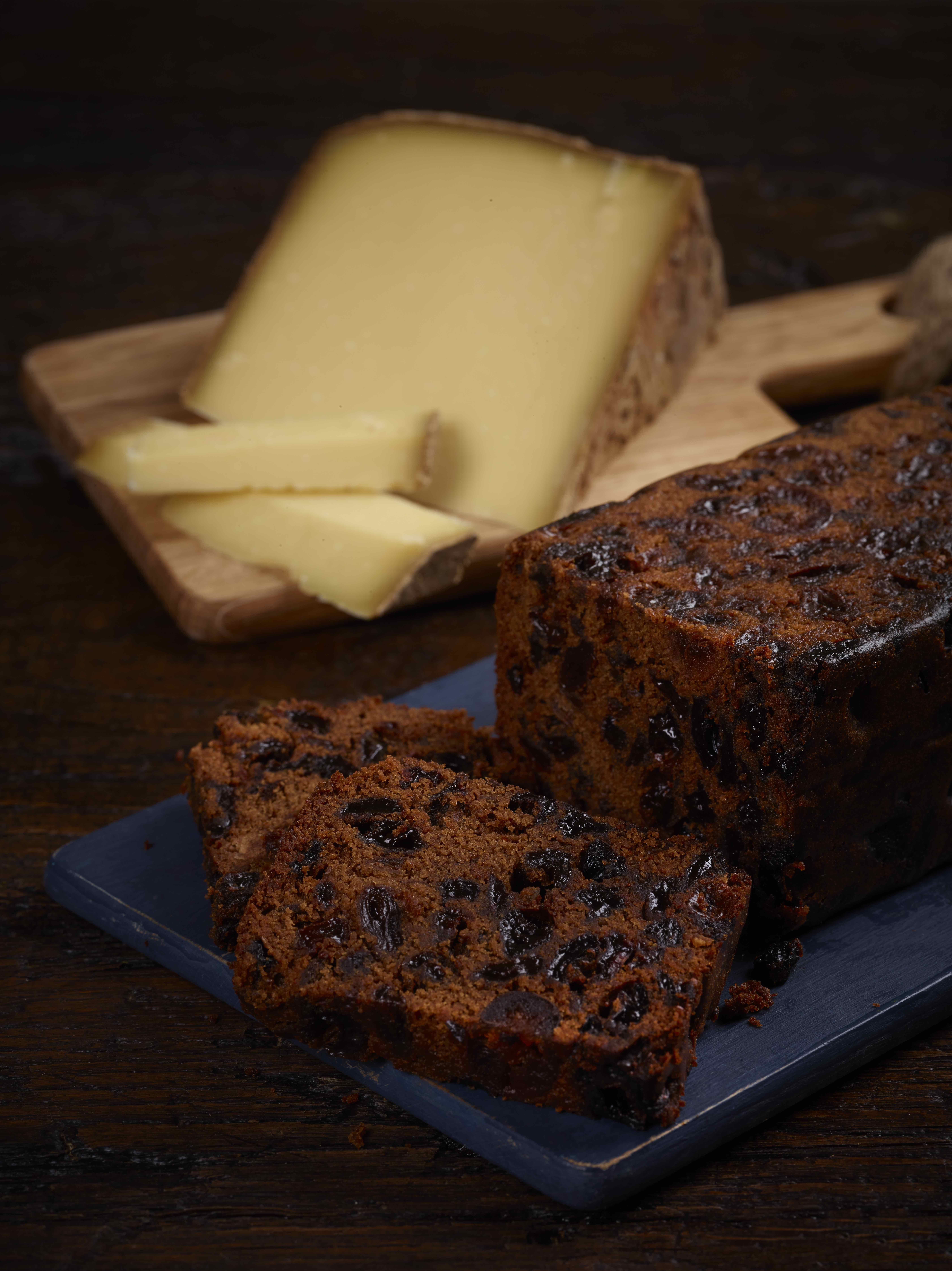 When Patrick first told us that we'd be pairing fruit cake with cheese, I must admit I raised an eyebrow. As someone who doesn't like to knock something before they've tried it, my interest was peaked. After the first mouthful with our 24 month Comté, I knew this would be something I'd recreate, time and time again. The cake takes on a velvety texture in your mouth as it melts together, and allows the flavour of the Comté to cut through without being overbearing. I honestly cannot believe I haven't tried this before. Fruit cake can be seen as a bit of a boring option, but putting it onto a cheese board livens it up in ways I did not know was possible.
4) Dark chocolate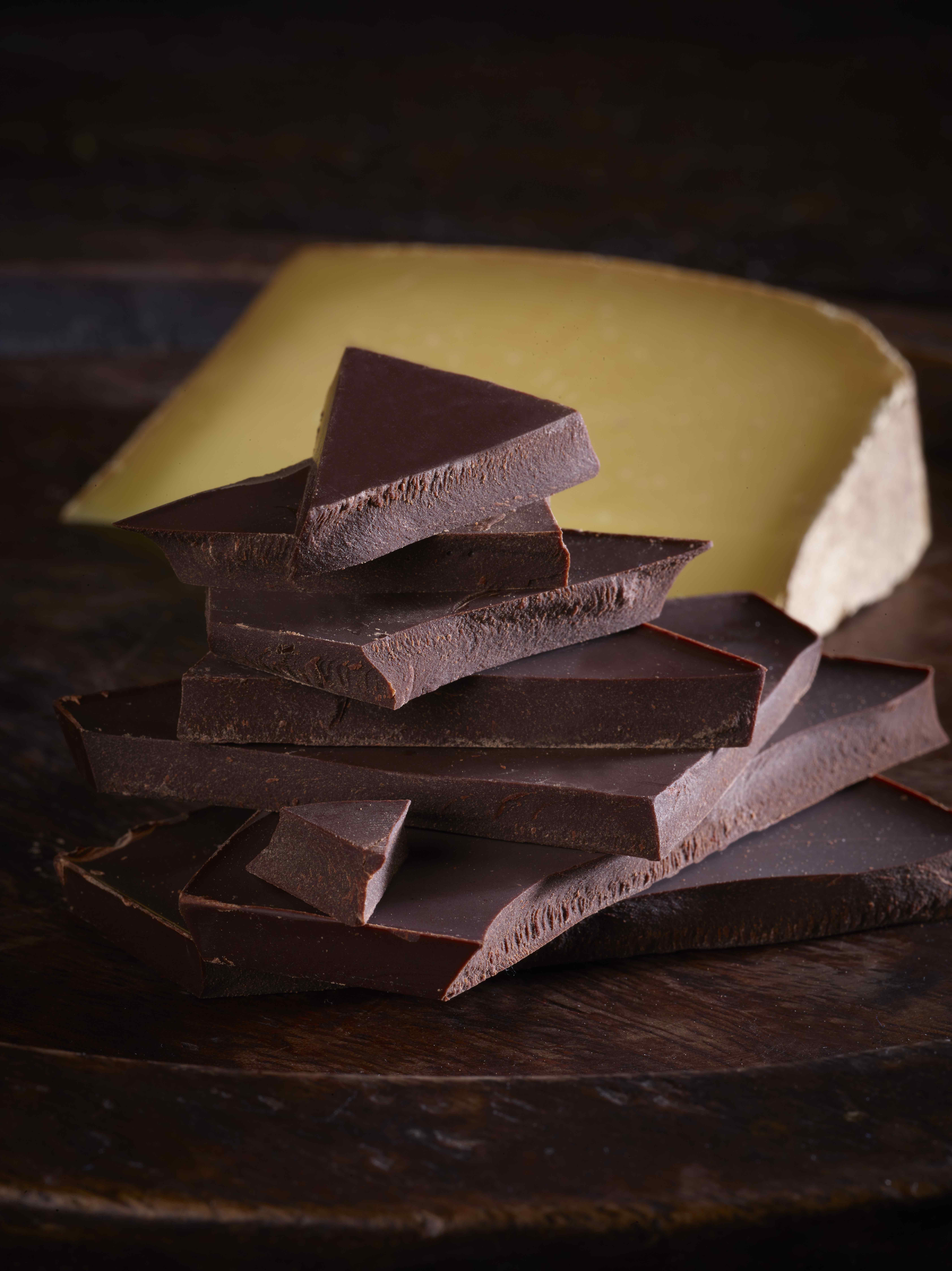 I've always loved cheese more than chocolate, but would never consider putting the two together on a cheese board. How wrong have I been? It's a match made in heaven! The darker the chocolate, the better the depth of flavour. We paired ours with 14 month Comté and the flavour is strange at first (mostly because your brain is processing the initial surprise), but once the cheese and chocolate melt into one another in your mouth, it's surprisingly satisfying.
5) Kirsch cherries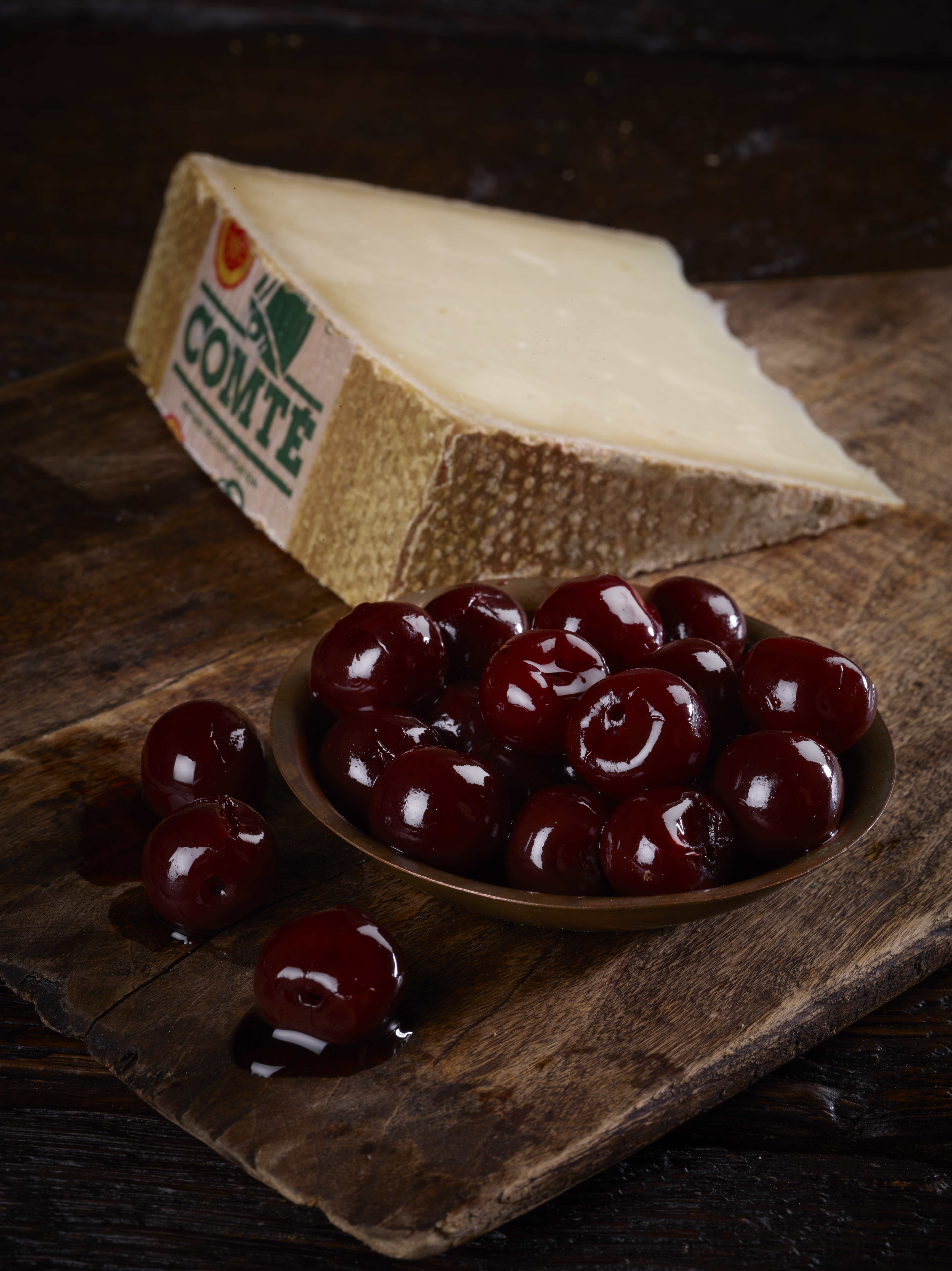 This pairing was juicy, and bursting with flavour! Infused in kirsch, the cherries were quite an overpowering accompaniment to the cheese board, but I particularly enjoyed the sweetness that followed on the tongue, and found myself coming back for more! We tried it with an 18 month Comté, and a stronger aged cheese was definitely the right choice, as anything younger could have been over powering. There's something incredibly luxurious about serving up some fine lookin' cheese with plump, deep purple cherries. I reckon' this is a pairing sure to impress if you're looking to add a touch of sophistication to your cheese board! Warning: you may find yourself eating the cherries, straight from the jar. They are addictive.
6) Pickled red cabbage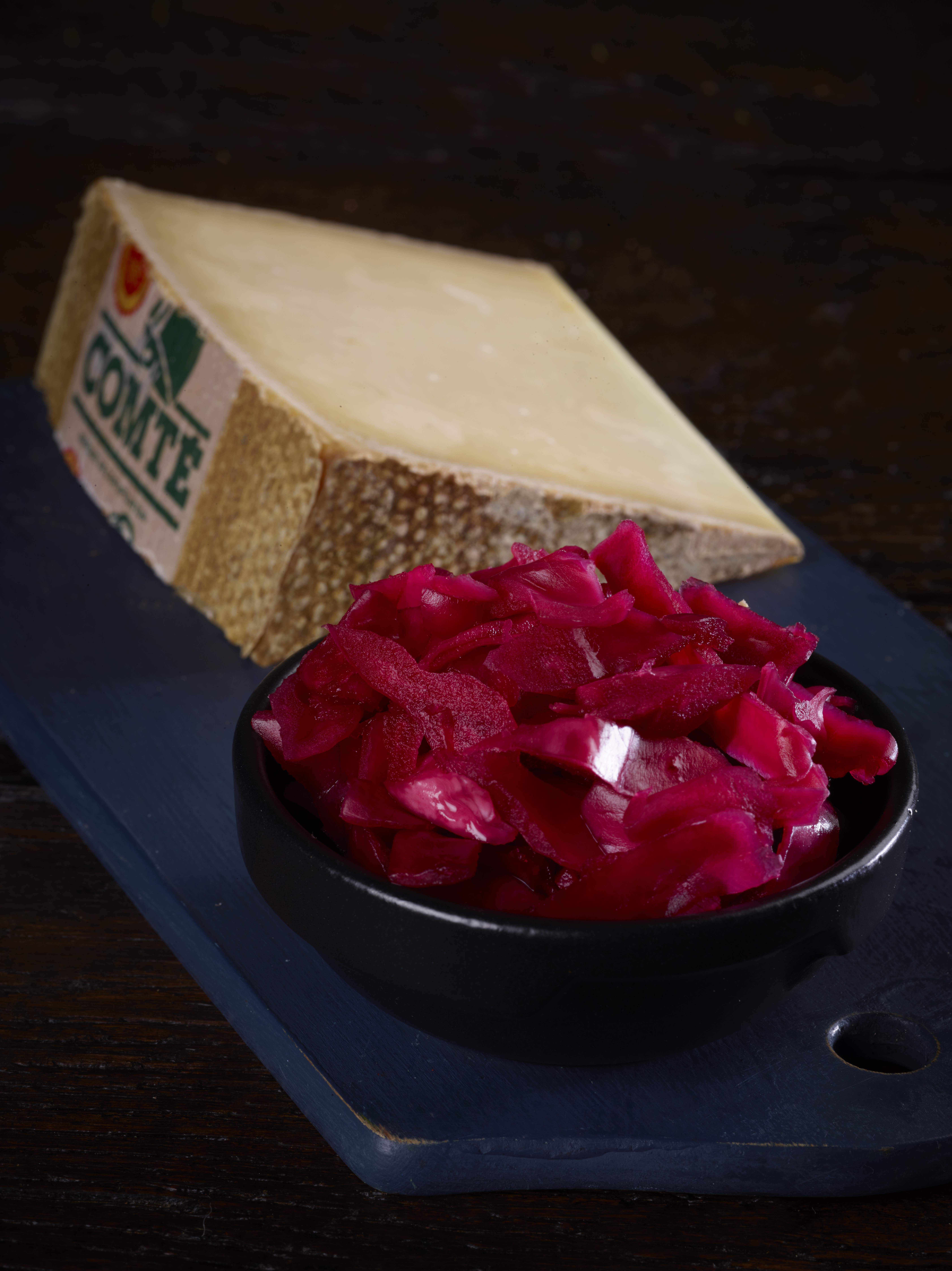 If you're craving a bit of crunch with your cheese board, look no further than cabbage! When you think about it, a classic Ploughman's lunch features pickles already, so this match isn't one that is necessarily surprising. We're not talking Branston pickle or onions where there's a sharp sweetness though. The red cabbage is more rounded in flavour and distinctly firmer, but the effect is just as satisfying… plus, it adds some gorgeous colour to your cheese board!
---
So there you have it. Six pairings sure to bring some magic to your future cheese boards! Do you think you'll move beyond the typical crackers and chutney combo this year?