Cheese Advent Calendar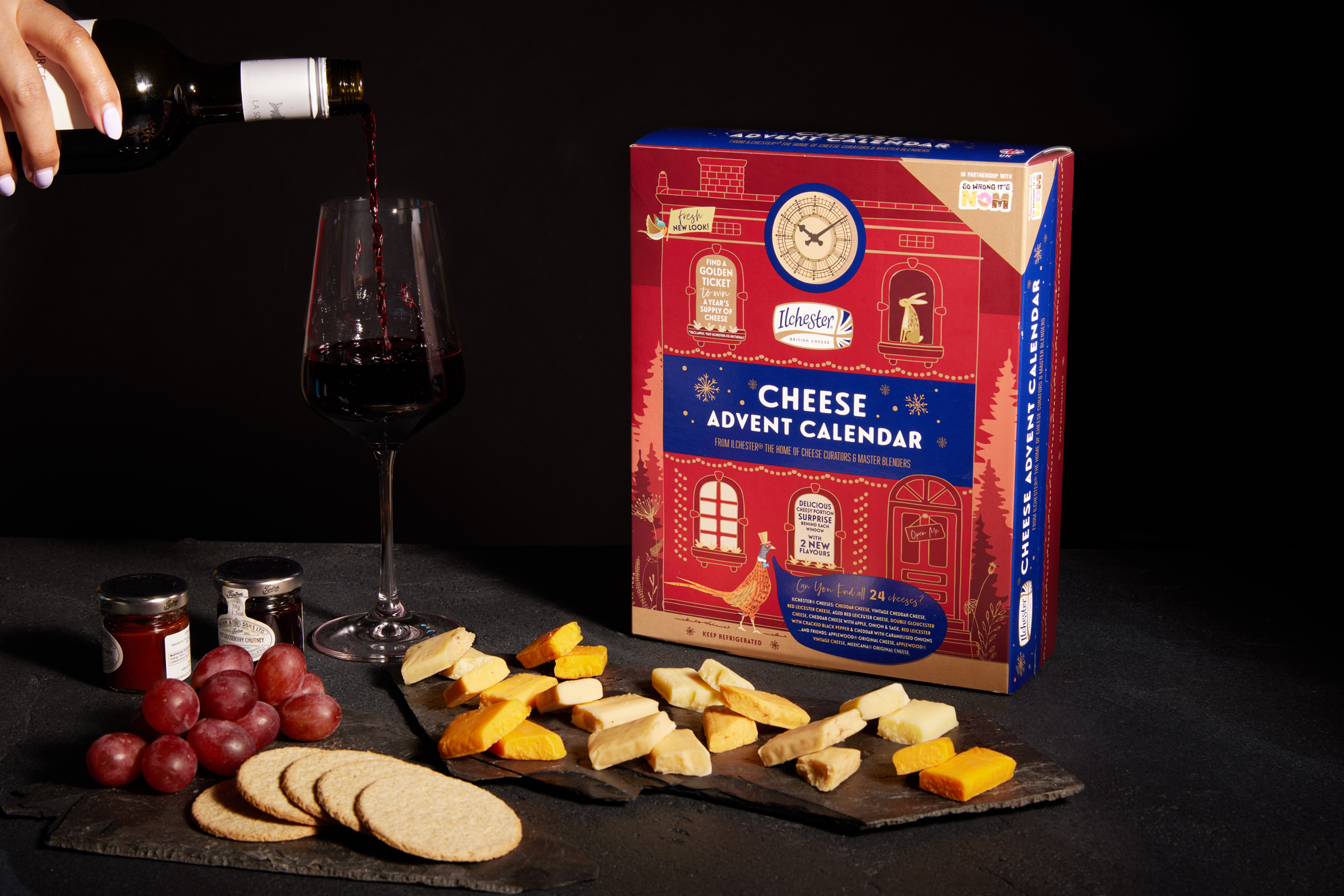 Cheese Advent Calendar 2023
Welcome, cheese lover!
Hello my name is Annem, and I'm Blogger In Chief of this blog! I'm also the inventor of the world's first ever Cheese Advent Calendar.
You can see how the original was made in the blog post, here!
Christmas 2016, I launched a campaign after creating one handmade prototype. The response was overwhelming with over 11,000 of you cheese lovers signing up to support me within 24 hours. Since then the community has continued to grow!
I'm thrilled to announce that in 2023 the Cheese Advent Calendar is BACK, with MORE varieties of cheese and a new packaging design!
We have improved the calendar and taken our previous offering of 9 varieties of cheese to a delicious 11 cheeses!
The recyclable box has also had a big glow up. When we surveyed you via the newsletter, it was clear that many of you gift the cheese advent calendar or have it as a treat for yourself – so we've tweaked the packaging to make it feel super special, with festive touches of gold standing out against a vibrant red.
We're also really proud to say, that despite inflation and rising costs around the world, it was important for us to maintain a price point that didn't compromise on quality and stayed affordable. Big up to all the people at Ilchester Cheese who worked hard on achieving this.
1) Ilchester Apple, Onion and Sage: A versatile and uniquely flavoured British cheddar, carefully blended for a well-rounded, deliciously sweet, Apple flavour, with scrumptious savoury notes from the onion and aromatic sage.
2) Applewood: A real English treasure. Made in the West Country from British cheddar and has a delicate smoky flavour and a lovely smooth texture, all finished with a dusting of paprika for good measure.
3) Applewood Vintage PDO* (Aged for 12 months): Traditional hand-turned farmhouse Cheddar and finished with a sprinkling of paprika, this creamy yellow cheese has a predominantly smoky flavour with an exquisitely smooth, rich creaminess.
4) Ilchester Mature Cheddar: This cheddar comes from the West Country, close to where Cheddar originated in the Mendip Hills. Take a bite and let the creaminess melt in your mouth, with its earthy tangy notes.
5) Ilchester Vintage PDO* Cheddar: Carefully matured in the West Country this vintage cheddar has a drier texture than standard cheddar due to the ageing process, there are sometimes crunchy calcium crystals for a surprising bite.
6) Ilchester Double Gloucester:  A hard cheese with a savoury, mellow flavour, and is famous for being the cheese that is rolled down Coopers Hill yearly, in May, for the UK's most extreme cheese race!
7) Ilchester Red Leicester: A smooth and nutty traditional English cheese, based on a classic Cheddar recipe, that will add a splash of colour to any cheese board.
8) Ilchester Aged Red Leicester: This traditional English cheese has been carefully matured for a minimum of 9 months giving it a distinguishable smooth, tangy and nutty taste.
9) Mexicana: Featuring a fiery mix of bell, jalapeño and chilli peppers, this cheese is a punchy blend of traditional British Cheddar and a secret mix of Mexican spices.
10) Ilchester Cheddar with Caramelised Onion: This delicious British cheddar infused with caramelised onions has an exquisite combination of sweet and sharp flavours throughout.
11) Ilchester Red Leicester with Black Pepper: This smooth and nutty traditional English cheese is flecked with cracked black pepper to give a delicious savoury, smooth flavour and a little bite.
*PDO (protected designation of origin) label is a type of geographical indication that means that a cheese was made in a specific region according to traditional methods.
It's on sale from November  5th in:
UK: in Sainsbury's, Lidl, Morrisons, Ocado, Booths and AmazonUK nationwide.
USA: in Sam's Club, Target, Supervalu, Sprouts, Schnucks, Meijer, Jewel, Kroger, Lidl and Publix.
Canada: in Sobeys, Farm Boy, Safeway, Federated Co-op, Save on Foods, Loblaws, Longos, Denningers, Vincenzo's and other smaller independents.
New Zealand: Countdown, New World
Sweden: ICA Maxi Supermarket
Iceland: Kronan, Netto, Hagkaup
France: Centre Leclerc
REST OF EUROPE AND OTHER COUNTRIES: I'm sorry for some of the TBC information right now, but we're working with distributors (down to the wire) and I'll have more to confirm ASAP.
Keep your eyes peeled on this page for regular updates on further countries, retailers and other key information.
As each year goes on, I have to be honest with you: I find myself continually having to pinch myself. I can't believe that an idea I had in my pyjamas back in 2015 would bring such a wonderful community of cheese lovers together. I can't believe an idea I had would make it into other countries outside of the UK.
I guess I just never thought a handmade prototype idea would come this far? I know that sounds kind of nuts, but I really didn't set out to turn this into something as big as it has become.
To get a taste of the last few years, check out this quick video of the calendar on Good Morning America, Fox News, ITV, This Morning and more. Every time I see a clip my mind is blown. Life can be crazy, hey?
This year I learned that since its store debut in 2017:
1.4 million Cheese Advent Calendars have been sold in over 17 different countries around the world. 
This is phenomenal and goes to show that not only can business ideas be born from anywhere, but importantly – what can happen when we positively show our support to people. There is absolutely no way I could have done this without you, reader. Many of the people signed up to the newsletter have followed my journey over the course of many years. So I want to take a moment to say thank you.
Thank you for sticking around.
Thank you for the positivity.
To be the first to hear everything, pop your details in the form to join the newsletter and be the first to be notified on updates!
I'm also going to be sharing the entire journey on my Instagram and TikTok. Be sure to give me a follow to ensure you keep up to speed.

---
AS FEATURED ON