Food and art seem to be merging closer in recent years. From ornate pastries, to chucking bright green matcha into everything, latte art through to brightly coloured unicorn foods. This trend has taken over my entire Instagram feed, but how exactly did it start and has it gone too far?
Rainbow foods have long been around, but with Instagram gaining huge momentum in the last 5 years, food accounts around the world are constantly seeking the next big visual spectacle to tuck into and share.
Listen back to me on BBC Hereford & Worcester discussing this further:
It's hard pinning down why we've become so obsessed with this mythical creature all over again. It's not just food and drink, but the fashion world has been hit with a flurry of golds, pinks, purples and a dash of glitter. The word 'unicorn' was appropriated around 2013 by the tech world who began using it to describe start-ups valued at more than a billion dollars. Uber, Spotify, Pinterest and Snapchat are all part of the 'unicorn' list and sometime around the same period, our obsession with using 'unicorns' in food began taking off.
A little analysis into Google trends for 'unicorn foods' shows an increase in search terms, slowly peaking in the last 5 years.

During April this year, it seems to have reached an all time high. Could this be because of Starbucks recent announcement for their Frappucino? Likely. It seems we needed a giant chain to give it a seal of approval so now I'm expecting Burger King to launch 'Unicorn Whoppers'.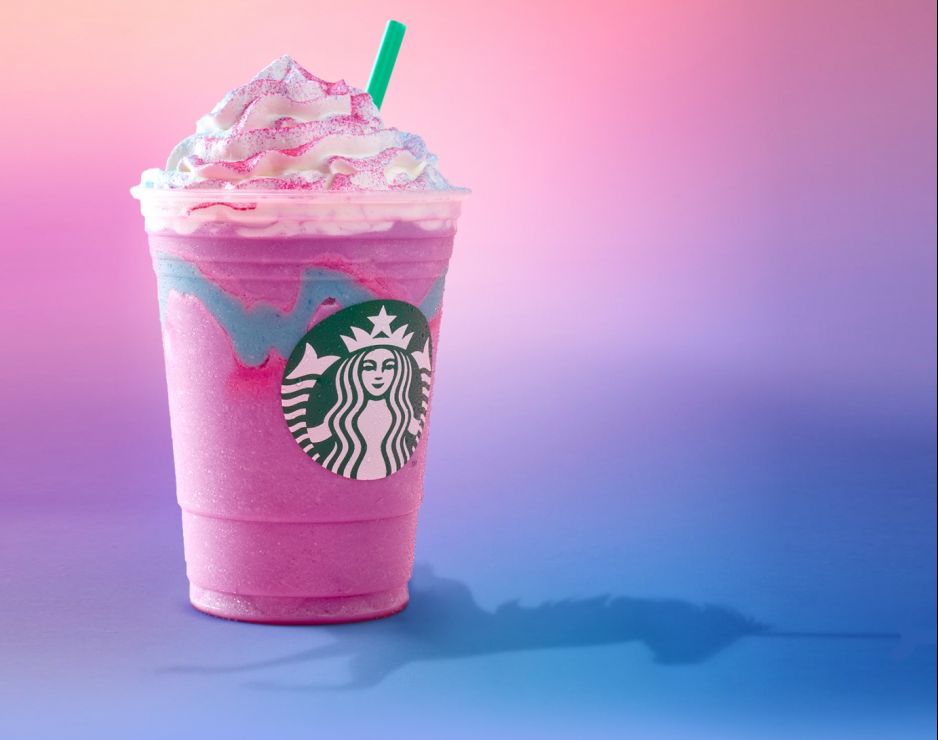 Here's our analysis of all the times unicorn food and drink has struck the interwebs. You might think it's just food colouring galore, but many people are now using beetroot juice, turmeric, and chlorophyll as a main ingredient to create the same visual effect!
Unicorn Cheese Toasties

As a big fan of cheese, I'm actually curious to try this. So long as the food colouring doesn't leave a nasty bitter flavour – what could possibly go wrong? I've long argued that cheese has the superpower of turning every meal into pure magic. Unicorn colours in a cheese toastie reaffirm this theory.
Unicorn Latte

Starbucks may have recently jumped on the coffee bandwagon, but smaller independents' had been doing for a while. Is this the bastardization of coffee? Probably, but if we have a problem against Unicorn Latte's we should probably have a problem against all the sickly white chocolate, caramel, toffee concoctions Starbucks and Costa seem so fond of around the festive period too.
Unicorn Bagels

Originally 'rainbow bagels' but of course, unicorns are much more magical aren't they? Plus, you can chuck glitter on the latter so what's not to love? The term 'rainbow bagels' is famously trademarked after they went on sale with roaring success in New York. Following this, Londoners' of course jumped on board and Brick Lane's famous Beigel Shop brightened up our day by bringing it to this side of the world. At one point they were so popular, that Beigel Shop was selling around 1,500 a day!
Unicorn Sushi

Sushi abomination or cool? I'm not quite sure how I feel about this one. Yes, it looks nice – but out of all the unicorn concoctions this is my least favourite. Good sushi is hard enough to find anyway, so I'm a fan of leaving this humble fishy delight alone. It doesn't need improving. Sushi is already a food of the gods. We all know that, so we don't need to do this people!
Pancakes get a bit boring to look at, so how about brightening up your breakfast this way? I mean it's utterly pointless, yes. We all know once you mix up all the colours of a rainbow you get brown at the end of the day, but hey – you get a solid Instagram shot out of it so why not? I'd be happy to be at the receiving end of this plate.
Unicorn Icecream
Milk Train Cafe in London did a double whammy. Not only did they add unicorn icecream to their list, but they went one step further and added candy floss. We love them. Personally, I feel Neapolitan icecream was the original master when it comes to merging all the colours. It was my favourite when I was a kid, and swirling the colours around on top of a cone was pure heaven. I can easily conclude, that if the unicorn trend can be applied to anything – it's definitely a continual winner for icecream.
Unicorn Protein Balls
These sugar free protein balls are set to add some magic to the lives of gym bunnies. Using the recipe for Sweat with Bec's peanut cookie dough balls as a base, these use vegan vanilla protein powder, peanut butter powder, beetroot powder and blue algae. Oh, and of course edible glitter. How could we forget the glitter?
Unicorn Noodles
Apparently these wild looking noodles are created simply using the magical properties of cabbage and bicarbonate soda. Kicking the myth that the unicorn food trend is full of artificial colouring straight in the balls.
If you thought unicorn was the end, you have barely scratched the surface. Behold, the mermaid toast – slowly taking over the internet, one slice at a time.
We seem obsessed with mythical creatures making an impact on our food. Game of Thrones have already inspired lots of Dragon themed Easter eggs this year. So what's next? Leprechaun? Or does that sound too much like a disease?