UPDATE! You can now register your interest for your very own cheese advent calendar in 2017! Head over to cheeseadventcalendar.com to sign up!
Cheese. I love it. I'd go as far as saying I love it more than chocolate, so why then has no one invented a CHEESE ADVENT CALENDAR?
You think this would be something that retailers had sold many times before. Something the likes of Babybel or Laughing Cow had jumped on for a Christmassy marketing gimmick – but no. I searched high and low to no avail. Upon Googling it, I did however come across lots of people asking the same question I had. Why?
Why o' why is there not a cheese advent calendar available to buy?
You can get one for perfumes, for lipsticks, for chocolate, even for pet treats. Twitter it seems was full of outrage and confusion like me: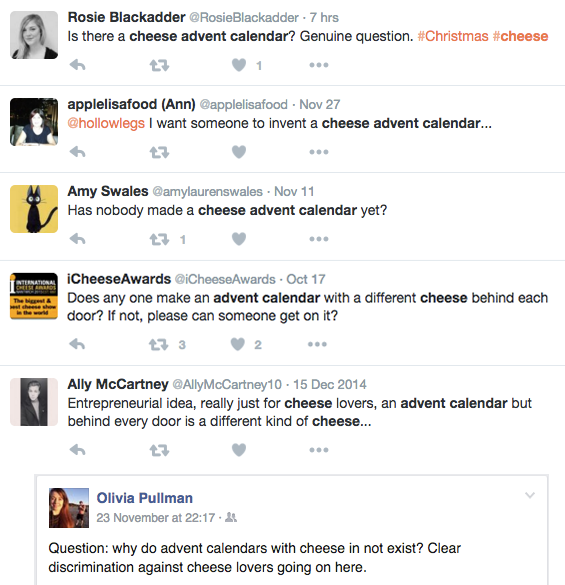 So this year, I set myself a challenge – to make Christmas 2015 as cheesy as possible, and if larger cheese companies weren't going to solve the problem, I decided to take matters into my own hands. I made my own!
Follow these simple DIY steps to make an incredible gift for yourself or for the cheese lover in your life.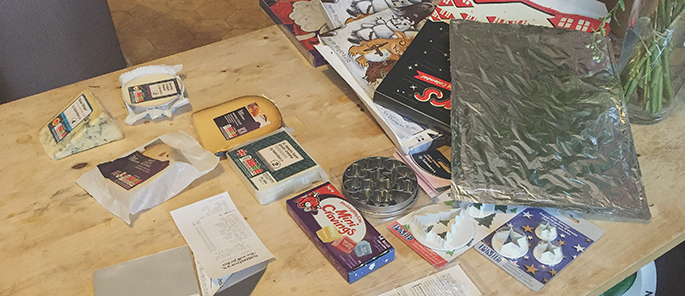 You will need:
Different kinds of cheese of course! I went for a selection of Sainsbury's best. Vintage Gouda, St. Helen's Farm Goats' Cheese, Blue Stilton, German Smoked Cheese and French Doux De Montagne.
A standard chocolate advent calendar where the plastic inside casing is large and deep enough. We tried a couple and thought the Dairy Milk one by Cadbury's was the best
Card, to re-create the box!
Glue/Sellotape
Mini cookie cutters (I got mine from Sainsbury's for £3!)
Pens/stickers and whatever else you'd like to decorate yours with
Stanley knife
Chopping board so you don't damage any surfaces using the stanley knife (safety first kids).
Cling film
Making the cheese treats
We begin by opening up the top of the chosen advent calendar and popping out the tray of chocolates, like cocoa flavoured ice cubes.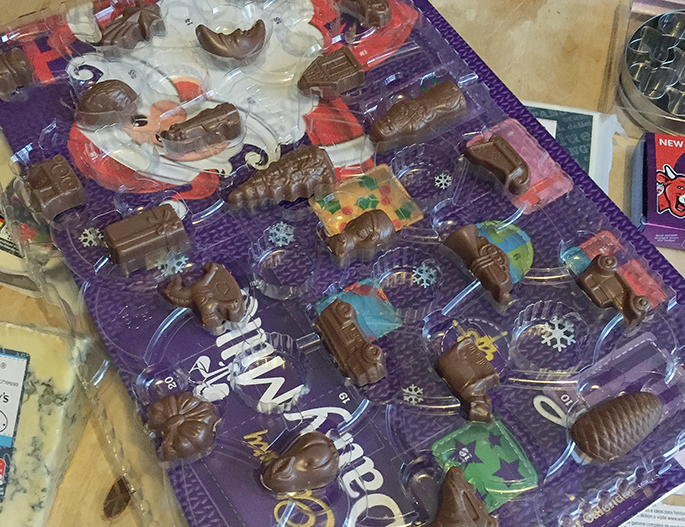 Luckily for me, these chocolate turned out to be amazingly good, and now I've got 24 days worth to get through – plus all the chocolate from the other unused advent calendars. Gaaaaah!
Start by testing out which cookie cutters fit in which mold, and so you can gauge how thick the cheese should be cut for a perfect fit.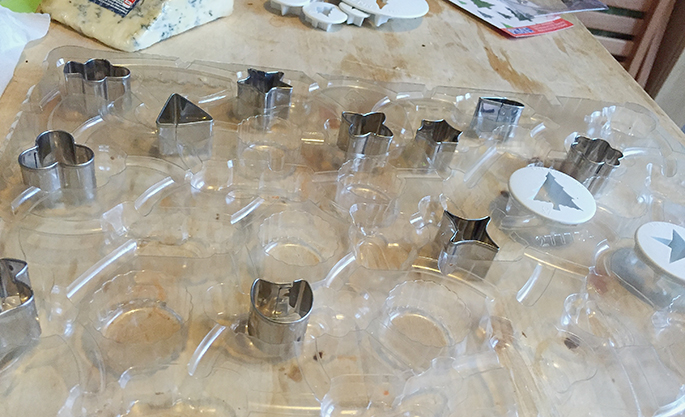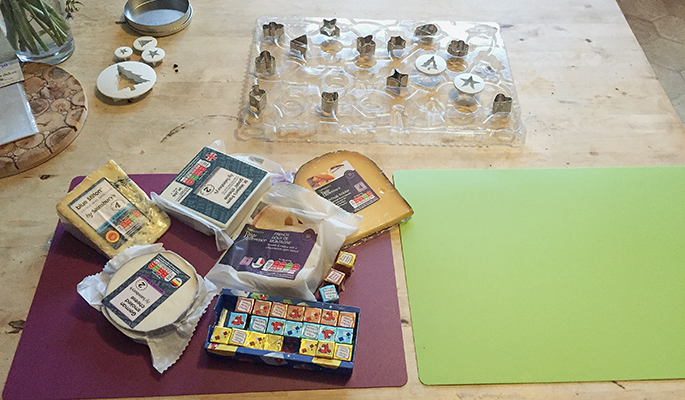 Now, how do you get cheese to stay fresh for a whole month? Well, the first thing to note is that this is obviously going to have to be an advent calendar that lives in the fridge. There are no two ways about it. Fresh cheese = fridge.
The second, make sure you choose cheese that has a long best before date. All the cheeses I purchased would not be going off till way past the 24th December.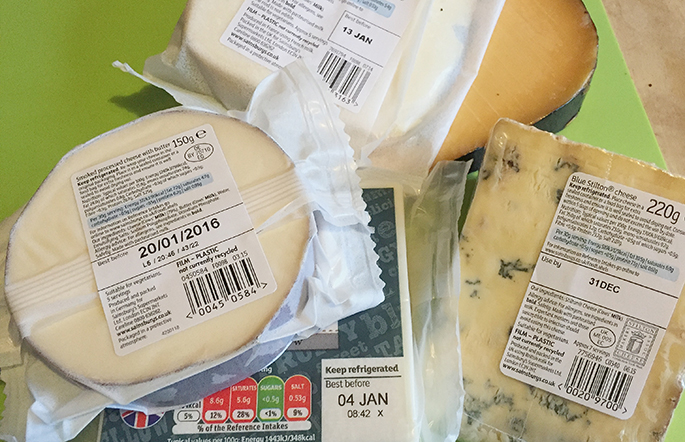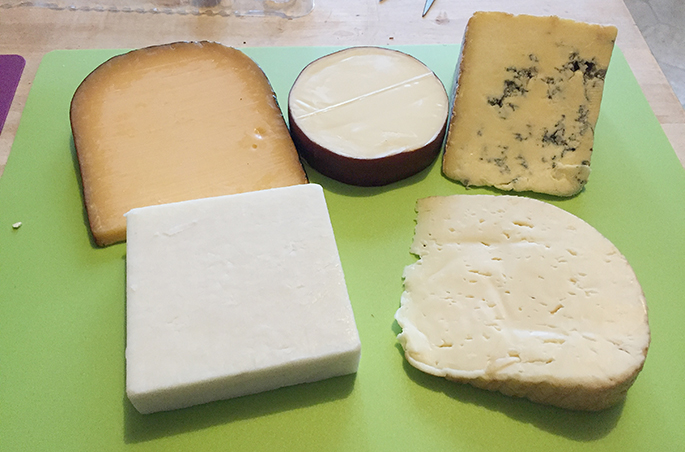 Slice the cheese into the desired depth and so that it's flat and even in size.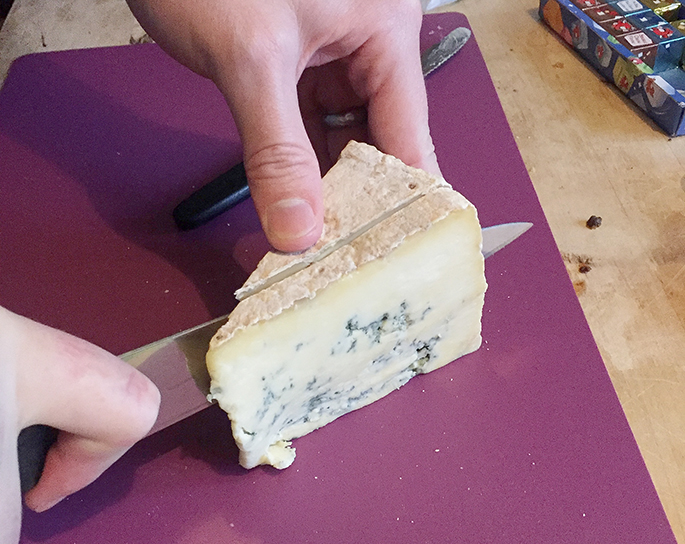 (Remember to wipe the knife in between cutting different cheese to avoid cheese cross contamination).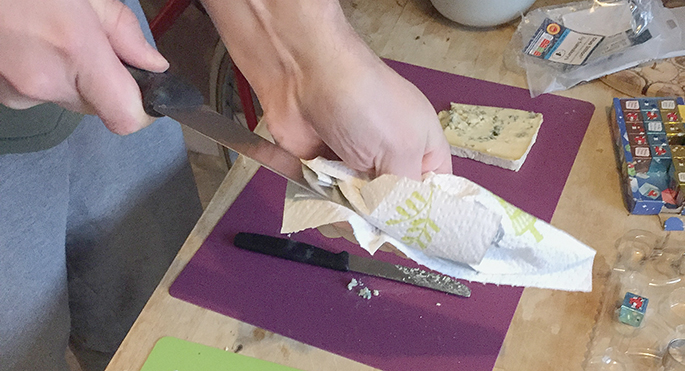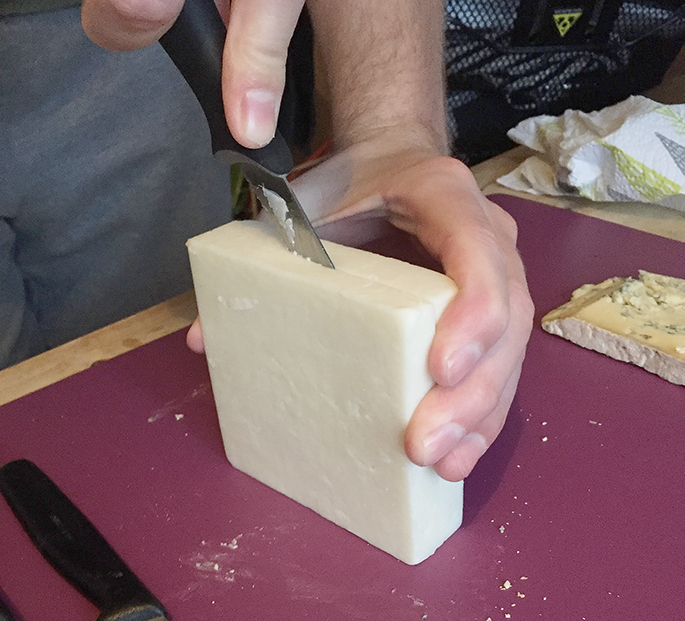 Then get cutting! Here was our first star, cut from the Goats' Cheese.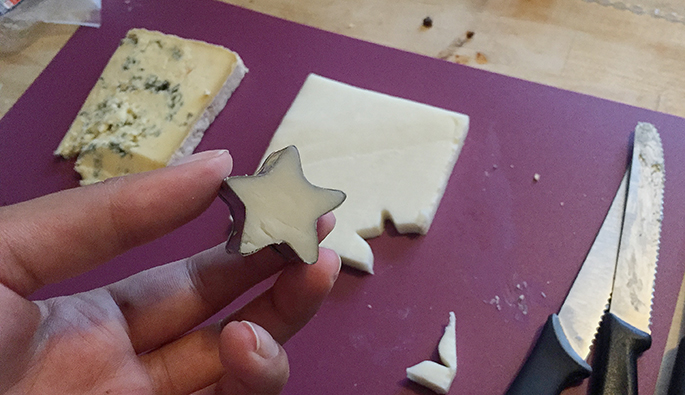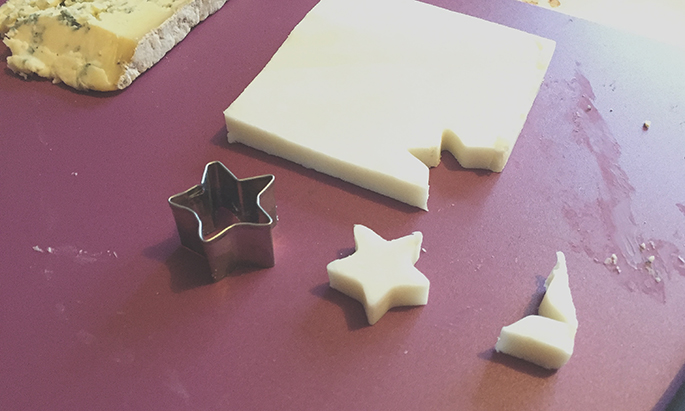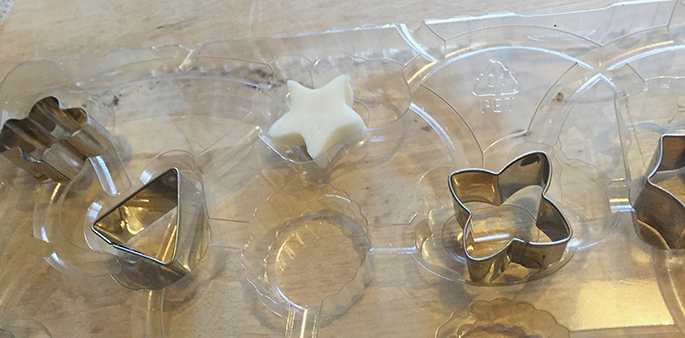 Repeat. 23 times.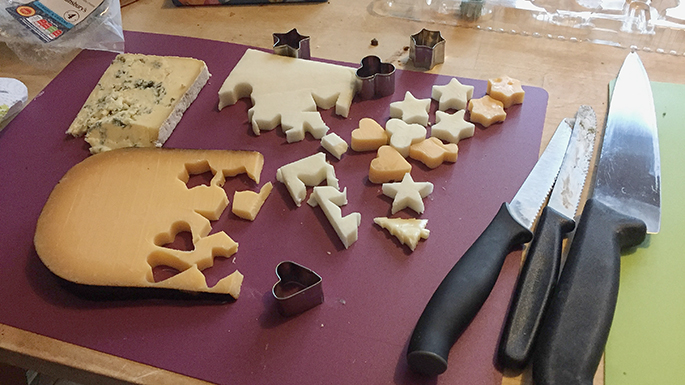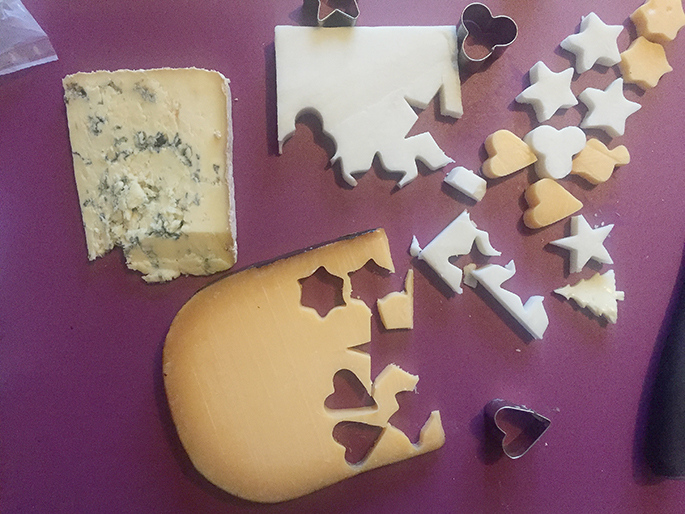 The Blue Stilton is the hardest one to mold since it's so crumbly – so give it a good squish before popping out and try a simpler shape rather than a detailed star.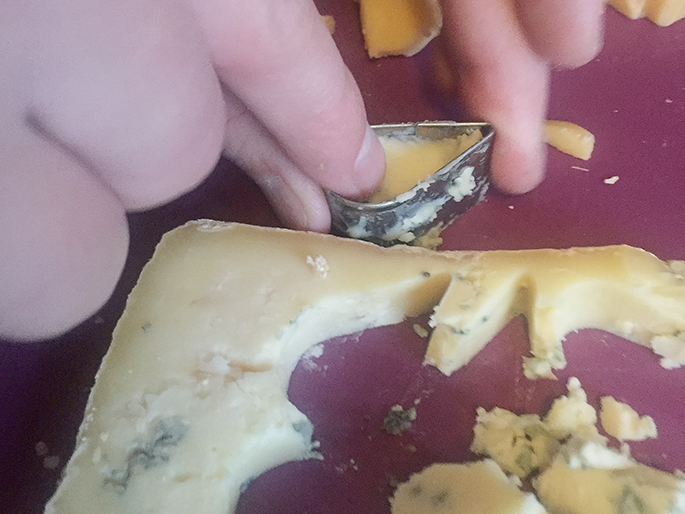 Now for the Smoked German's turn: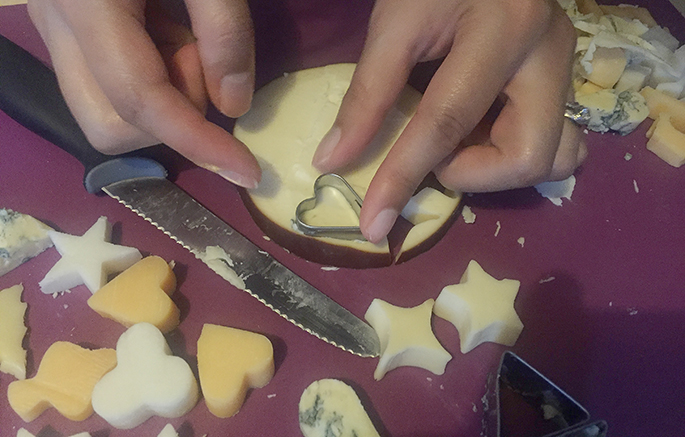 This takes a bit of a time, but there's something oddly therapeutic about cutting delicious cheese into pretty little shapes and shoving any excess into your mouth as you go along.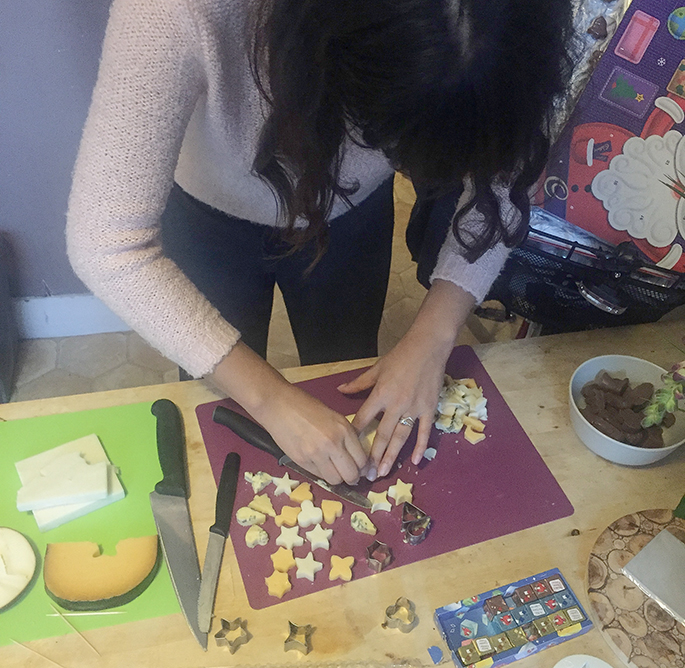 And TA-DAAAA. Here we have it. 24 (plus extras) perfectly fun looking cheese shapes, better than any chocolate selection I've ever seen.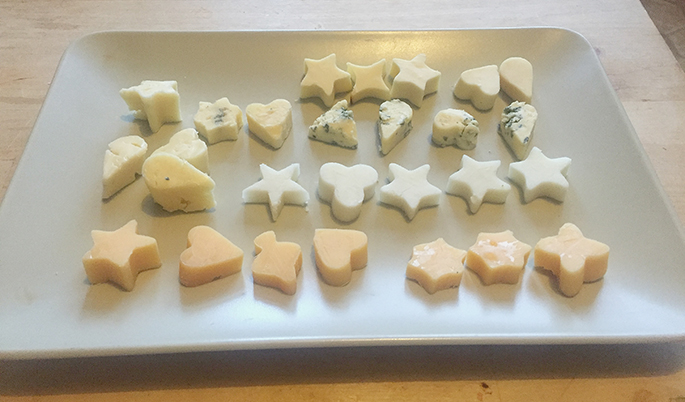 Now, here's the important part: How to keep the cheese fresh and prevent it from drying out.
Cling film to the rescue!
This where it becomes a two person job, since I always end up screwing up the cling film and getting frustrated with it for sticking onto my hand.
Cut out a strip of cling film, then cut it in half so you have lots of little quarters. Then pop a little cheese into the middle and wrap!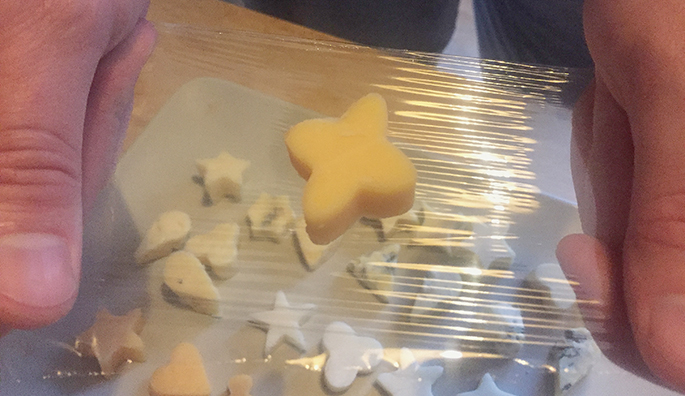 Make sure you get properly into the sides of the shapes so it's as air tight as possible.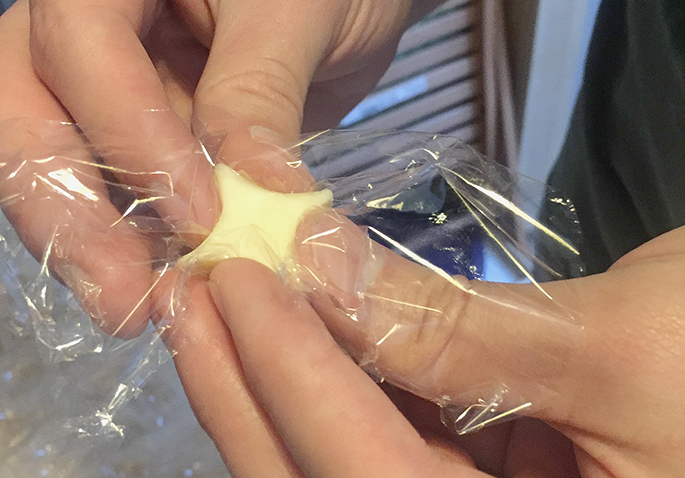 Voila. Perfectly wrapped up cheese delights.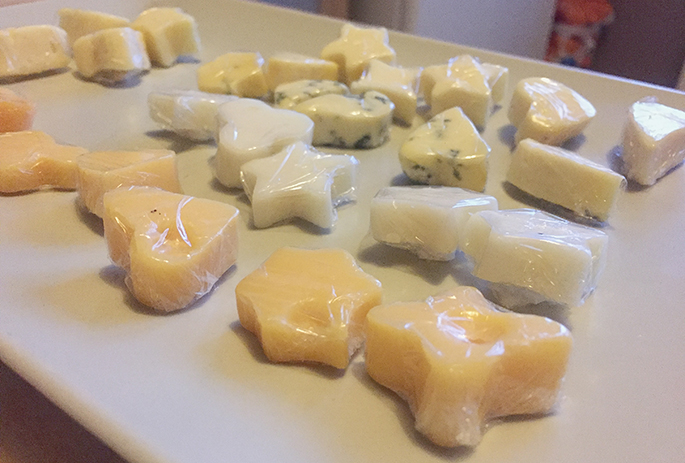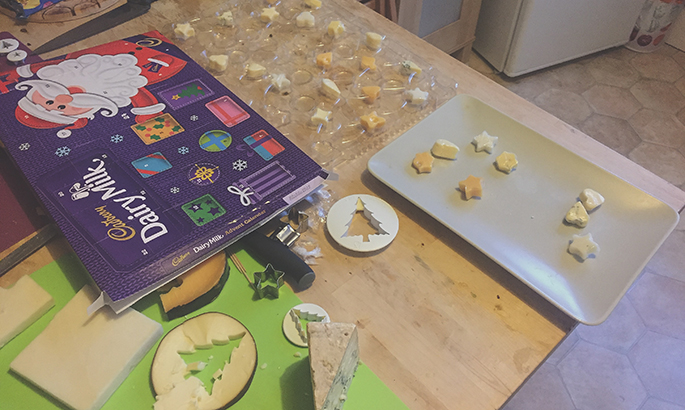 Pop the shapes back into the plastic tray, adding double cheese for Christmas Eve!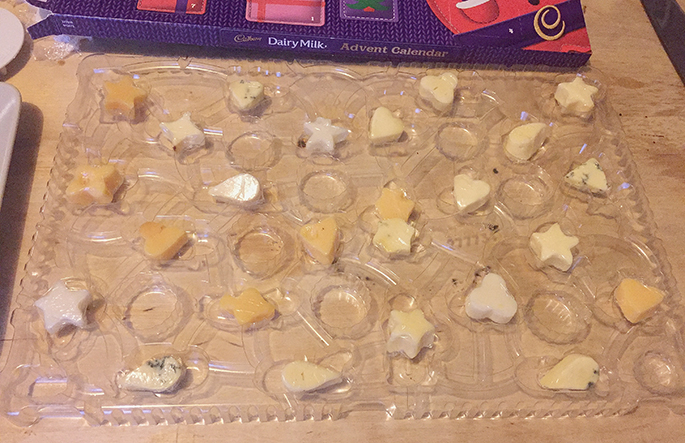 Making the cheese advent calendar box
Set the cheese aside (or in the fridge for now) and move onto the crafty part. The making of the box!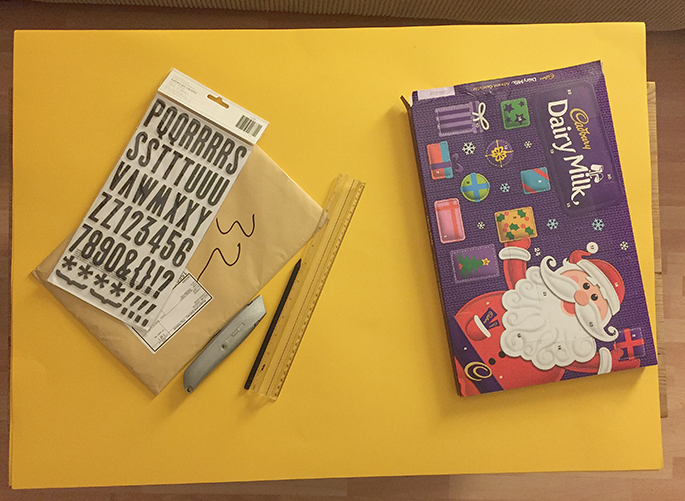 Using a stanley knife, neatly as you can open up the box where it's sealed so you can put it flat.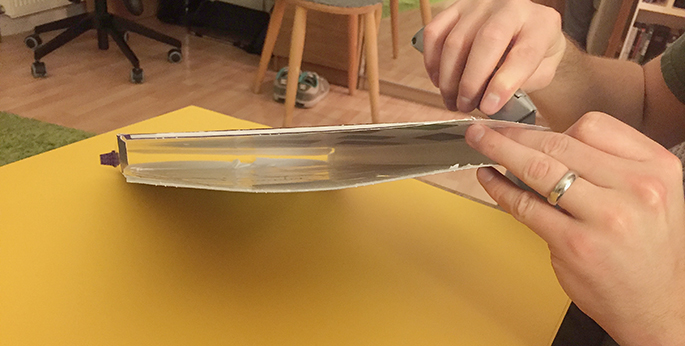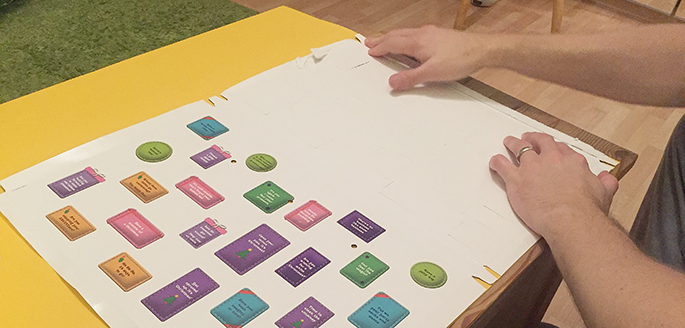 Now, making sure that it's straight and lined up – draw round the edges like so.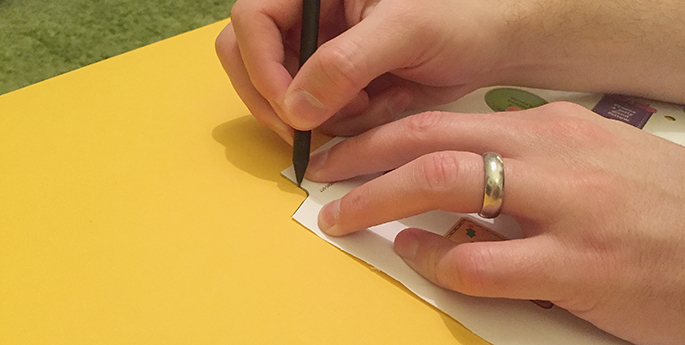 Connect all the lines where the flaps are folded.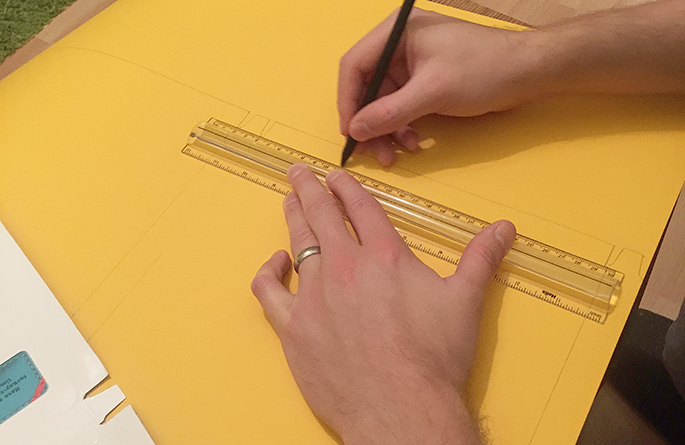 Put the template back over and draw round where the boxes go.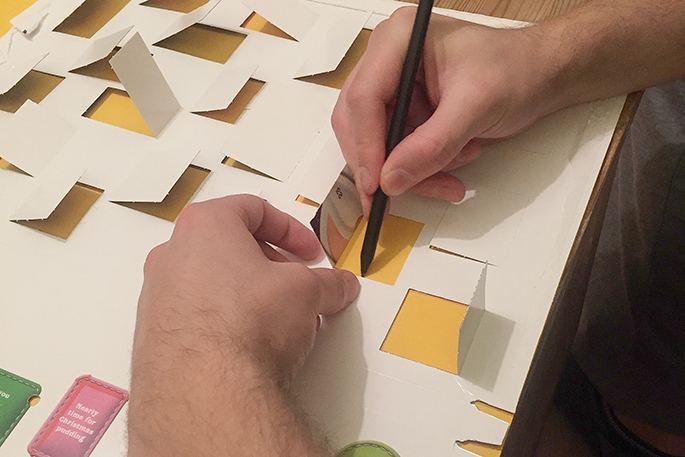 We only did 3 sides of the squares, to allow for one side to be a flap.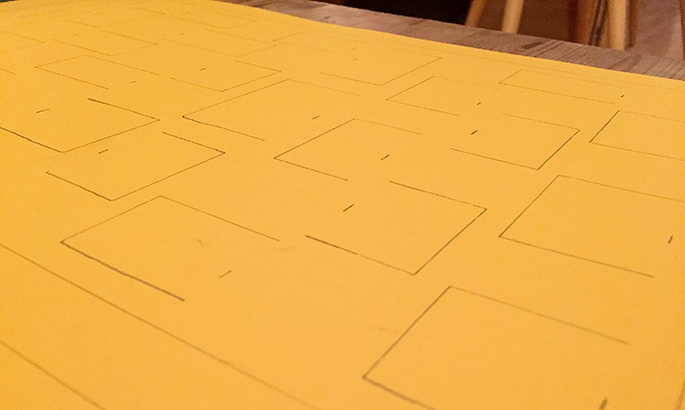 Before you start the cutting stage, make sure you get a chopping board! Cheese advent calendars are nice and stuff, but so is an unscratched table.
Carefully cut around the small flaps, using a ruler to help you with the longer lines.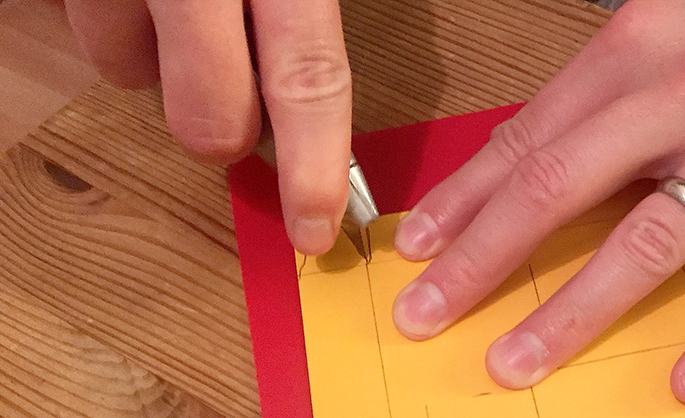 Then cut round 3 sides of the boxes.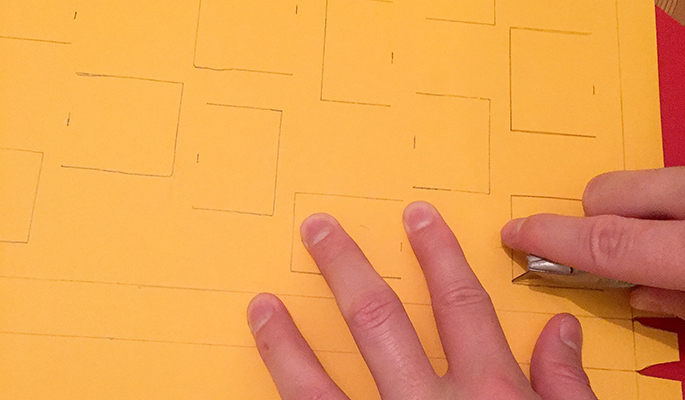 And you should end up with something like this.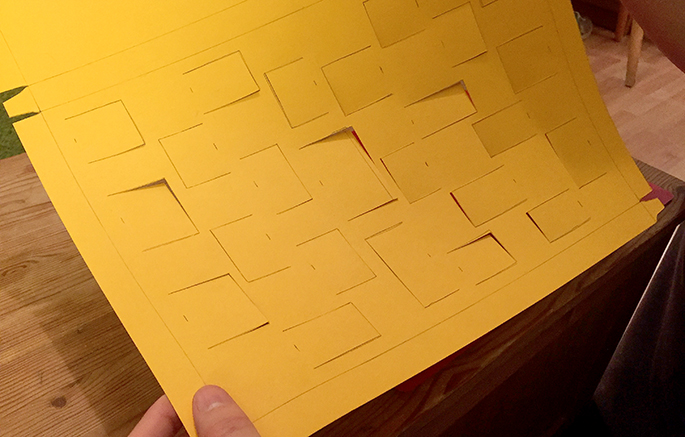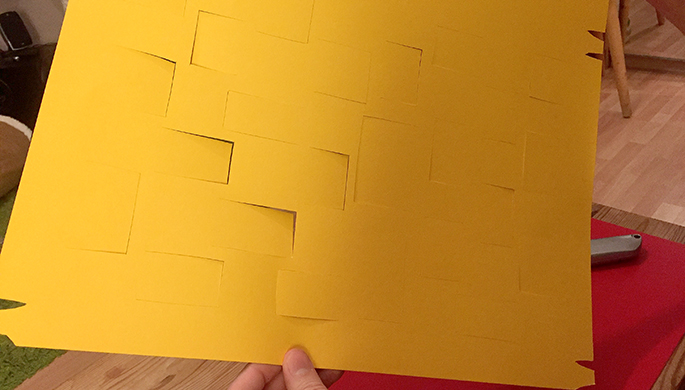 Now you can move onto decorating! Hurrah! Now, feel free to go with whatever design your heart desires as well as choosing your own colour card. I wanted to go for a giant cheese theme for mine, hence the yellow card.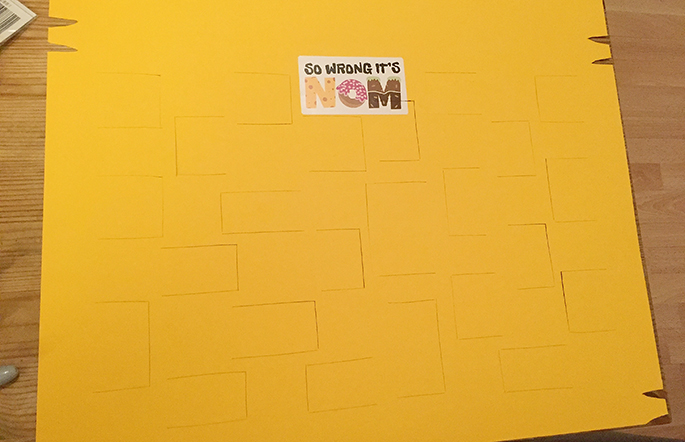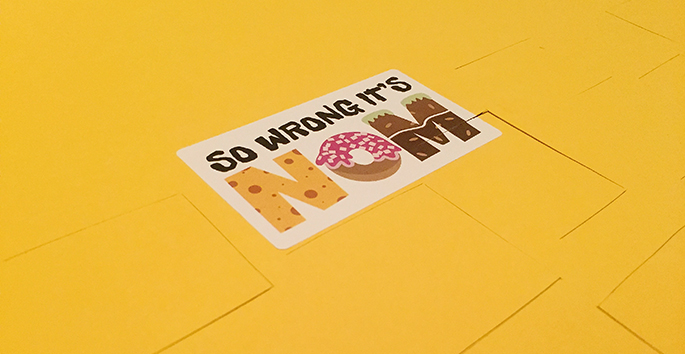 I started by drawing lots of cheese holes on my cheese, because – well, cheese.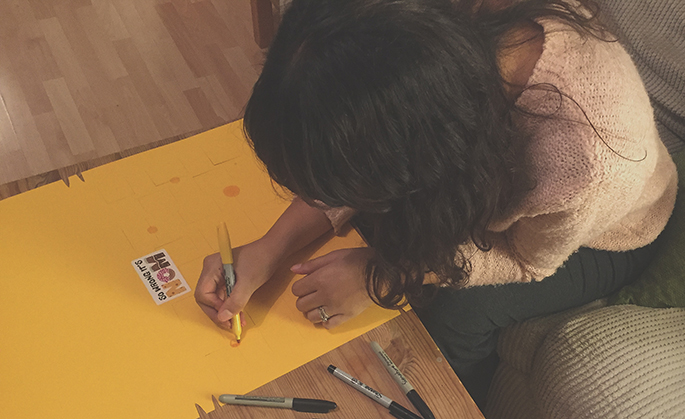 Definitely get the decorating out of the way whilst it's a flat box so you can lean on a table and not have to worry about bending your creation.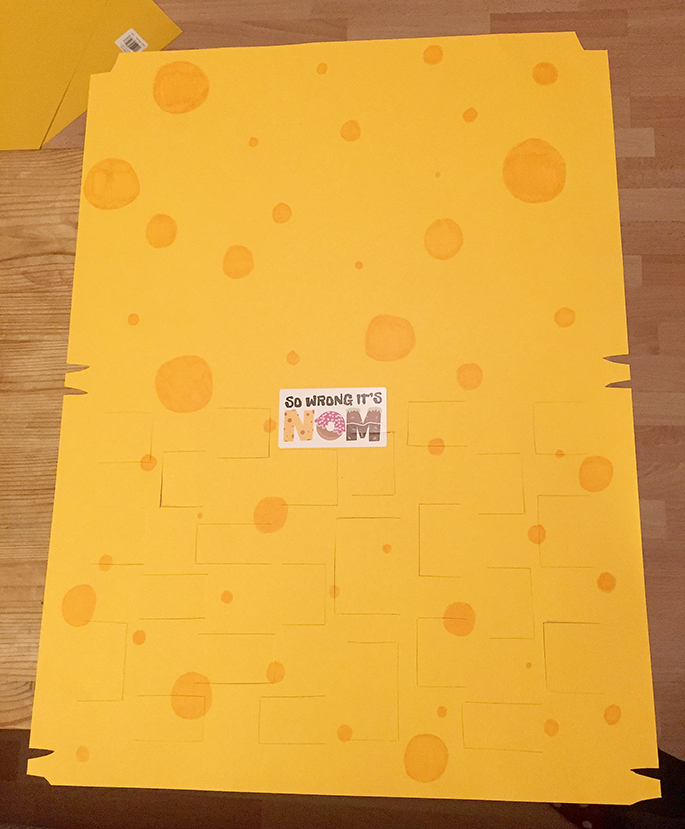 Then, the numbers begin. Use the old chocolate advent calendar as a guide to which numbers go where.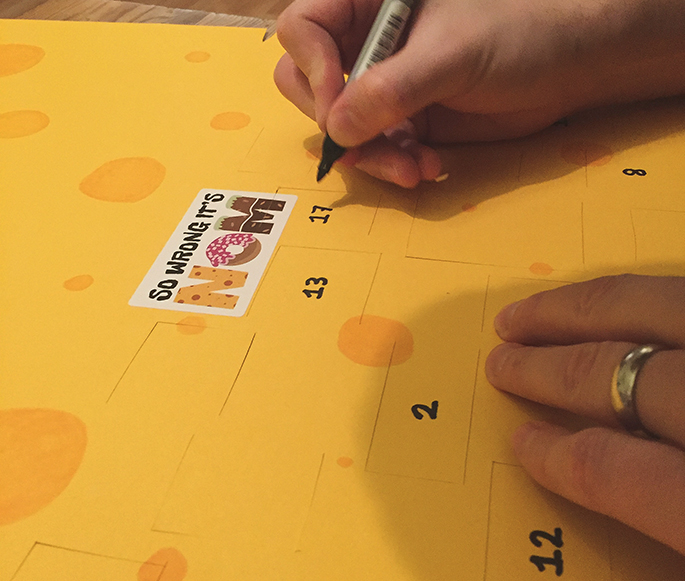 Slowly getting there…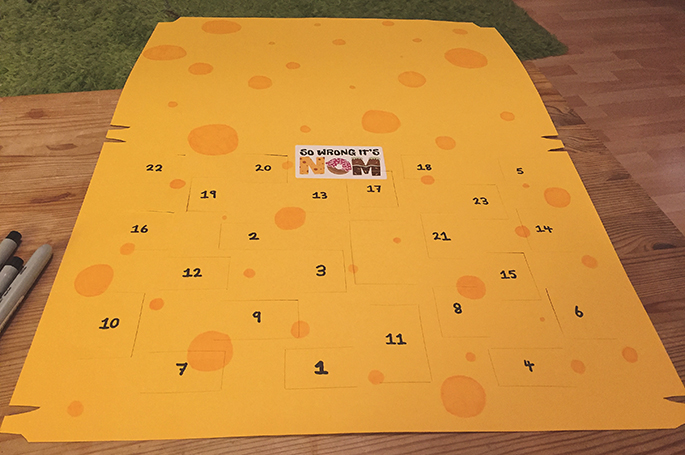 Save yourself some confusion by marking the flaps that are folded inwards (therefore glued on) with a (-). If it will be visible, mark it with a (o). Anyone who has done sewing before will totally get why this small step can make a big difference.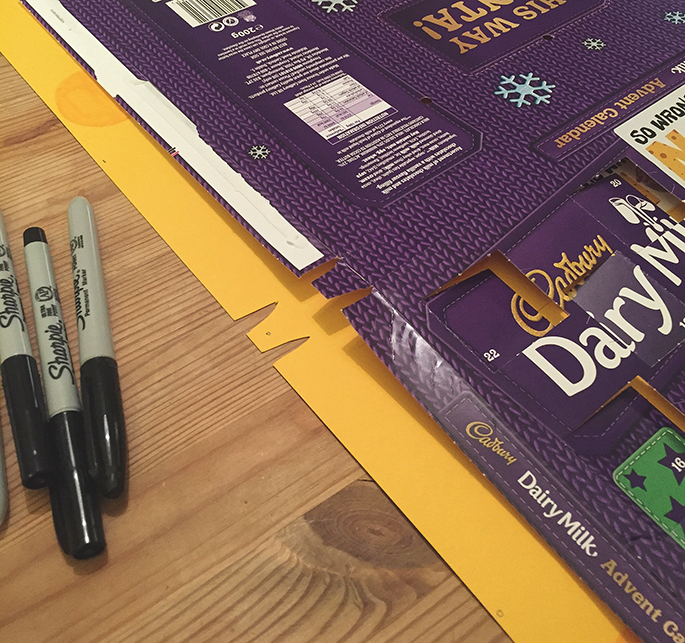 So now get folding. Remember, if you get stuck just refer back to the chocolate advent calendar and copy that. You're folding everything inwards.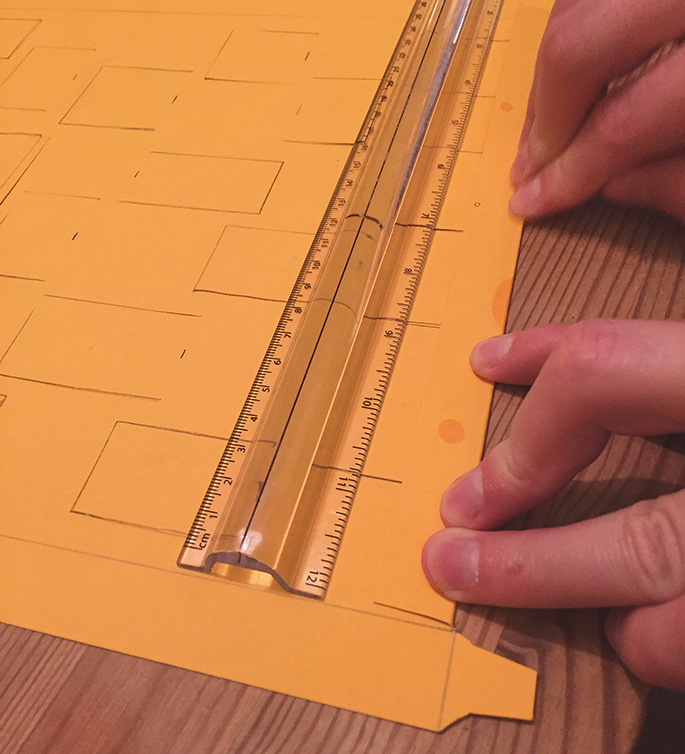 And so it begins to look like a box!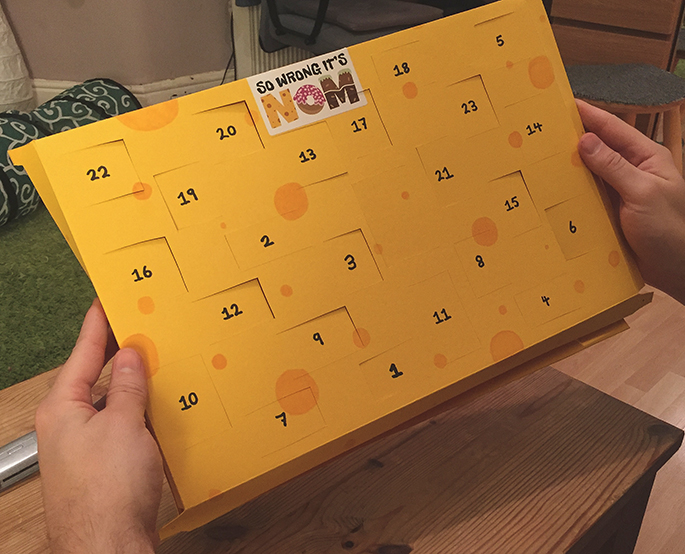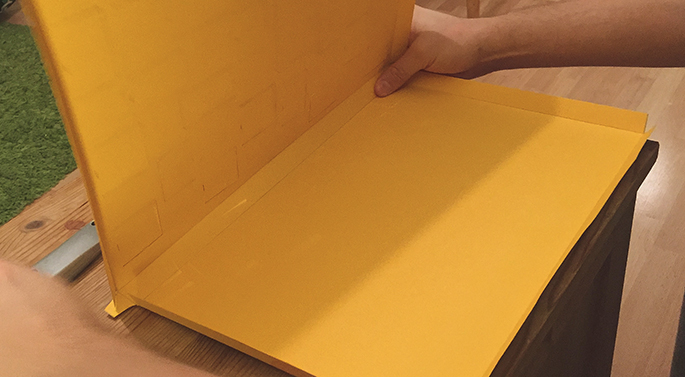 We bought big stickers from Hobbycraft to make Christmas Eve stand out.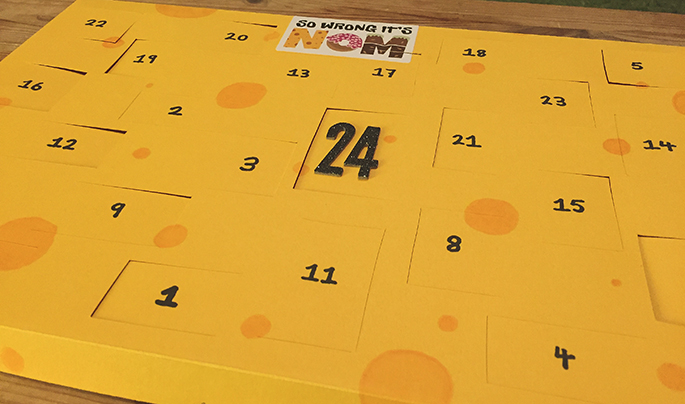 Make sure you test that the tray fits and everything is A-okay!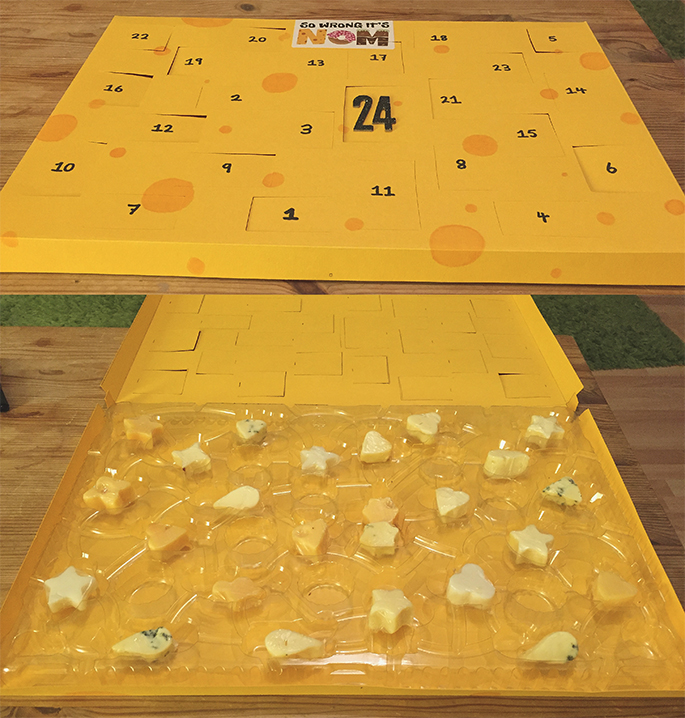 Find some glue (if you don't have any, Sellotape is fine.) Stick it all together and let it dry for 5/10 minutes.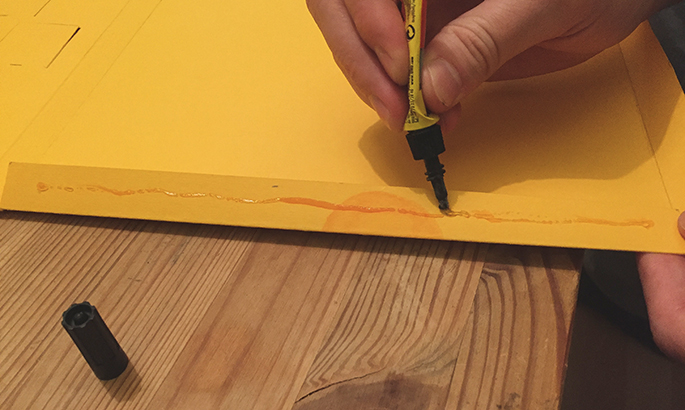 Pop the cheese tray back inside and get excited about getting to the end of your project….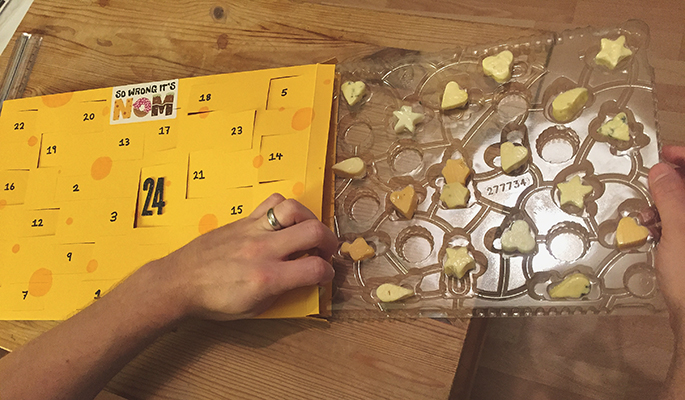 ….AND WE'RE DONE! Look at this beautiful giant cheesy thing of beauty.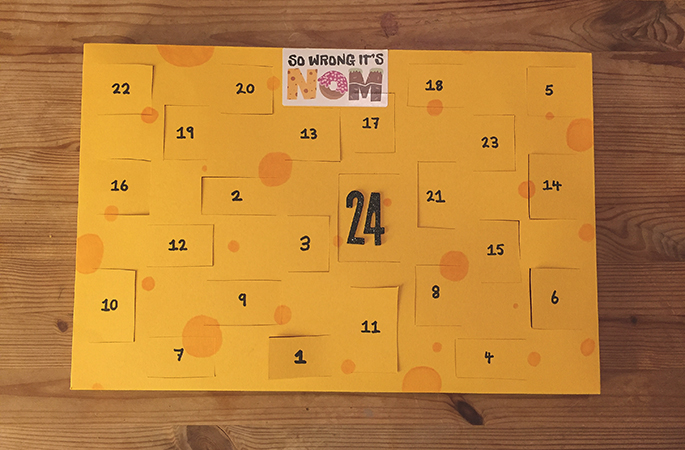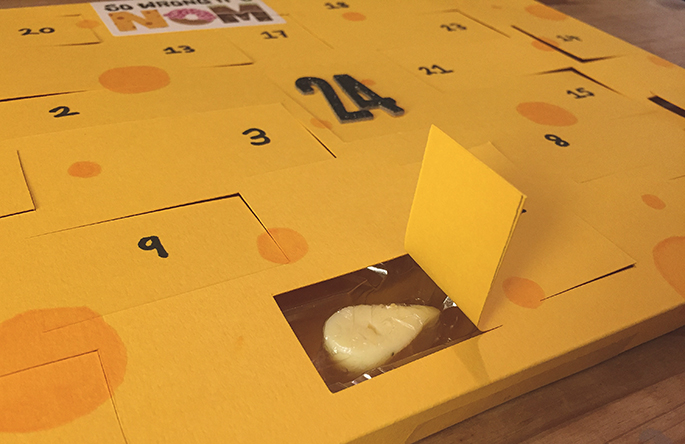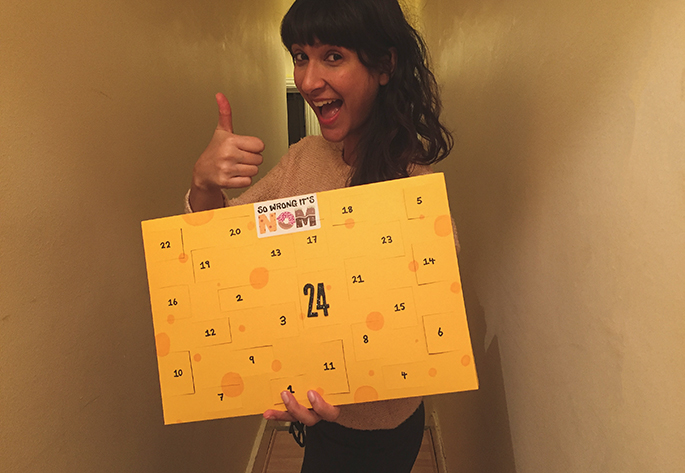 Now you've got the instructions to make your very own, but if you can't be bothered you can follow me on Instagram (SoWrongItsNom) and vicariously enjoy as I open up each day.
Here's a sneak peek of day 1!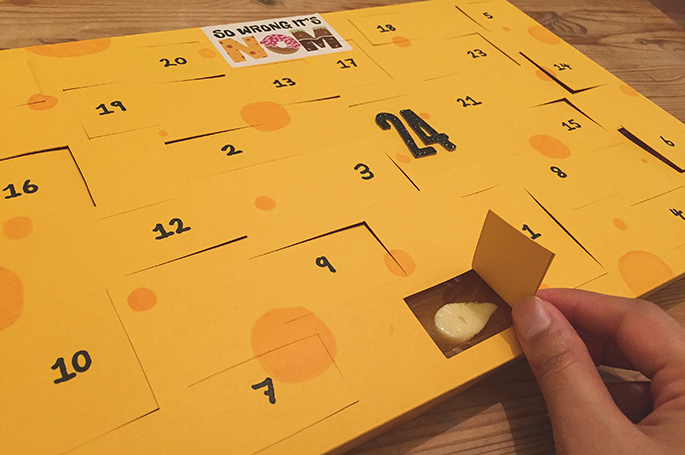 If you do decide to make your own Cheese Advent Calendar, please Tweet me @SoWrongItsNom a picture of your creation and leave a comment below!
Merry Cheesemas!