I've tried many desserts in my life, but only a few have ever left me in awe. Putting the cheese back into cheesecake, P.F. Chang's have made their first footsteps on European ground, with London as its first stop. Frankly, any place that takes blue cheese and develops it into a sweet pie deserves a visit. They've been making big waves around the world for quite some time now, and have around 280 restaurants in the US, South America, Central America, the Middle East and Asia. For those who may have visited a Chang's in another country before, the London restaurant is an entirely new concept for them, as they combine traditional brunch dishes with an extravagant Asian kick.
I went to check it out, and was left pretty impressed by the range of dishes on offer. The restaurant has an open kitchen so you can peer in and watch as the food is freshly cooked before your eyes. So open are they in fact, that you can enjoy an up close culinary experience sitting at the non-bookable Chef's Table, so get there when it's quiet! The bakery, situated downstairs of the restaurant also creates everything from scratch. You'll be able to pop down there if you're passing, just to pick up some desserts on your way home if you want.
Of course I haven't tried all of their food yet, (another visit is on the cards pretty soon), but from the dishes I tasted I can summarise some of my stand outs:
Gorgonzola Cheesecake.
Goes without saying I more than loved this. The first mouthful is incredibly strange, with your brain doing a sort of no, yes, no, yes battle until it finally yells 'yes, this is delicious!'  As your tastebuds take it all in, the mind can't decide whether it's savoury or sweet. Upon the second mouthful, you decide to take it for what it is; a piece of culinary magic. There after each bite is heavenly, especially once you get stuck into the poached pear, which has cream in the middle. Go and try it. I haven't been so happy since I discovered Chocolate Blue Cheese.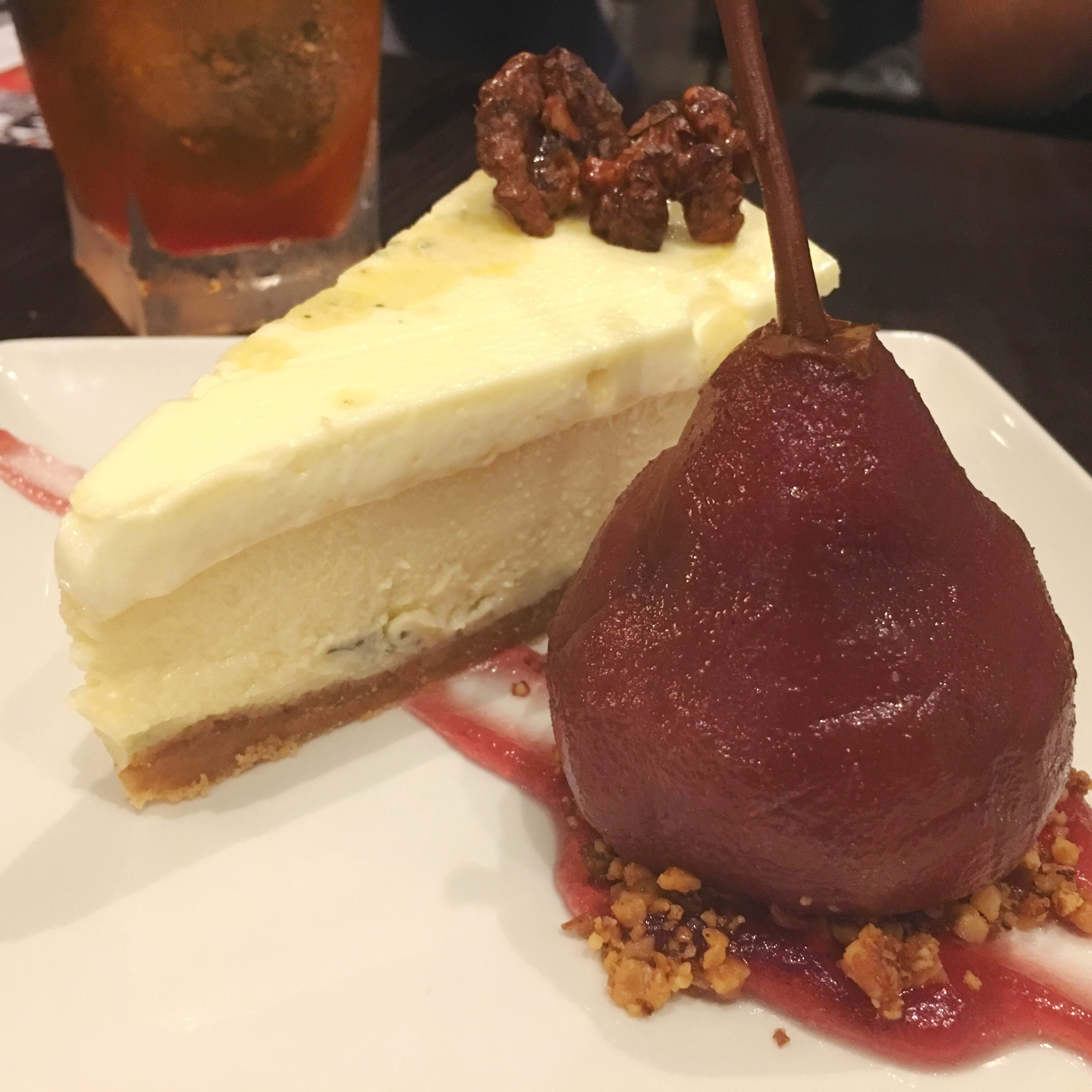 Dynamite Shrimp.
This has been raved about a lot, and is an internationally loved dish in all their restaurants. It's essentially a British Prawn Cocktail, served in a martini glass – only so, so, so much better. It kind of puts Prawn Cocktail's to shame actually. Each shrimp is tempura battered then lightly tossed in an addictive sriracha aioli sauce. It's obviously a starter to share, but apparently people have been known to order a whole one for themselves. This may be my strategy next time I visit.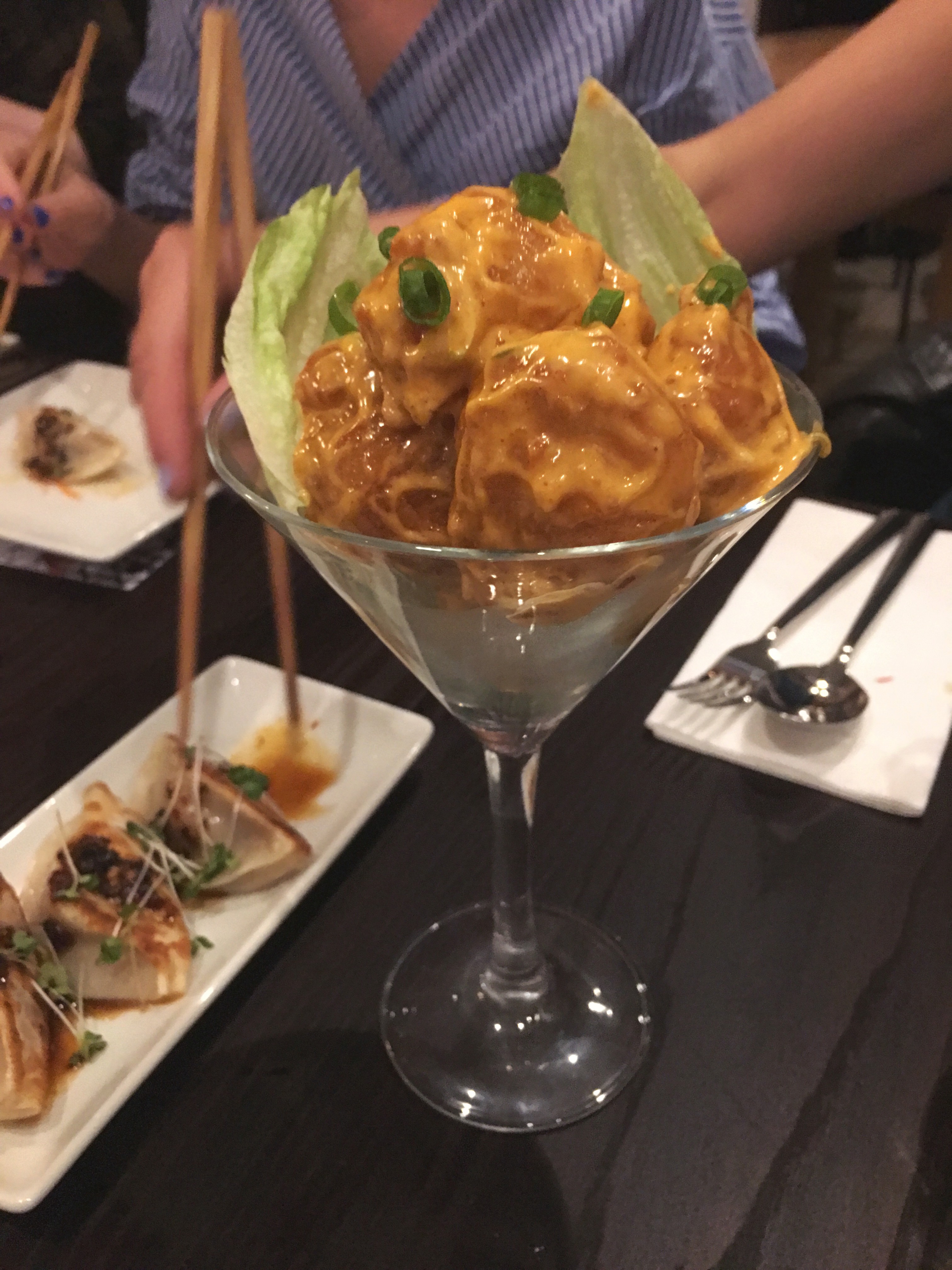 Orange Peel Lamb Chops.
As a big lover of all things lamb chops, this is a recipe I'm definitely going to try and recreate on the BBQ at home. The zest is such a strong flavour, that I would have usually thought it would be too over powering. I am mistaken, as it turns out it works beautifully with tender, juicy lamb. Pick up with your hands and eat. No need for forks and knives here. Finger looking good.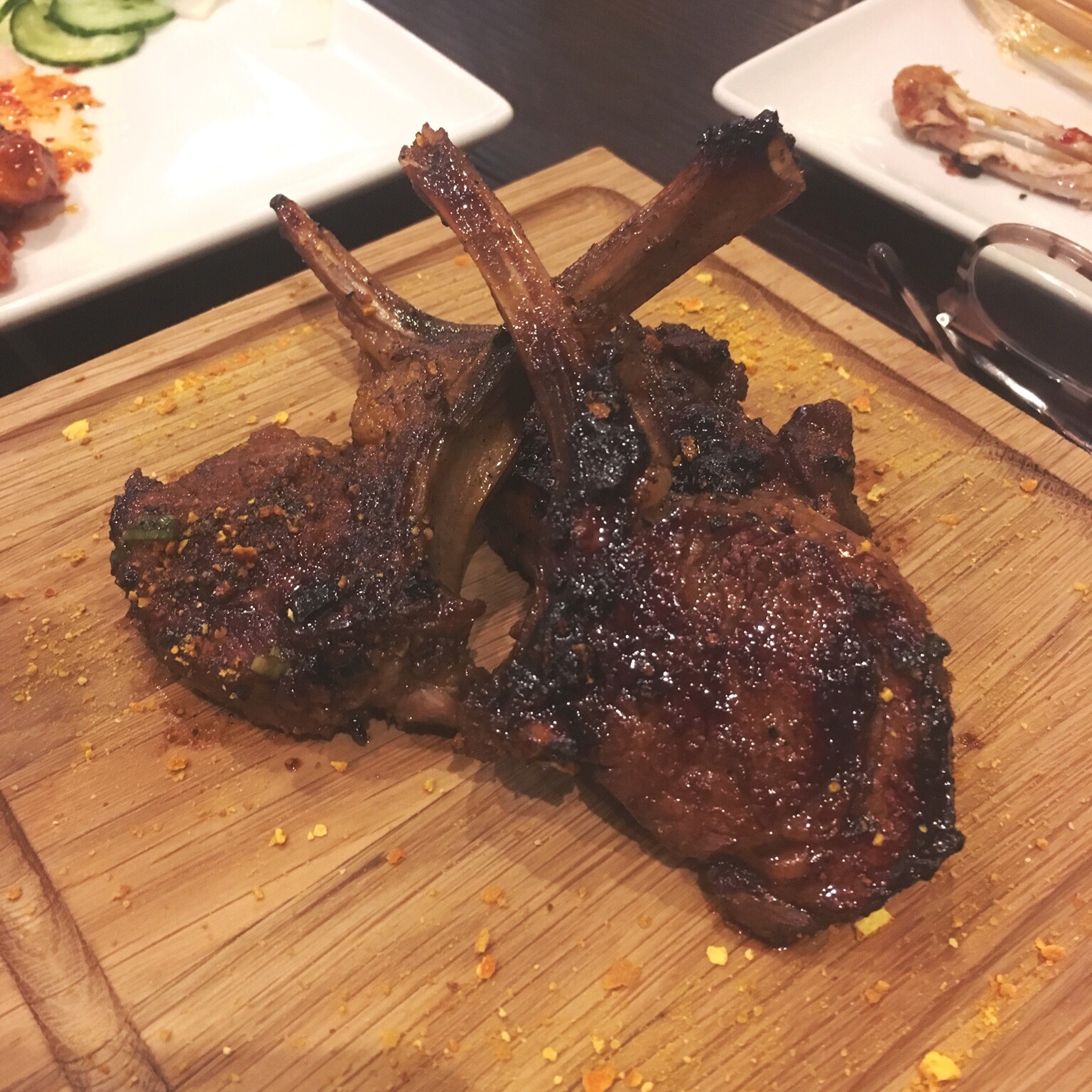 Kung Pao Chicken.
If you like peanuts, you will love this. Chang's have created a pretty flavoursome take on this stir fried dish and I reckon I could order this alone with some rice and be pretty happy.  The chicken has been tossed in a spicy Sichuan chilli sauce, with green onions, red chilli peppers and the hero ingredient – large crunchy peanuts, giving this dish a memorable texture.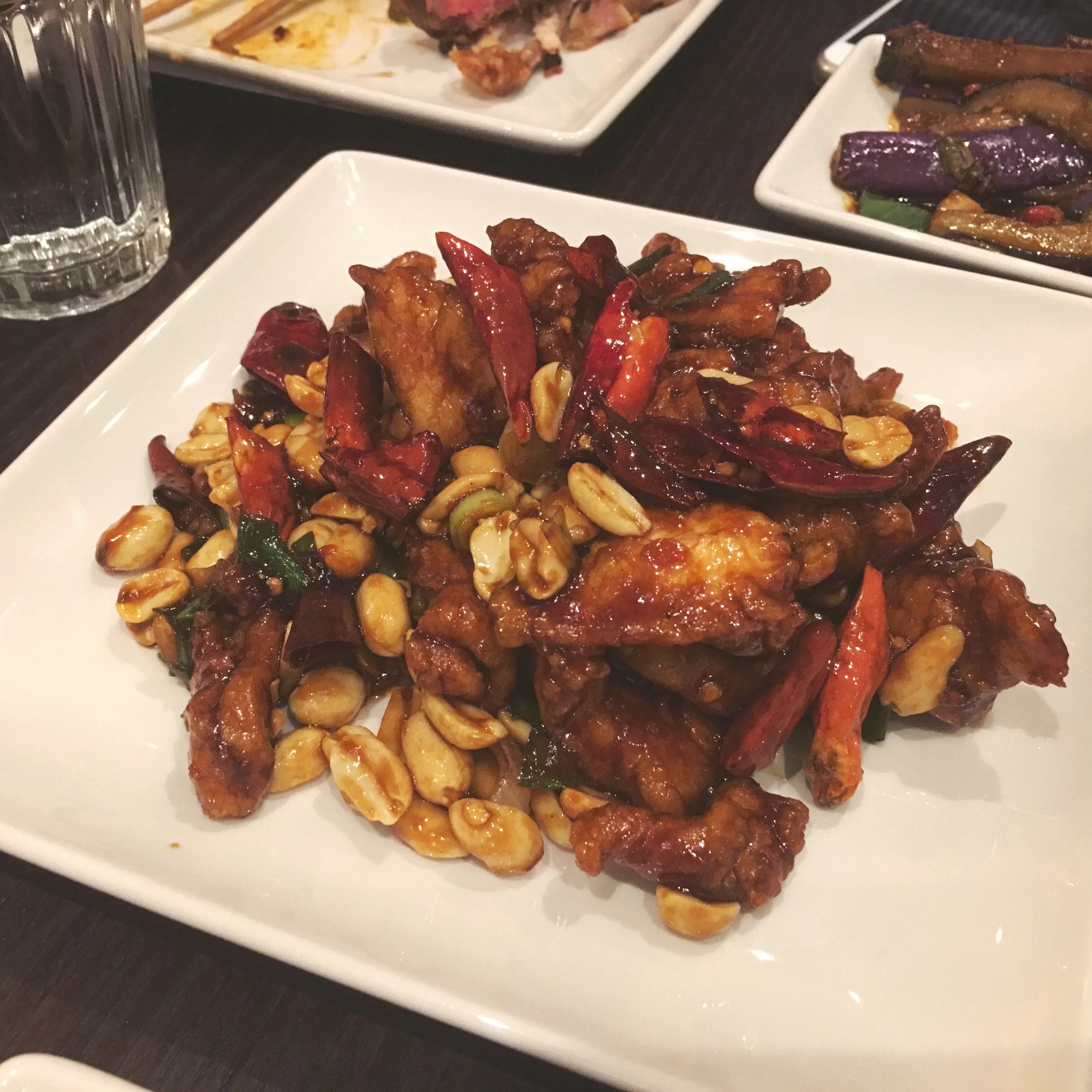 Lastly, not forgetting the drinks, the bar is run by the people behind Worship Street's Whistling Shop. The team are called Fluid Movement and they've created some delicious concoctions. They barrel age the cocktails on site and drinks include: Fizu: sparkling sake, cucumber and lemon oil. Melrose Mary: a brunch cocktail with Tequila, umeshu, tomato, spice and, (I really loved this) pickled pineapple! Honestly, why have I never pickled pineapple before?! We also tried a drink where they cold brew green tea over 12 hours, carbonate it, then top it with a creamy ginger foam made with liqueur, egg whites and sugar.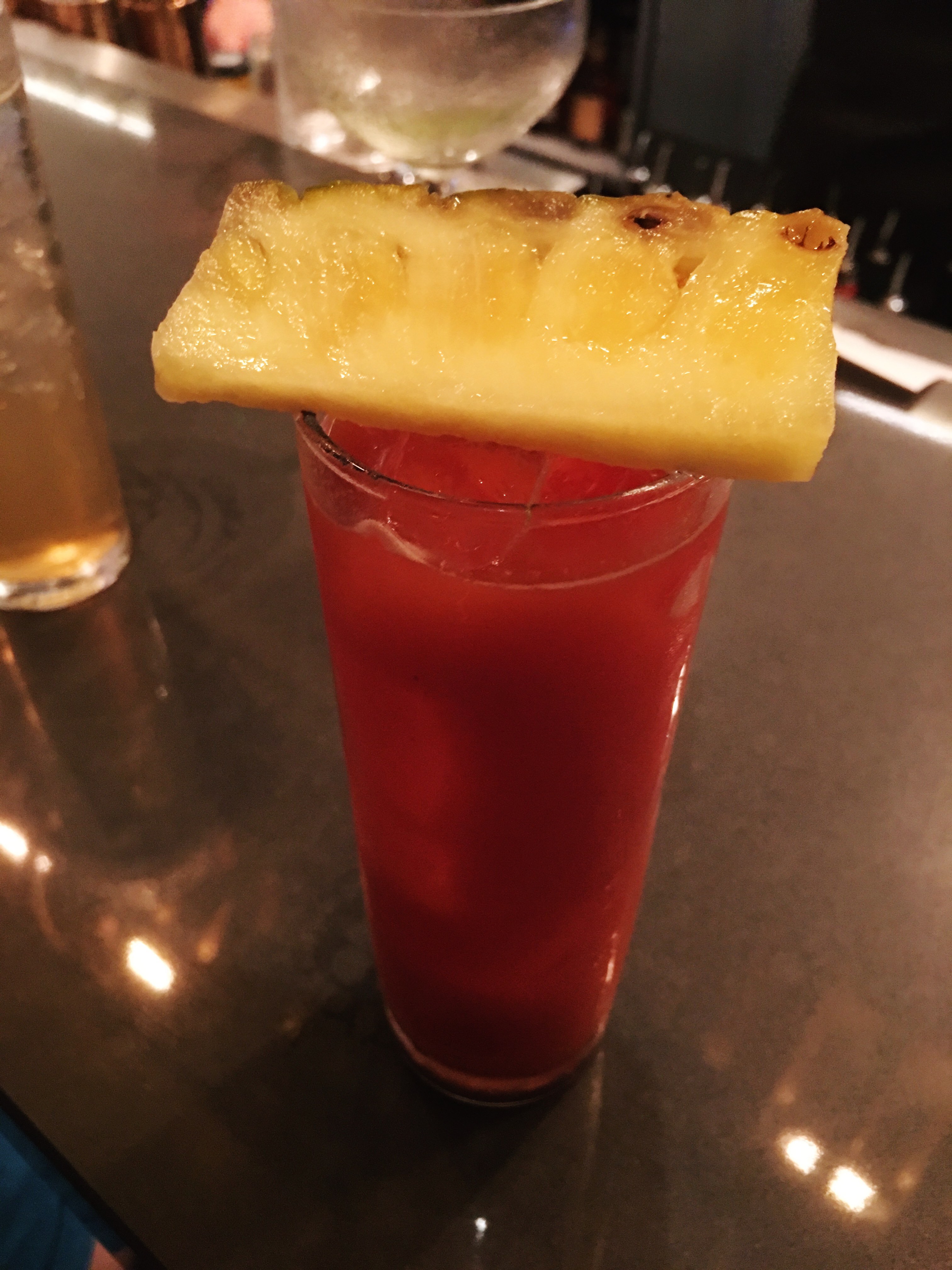 Safe to say, P.F. Chang's lived up to the hype.  I give it a 9 for creativity, flavour and that Gorgonzola Cheesecake.

[related align="right"]