Hallooooooweeeeeeennnnnn!
A time for ghouls, ghosts, sweets, crisps, zombies and um, food colouring. Lots of it.
October has never really been my healthiest of months, not only because practically every aisle in the supermarket is full of special Halloween food, but because of the switch in the weather. October is that month in the UK when the cold slowly starts to creep in. All the leaves outside wither & die, and rain dampens nearly every single day. So depressing is October, that without Halloween I reckon we'd all be singing Christmas songs already – desperate to cling on to the thought of something happy, and bridging the gap until it's acceptable to eat your weight in bad food.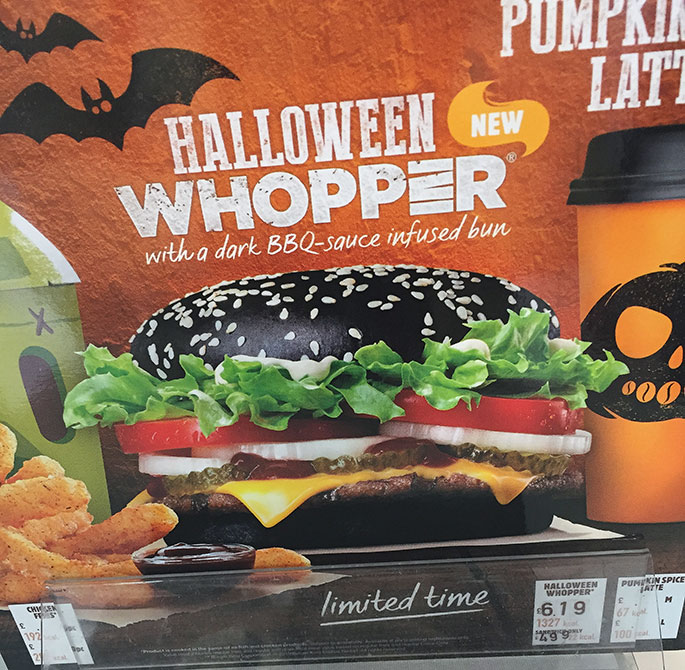 This year, Burger King unveiled the 'black burger' – quite possibly the most unappetising looking burger in the world, yet oh so intriguing.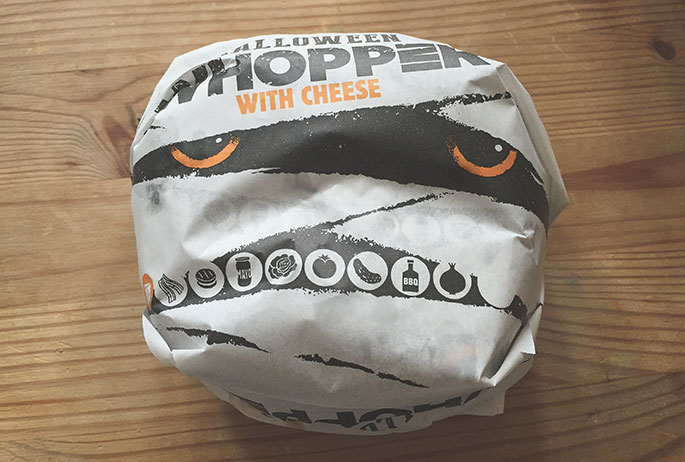 I couldn't help but wonder what this burger of death tasted like so off we went on an adventure to the nearest BK.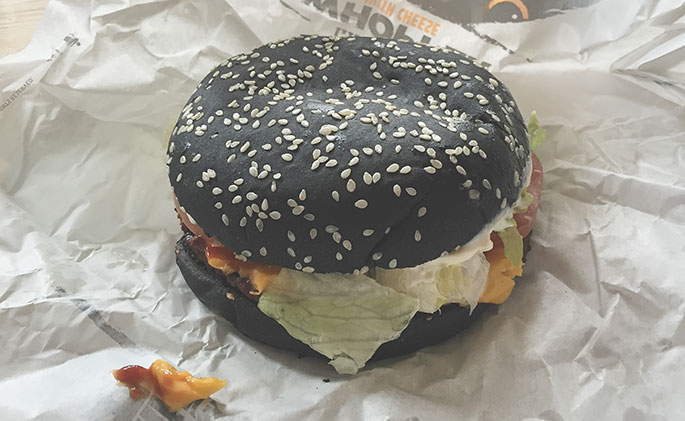 They claim that the burger bun is infused with a BBQ flavour, and although the bun is black every other ingredient remains the same as the classic BK Whopper.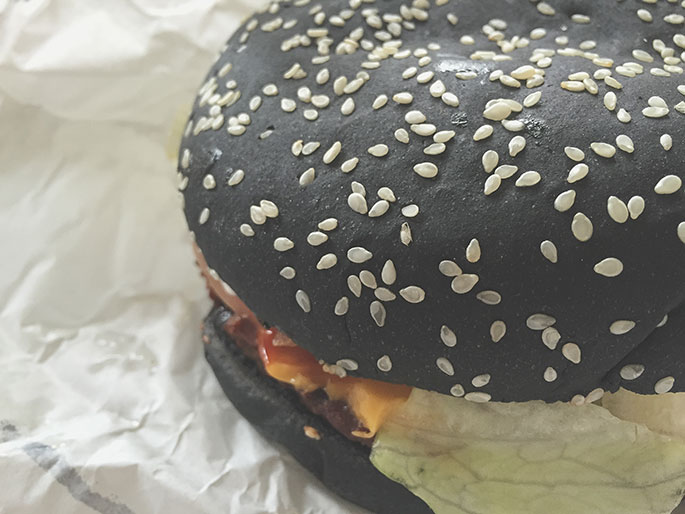 A far cry from the Japanese version (pictured below) of the black burger where they take this monstrosity even further, with black cheese AND black sauce.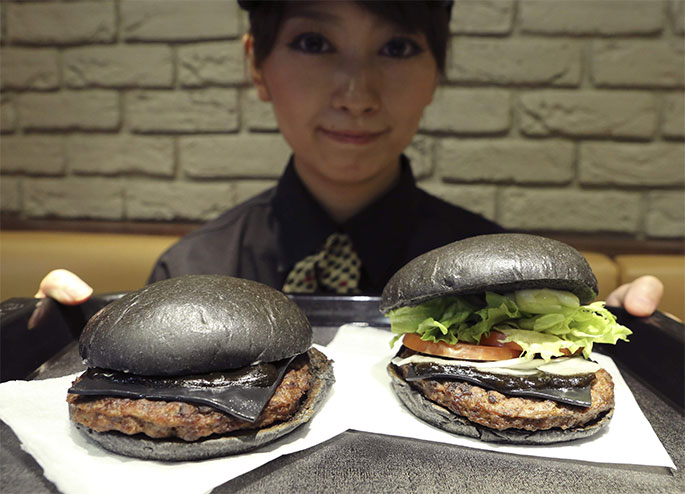 I'm digging the Halloween Whopper packaging, but as I part the wrapper aside I can't quite get over how unnatural putting this burger in my mouth feels. Still, I go straight in for a chunk as I will never let any food deter me.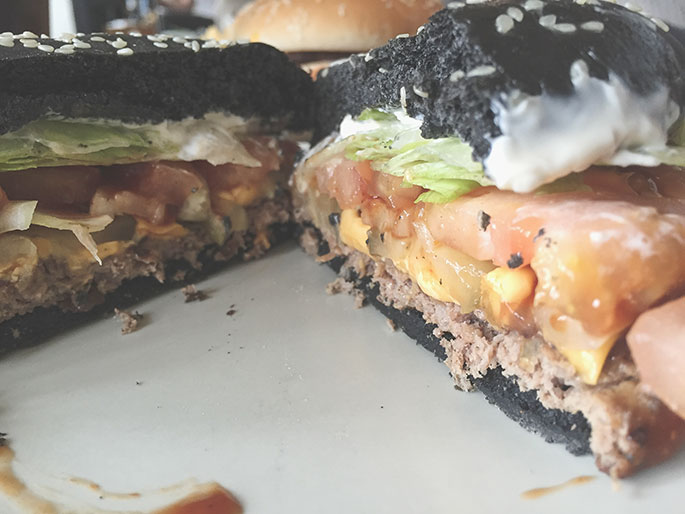 Drumroll…..
It tastes exactly like a regular whopper.
No different.
Not even the bun.
I taste no BBQ infused flavour apart from the BBQ sauce they've put inside separately.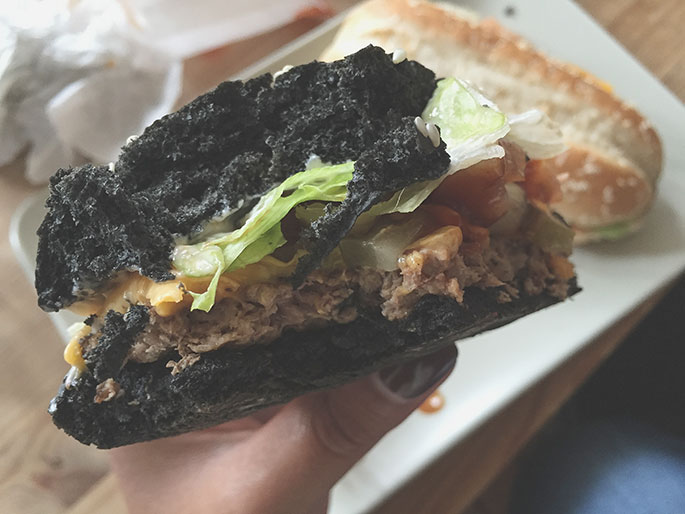 Burger King's Black Burger Verdict:
All in all for a whopper, it's pretty nice but let's face it. So much of how your brain lets you taste food is affected by aesthetic. If it looks strange, or in this case ghastly, you eat differently. I cautiously ate this burger as if it was going to turn around and eat me instead, which I guess is what Burger King were probably going for with a Halloween burger?
I give this 7 on the Annem-o-meter, of which 5 points were solely for the normal Whopper flavour itself and 2 points for effort on the whole food colouring thing.
Oh and one last thing which I won't elaborate on too much: it sort of does something to your… um… you know, the next day. When "you have to drop off the kids at the pool." It's not pleasant.
Moving on.
————-
As well as a date with the King of Burgers, me and my pal Mr. Kipling had a night in together too and guess what? It involves more food colouring! You can read all about it, here.