Few things in life are as satisfying as making the perfect pastry. Choux pastry, puff pastry, shortbread pastry – the lot. I must admit, I had resigned myself to the idea that ready roll pastry would be my fall back for life. After watching Bake Off every year with a salivating mouth, I was doubtful I could produce anything that didn't have a soggy bottom.
Well, soggy bottoms no more. This year for Mother's Day I decided to treat my dearest with a gift that would make Paul Hollywood proud. My mum is an exceptional cook and most of my recipes are inspired by her spice-tastic skills. However, aside from delicious samosas and crispy parathas, pastry doesn't really have a big role in Indian cuisine.
She's a big fan of hearty pies and loves cornish pasties, so when I was looking for a present for her, I decided against the usual perfumes, candles, flowers and chocolates. I wanted to give her a gift that was both practical and also an experience we could do together.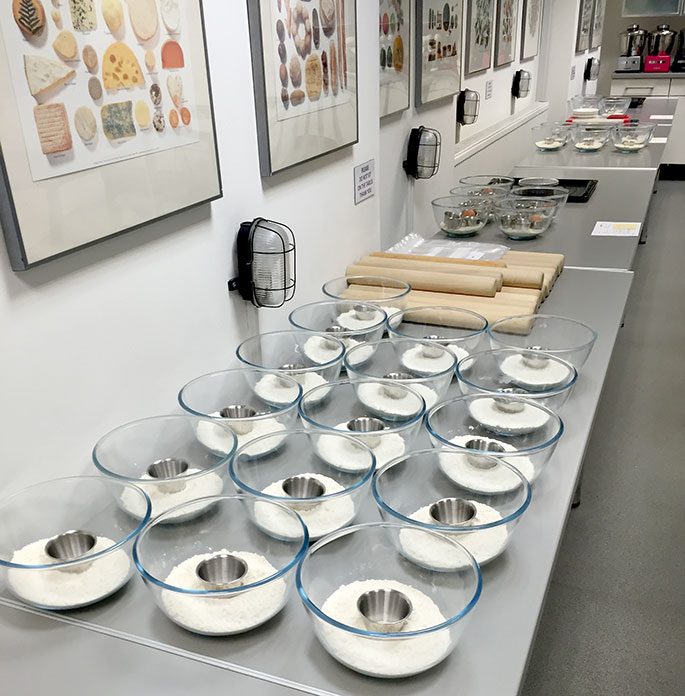 Whilst searching specifically for pastry courses in London, I saw plenty of courses for fancy little french desserts but hardly any that covered pastry for savoury dishes as well as sweet. Although a lot of fun to learn, I knew my mum wouldn't make macaroons and eclairs every day and would prefer honing her skill to make quiches, pies and pasties. Then I found the perfect course after I stumbled across The Cookery School at Little Portland Street .
The class
I'll kick off with a bit of advice: Don't stuff your face with tea and cake like we did before attending. Big mistake. We arrived and were greeted by glasses of wine, and delicious cheese pastries to devour.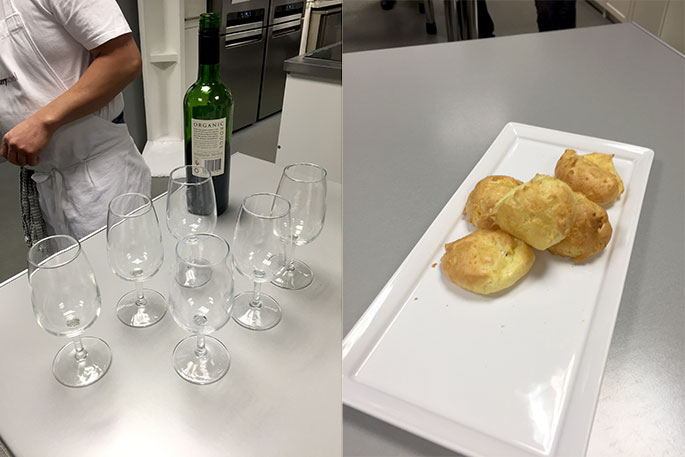 The staff were very welcoming, and before starting they gave us a health and safety 101:
Wash your hands if taking photos in between touching the pastry – your phone is a hotbed of germs.
Don't hold your knife like an idiot and accidentally stab anyone.
Wear an apron and tie your hair back.
We then gathered round to learn how to make choux pastry, which was what our delicious cheese starters were made from. It's also the foundation to making one of my fave desserts ever – profiteroles!
The class was around 20 people and everyone got the chance to get hands-on as the process was explained. Adding the egg to the mixture is a step-by-step exercise of pure patience. In fact, I'm pretty sure that's the main lesson I took away from the entire class.
Patience is key when it comes to lovingly making decent pastry from scratch.
A little went a long way with the choux pastry mixture, and produced a lot of profiteroles: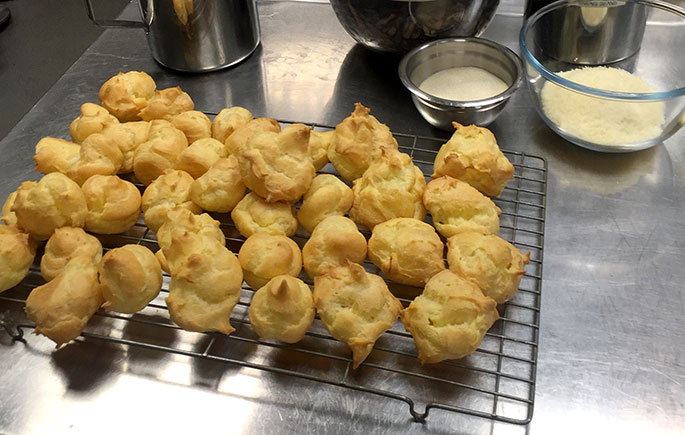 We then picked what we wanted to make to take home that day. My mum opted for cornish pasties and I chose the apple pie. So off we went, under the expert direction of our wonderful hosts to make magic happen.
Occasionally we would stop and go over to the cornish pasty making group and vice versa, so even if we weren't making something ourselves, we would still go home with the tips and know how.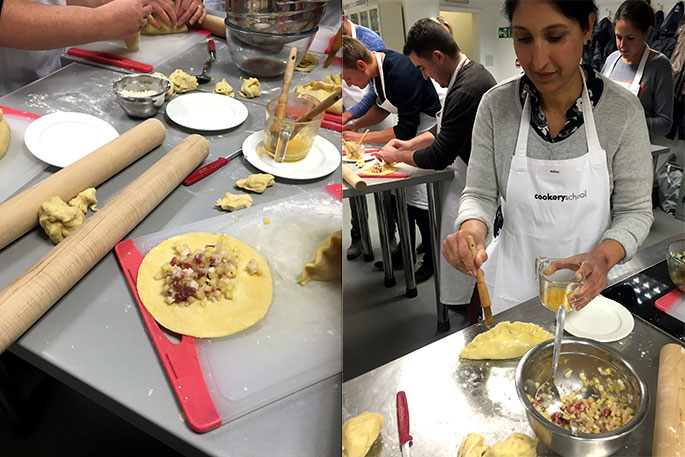 I also learnt that you can grate shortcrust pastry over a pie rather than having a proper lid. I've never seen this method in my life, but it's quite delicious!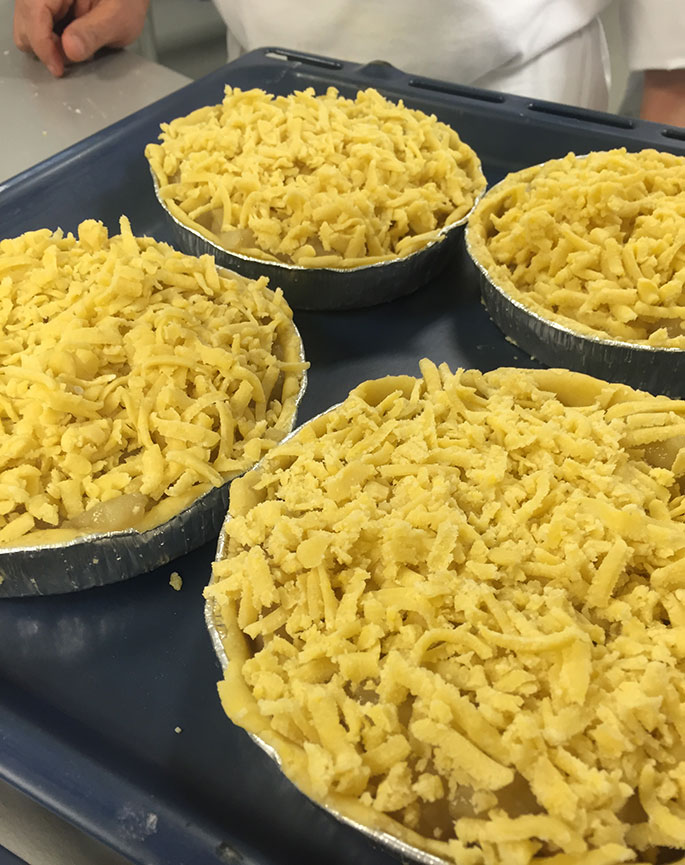 After popping our creations into the oven, we then moved on to the trickiest pastry to master: Puff pastry. Not that you should be surprised, but heads up – a LOT of butter goes into this. It's all about creating the perfect layers of butter between the pastry to end up with beautiful light flakes and a lovely melt in the mouth texture.
There is absolutely no way I would have learnt to make puff pastry by myself at home. I've read the instructions before and emotionally felt like how the contestants on Bake Off must feel when they receive a technical challenge. There's the folding, the making sure the flaps always remains on the right, layering it more than 6 times, ensuring the pastry is only rolled in one direction. I mean, there are an awful lot of steps, but once an expert has broken it down and shown you, it's strangely therapeutic. We were told to remember the key mistake people make when attempting puff pastry:
Don't let it get too warm.
The fridge is your friend, and after folding every 2 turns, you have to cover and return to the fridge for at least 20-30 minutes.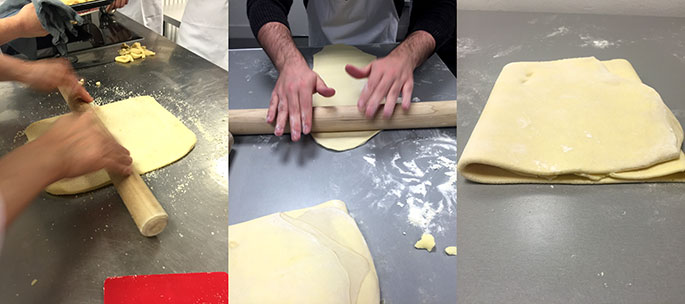 We stopped making our puff pastry after 2 turns and then watched the experts finish off theirs, but they taught us exactly what we had to do to finish off our own at home. My eyes widened with excitement when they started coating the pastry in parmesan cheese! From there, we got a chance to make cheese twists.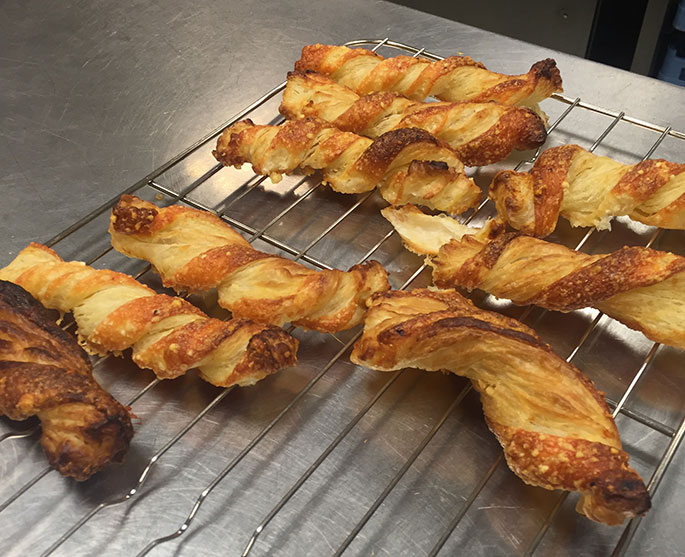 The other half was coated in sugar and created delicious palmiers which I could eat an entire tray full of alone. Again, they were very hands on and let us all have a turn to make sure we were properly clued up to do it again in our own kitchens!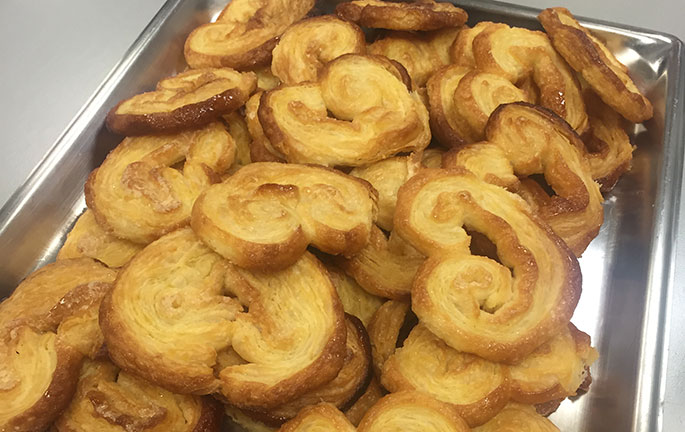 As the class came to a finish, we celebrated with copius amounts of tea and a feast of food. We were given a little folder with all the recipes from the course to take home, a large amount of puff pastry at 2 folds and of course our wonderful creations. My apple pie was delicious if I do say so myself, but my mums cornish pasties were the perfect thing to get stuck into before leaving to brave the cold air on Oxford St.
We left with huge grins on our faces, and best of all we had a lot of fun learning something together.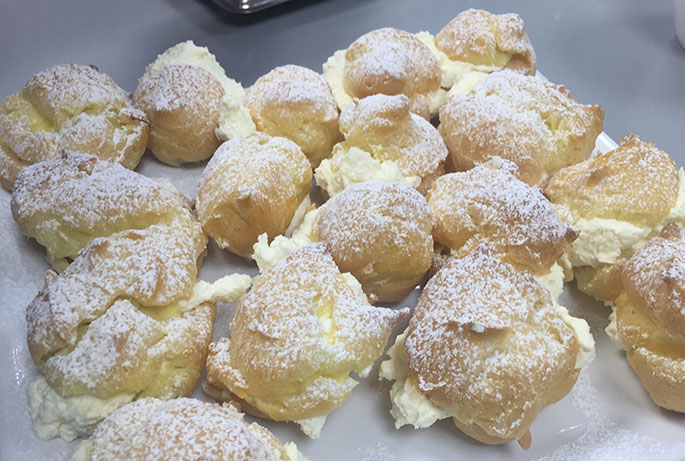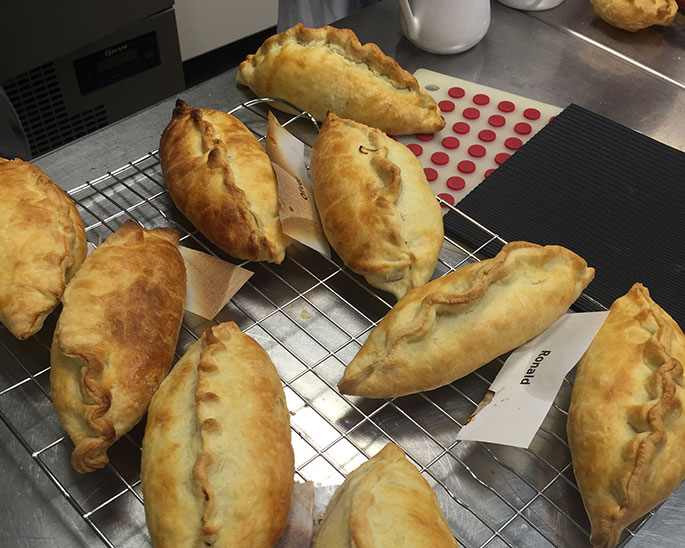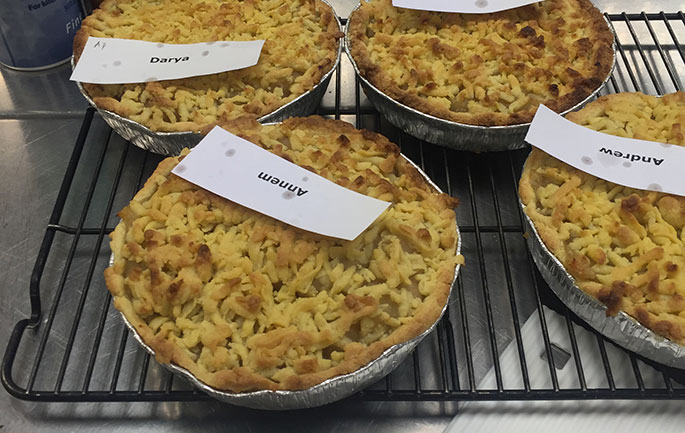 Spending Saturday's making pastry with my mum was a huge hit. Why not try it with someone you love? You can check out a full range of Cookery School's classes over on their website. If you'd like to book the pastry course directly, here's the link!
Happy Mother's Day!