Seaweed is going through some intense popularisation these past few years, with thousands of articles claiming it is the BEST THING EVER for your health. There's this Marie Claire article selling me 8 reasons why I should eat it. There's this Daily Mail piece claiming Jamie Oliver lost loads of weight on a seaweed diet. Heck, I was sold – but seeing is believing so I thought I'd try out the 'I Sea Pasta' Tagliatelle by a company called Seamore.
Seamore was founded by a dude called Willem who in 2013 took a family holiday to sunny Ibiza. After ordering dinner at a restaurant he soon realised he wasn't eating pasta, but in fact seaweed. He loved the taste so much that he decided to fool the world too. By 2015 after a year of experimenting and crowdfunding, harvesting had begun in Connemara, Ireland. Their HQ opened in Amsterdam and the product officially went on sale. An impressive story!
I decided to take on my first seaweed pasta experience with a recipe Willem tried with his kids in the early days of Seamore's development – I Sea Bolognese. I went for this recipe as apparently Willem made this without telling his kids it was seaweed and they wolfed it down.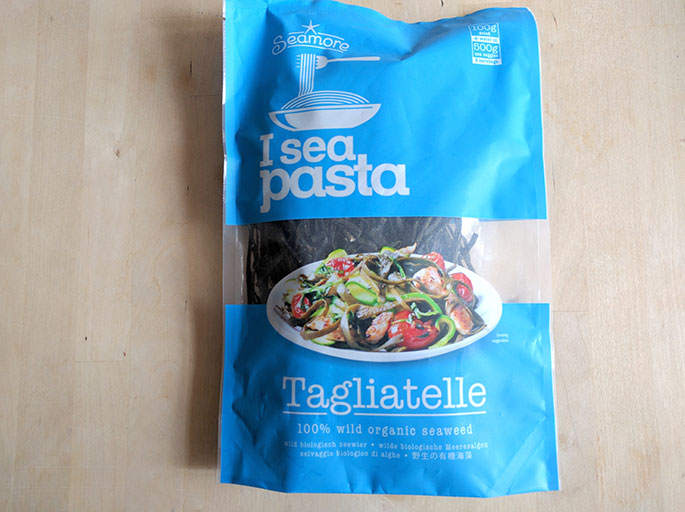 Now, it is recommended that if you're a pasta addict and a little wary (like me) that for your first experience you may prefer using 50% sea pasta, and 50% normal tagliatelle. For the purpose of this review though, I felt it necessary to just try it the proper way.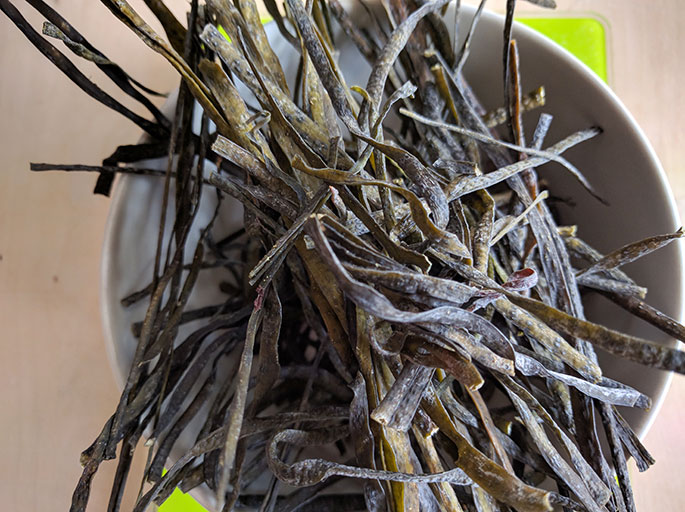 I Sea Bolognese Recipe
This really is a mega easy recipe. You will need:
80g I Sea Pasta (This may seem very little for 3/4 people but sea pasta grows 5 times in volume)
1 onion
500g minced beef
2 cloves of garlic
1 tbsp of tomato puree
I can of chopped tomatoes
Some cherry tomatoes
1 splash of balsamic vinegar
Some herbs
Olive oil
Start by cooking the seaweed whilst you make the bolognese. There are 3 mains ways to prepare sea pasta.
Soak for 45 minutes in cold water. This creates no sea breezy smell, but gives the pasta lots of bite and is better for salads.
Soak in hot water for 20 minutes. You'll get a bit of a seabreezy smell and a mild bite
Cook for 15-20 minutes, just like regular pasta. This makes it more tender and gives more of a seabreezy smell.
Whilst I'm really not a fan of seabreeze smells (conjures horrible memories of me swallowing too much sea water when I was young) I decided to go for option 3. I wanted to stick to it feeling as close to pasta as possible and I prefer a tender texture (I think).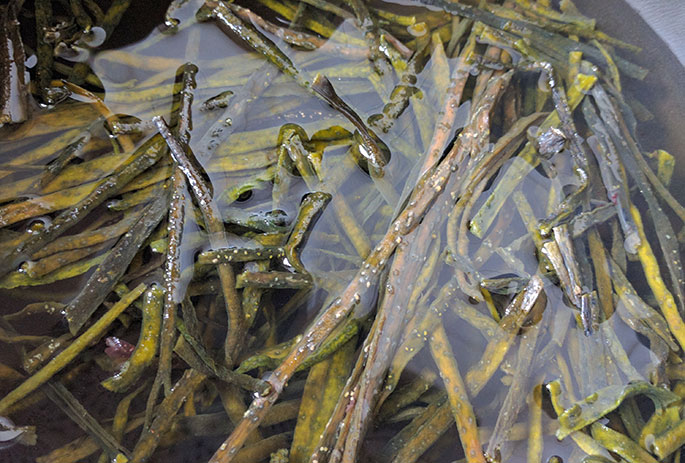 Now whilst the seaweed cooks, fry your onion and garlic until golden.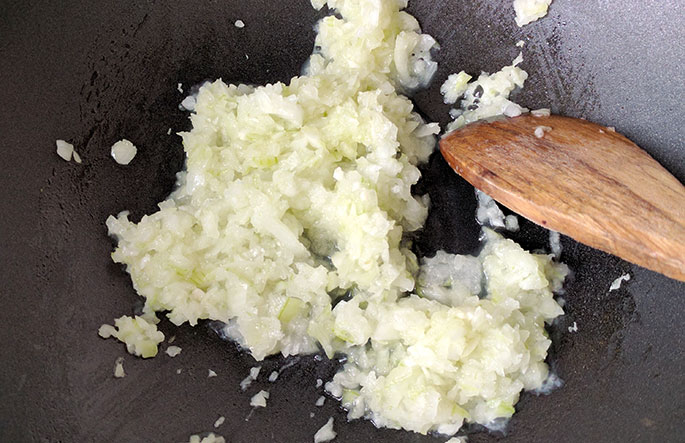 Then add your mince.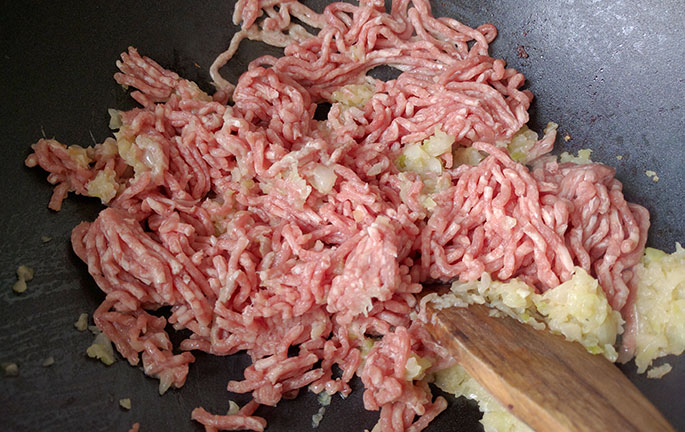 Once that has browned add some tinned (carton) tomatoes.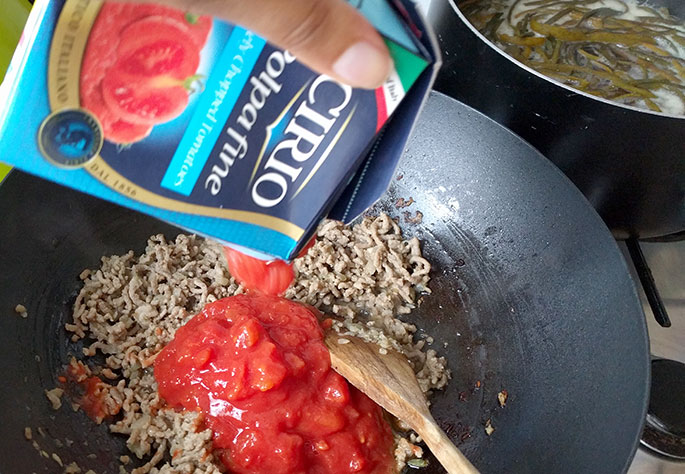 Also pop in your cherry tomatoes and herbs if using.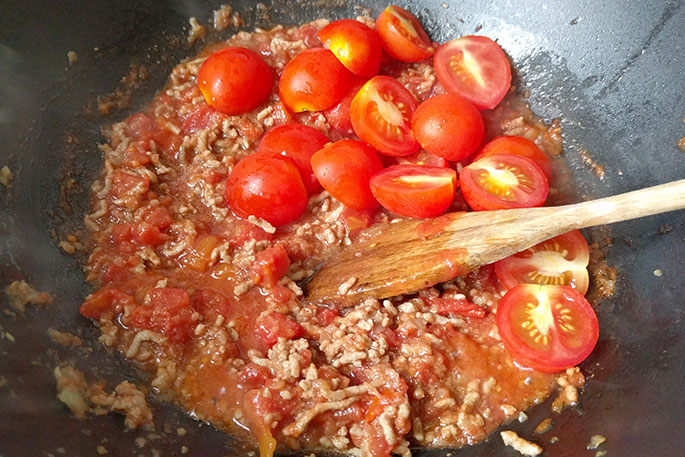 Add a splash of balsamic vinegar.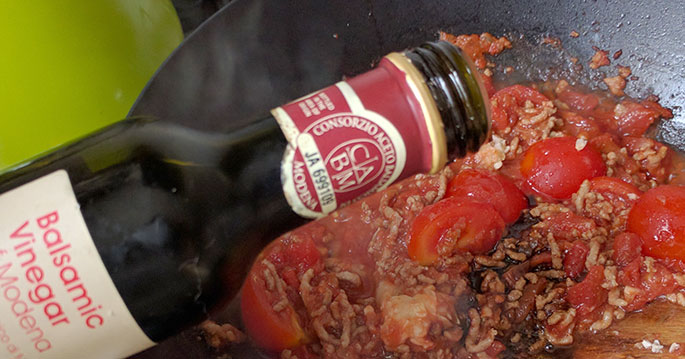 Now all the while during the cooking of the bolognese, the seaweed was giving off a repugnant smell. I'm sure for some people it is absolutely fine, but again – the sea smell is overpowering when cooking method 3.
After 20 minutes of cooking, drain the seaweed pasta. It leaves off a brown broth (this is the antioxydants from the seaweed) According to Seamore, some people choose to use this as stock for soup or sauces.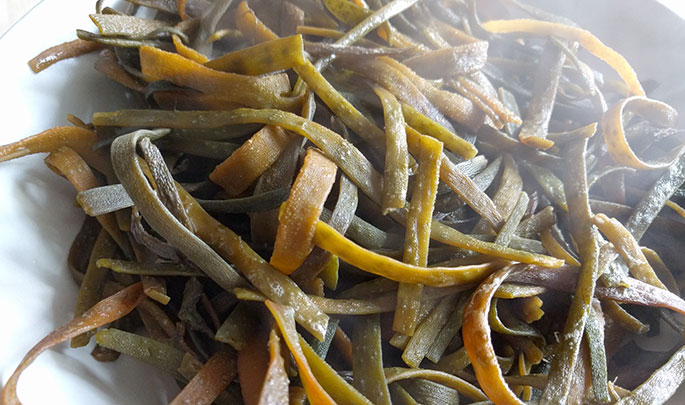 As you can see, the texture once cooked is pretty intense. I've never eaten seaweed in this form and started to feel nervous (and nauseous) but blocked any negative thoughts from my mind. I had to believe it would taste delicious otherwise I would end up in a cycle of bizarre mermaid thoughts.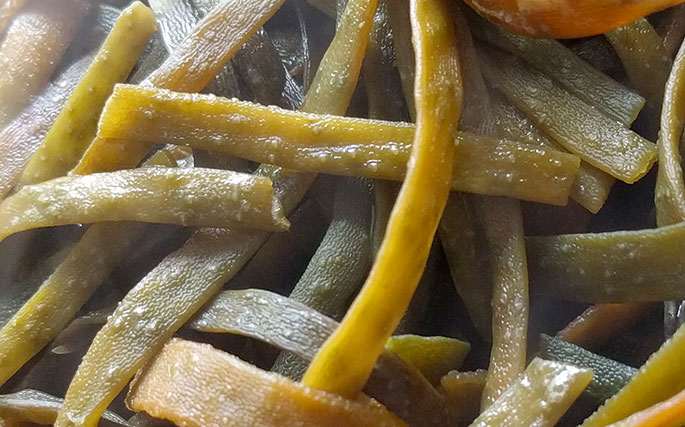 When zoomed out it looks just like green spinach pasta! Again the smell was quite overpowering so I needed to get some sauce on it ASAP!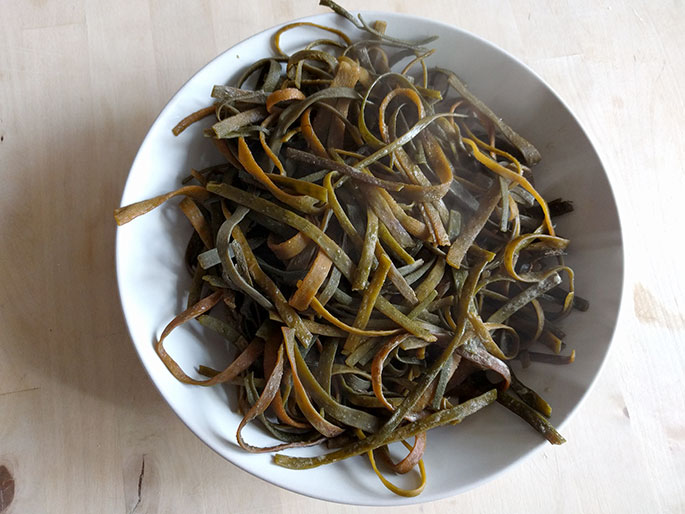 Tip into your prepared bolognese with a healthy glug of olive oil and any seasoning your heart desires.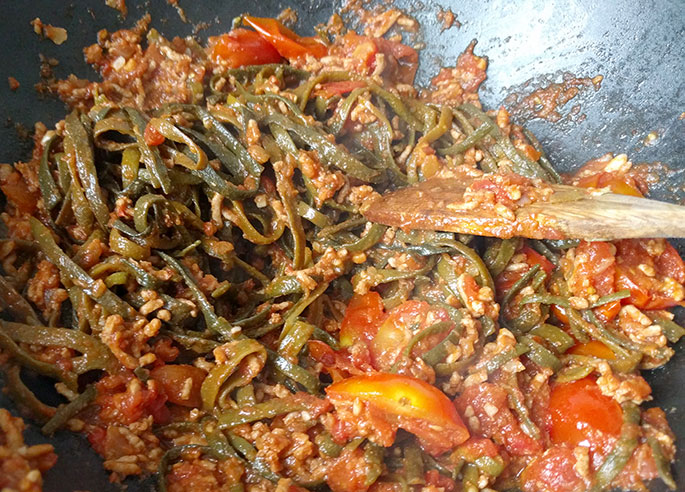 And…. TA-DAH! Looks pretty appetising right?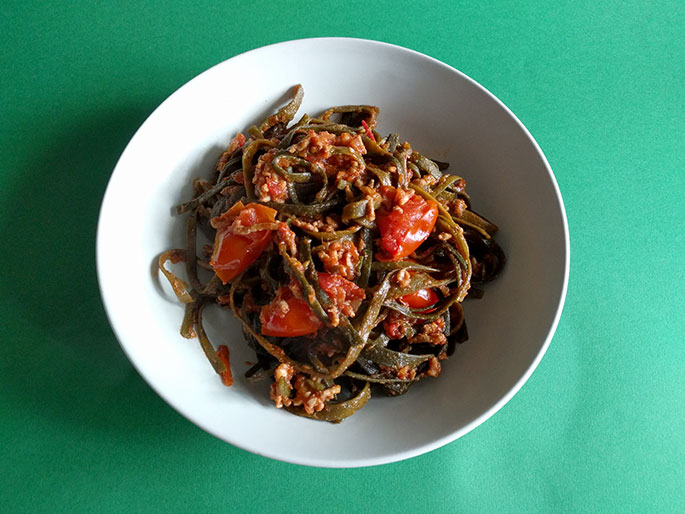 The dish once finished looks BEAUTIFUL and very colourful, but as I came to eating it I had that niggling sea smell I couldn't get my brain to push out.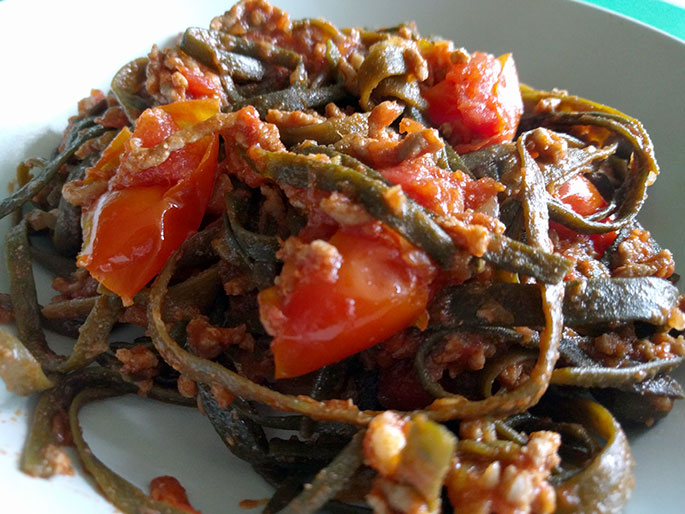 The verdict
I Sea Pasta made me sea sick.
Let me explain. The sea weed pasta itself has the texture and taste of boiled green beans, so in reality there really isn't anything disgusting about this dish.
The taste is actually okay but my brain won't allow me to like it. Why oh why? It looks so pretty. I tried several times to take a mouthful and each time a gag reflux kicked in from the knowledge that I was eating seaweed. I was eating wet, warm seaweed from the sea and the smell enveloped me.
Smell is a powerful thing when it comes to influencing taste. Scientists say it is actually the process involving the cells of your tongue and nasal passage that affects the overall taste of food. It's the conjunction of all of our senses, including sight that allows our brain to define flavour. The smell cells in my nose are relaying information to my mouth via olfactory referral.
So that's what is happening to me when I eat seaweed pasta. Blame my overly complicated brain for not liking the taste.
I'll be honest, I think unless the world is coming to an end and we can no longer make real pasta – I'll stick to real pasta rather than substituting.
That said, please don't let my experience put you off. Everyone's brains operate differently and maybe you won't have a deep fear of the sea like my tastebuds have.
I'll give this a 5 on the Annem-o-meter. If anyone has tried this product before and thinks they could surprise me by whipping up a dish I would enjoy – let me know in the comments below! I'll happily update this blog and change to a higher score if a willing cook is certain I went with the wrong recipe.