Since moving to Tottenham many years ago, I've always hopped on a bus to nearby Stoke Newington in order to get my fix of simple, homely, intimate little cafes. I've longed for my area to have something similar, and then one day, like magic – boom – The Banc Brasserie opened up its doors on November 27th 2015.
The background
In order to give you background on how the Banc Brasserie came our way, we have to travel across the road and talk about the main restaurant – The Banc which opened up in 2011. Go here for burgers, steaks, kebabs, cocktails and shisha.
I love the entire story surrounding the founders of The Banc. It used to be a former Barclays Bank (hence the inspiration for the name). In fact, the building was derelict for a whopping 11 years!
Jan Topcu and Fabio Teixeiro attended nearby Park View college and after beating off fierce competition to win the space, the former students set up shop.
See how it's evolved since 2011!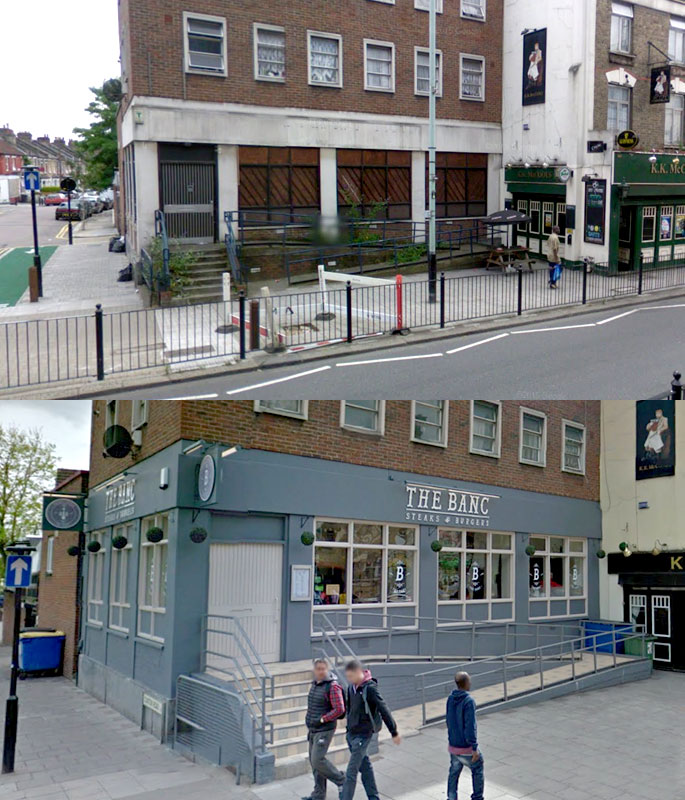 Following the success of The Banc, the founders set their eyes across the road and thus, a trendy, chilled out brasserie was born.
The Banc Brasserie itself was formally known as a storage site for Downhills Park's gardening tools and has also gone through a massive transformation.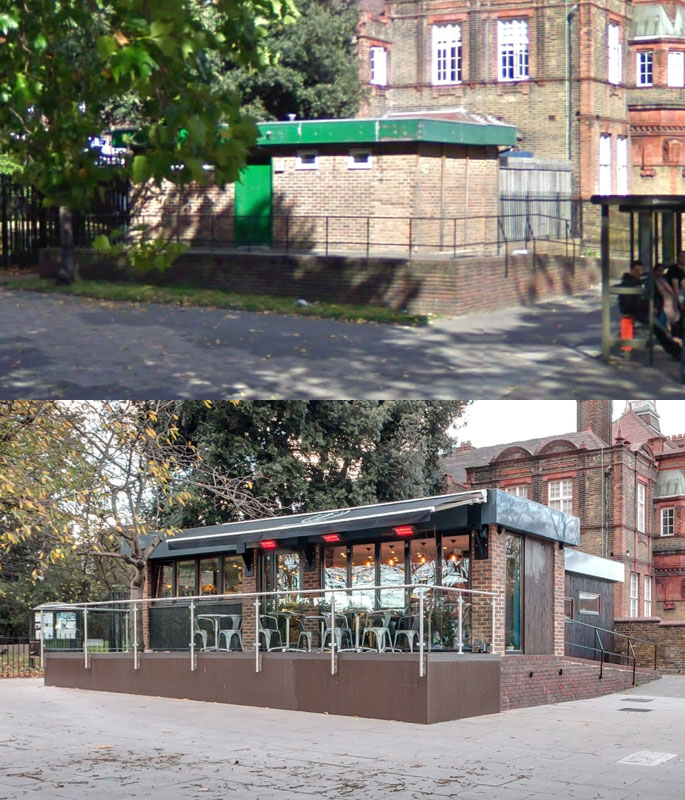 In some ways you could argue that Jan and Fabio have made a significant contribution to the local community in Tottenham. I'm sure in years to come when Tottenham has become a trendy hotspot, we'll be able to look back and thank them for putting the wheels in motion. They've already transformed the area around West Green Road by putting 2 appealing businesses in place of 2 derelict buildings. How long before Londoners will finally be visiting Tottenham for tea, cake and a walk in the park?
The atmosphere
The location is right next to the park entrance and with an outdoor seating area, I can see this place becoming a firm favourite for locals and people travelling in – especially during the summer months. I'm planning on regular jogs in the park followed by a healthy smoothie on my way home.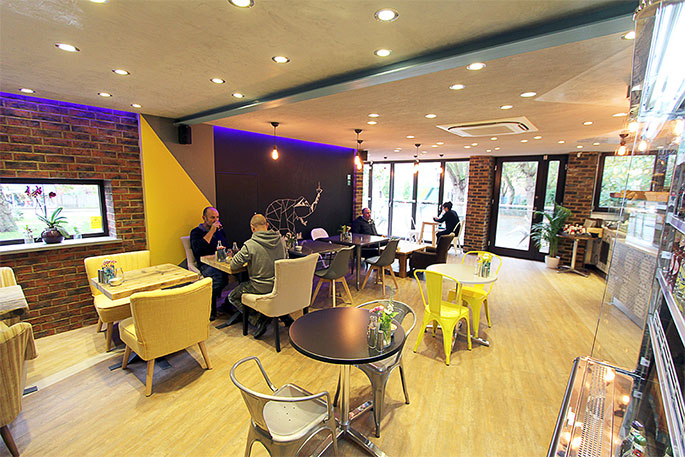 The Brasserie is frequented by yummy mummies taking their kids for a stroll, local folk chilling out with a book over a coffee and friends having a catch up over some delicious brunch.
Check out the virtual tour on Google Streetview that goes inside the cafe!
My favourite part? I love that they play chilled-out jazz music so I can focus on my food, instead of blaring out the typical Top 40. I don't think I could swallow my pasta with One Direction singing down my eardrums. I think I even heard an instrumental from Twin Peaks in there the other day.
The food
Where to start? The Banc Brasserie does such a fine range of dishes, there truly is something for everyone.
Breakfast bagels filled with delights such as halloumi, pulled lamb shoulder, home cured salmon, eggs, avocado – the options are endless. The fry ups are divine and best of all, they have a huge selection of vegetarian dishes too.
I've fallen head over heels with their Chicken and Mushroom Tagliatelle (Chicken, Mushrooms, Double Cream, Blue Cheese and Roquette Salad, topped with grated Parmesan Cheese). I often dream about it when I'm at home.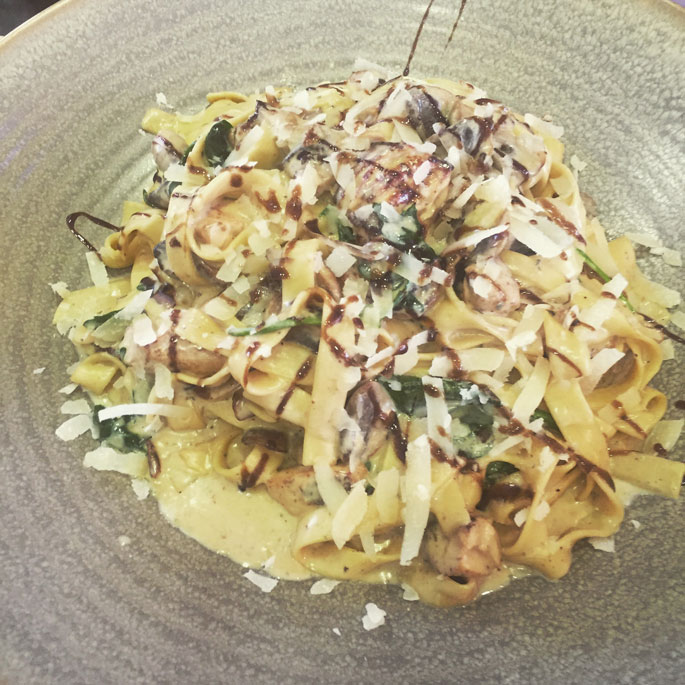 Thankfully they are a mere 3 minute walk down the road from where I live so my cravings can be satiated. They even do takeaway too! The creaminess in the sauce they toss the pasta in is out of this world, and it's all so fresh. It's not just some pre-made pasta they made the day before, reheated in a microwave, oh no.  You can even have a peek whilst they cook it.
The Roasted Pulled Lamb Shoulder Wrap also comes with the highest of my recommendations. Served with fries and salad, the portion size is delightful and the meat is oh, so, so tender it melts in your mouth.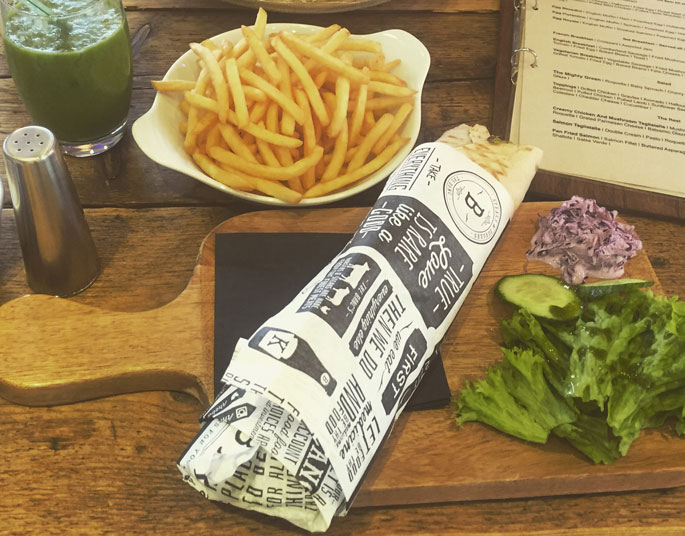 I often finish all this food off with a Groovy Green Smoothie packed with Apple, Melons, Pears, Spinach, Avocado and Mint.
The variety is endless and you can take a look at their full menu here.
Now there's even Sunday Roasts at Banc Brasserie
Sometime last week, I spotted this Tweet from Banc Brasserie and excitement levels hit the roof.
Gravy almost ready 😊💦 Four days to go! #bancbrasseriesundayroast pic.twitter.com/qmT680jW22

— Banc Brasserie (@bancbrasserie_) January 13, 2016
Fresh, home cooked, hearty Sunday roasts… in Tottenham? Amazing! My weekend was planned before I could even yell 'YES' loudly in my living room in joy.
And for all vegetarians and vegans out there, you have not been forgotten at the Banc Brasserie.
Here's the menu in all its glory: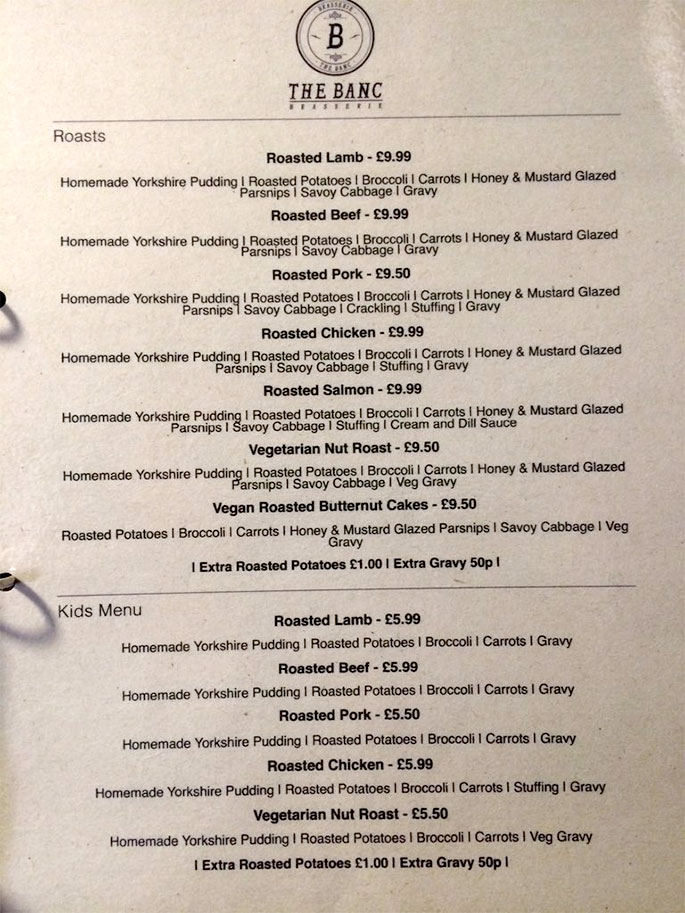 Last weekend was the official launch of their roasts and I made sure I was there nice and early. I kicked it off with Roasted Beef and plan on working my way through the menu.
Followed by an apple & fig crumble with custard…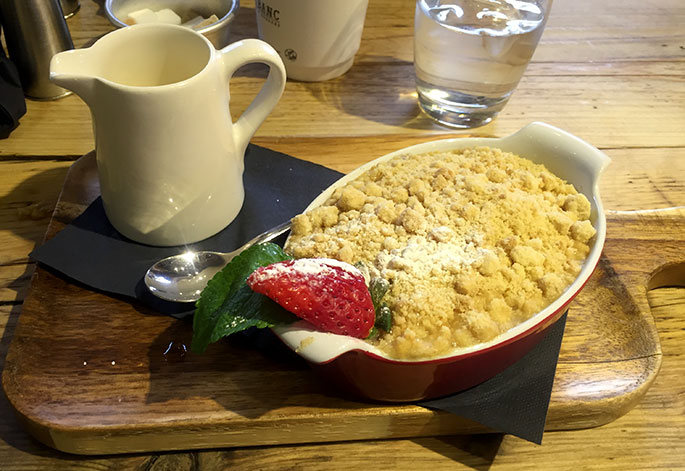 The Banc Brasserie is definitely one to add to your list if you're looking for a new joint to eat in. If like me, you enjoy mulling over a cup of coffee whilst reading a book definitely find some time to check it out.
It's becoming so popular, the locals are beginning to fight over who will be Mayor on Foursquare. Of course, it's me.
I've been ousted as 'mayor' of @bancbrasserie_ by one the @3_Beards. Be careful what you start 😀

— Steve O'Hear (@sohear) December 30, 2015
@rubyannem @sohear player 3 has entered the game pic.twitter.com/MSzgWP47Tl

— Michael Hobson (@imhobson) January 3, 2016
I'm so impressed from the way the building has been transformed, to the smoothies, the brunch and the Sunday Roast that the Annem-o-meter has gone a little off the scales.
http://www.thebanc.co.uk/brasserie/