Update 27th Aug 2016
I've had to update this blog post, as to my horror Magnum have a new Pistachio recipe, and guess what – they took the Pistachio out of the Pistachio Magnum. The new packaging with a striped 'NEW RECIPE' in the corner is LIES IN A BOX.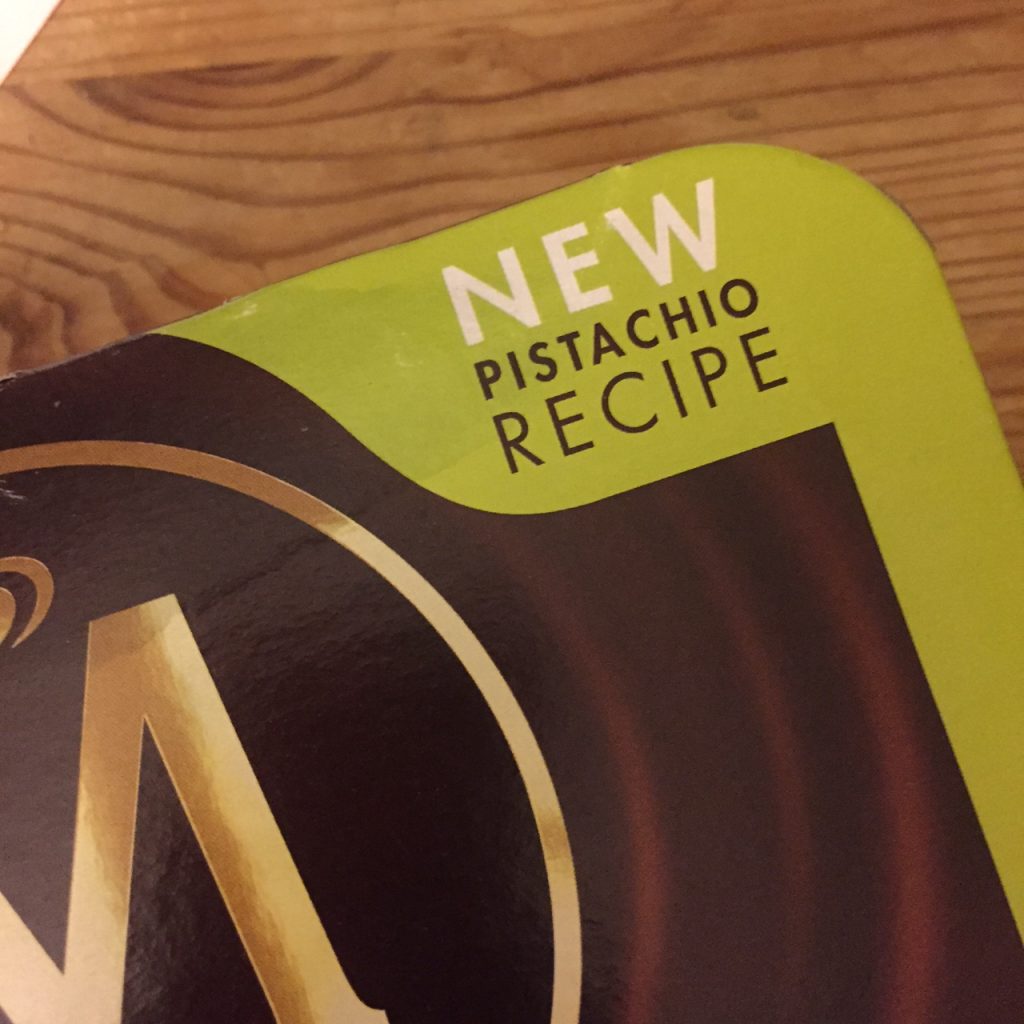 The new 'updated' flavour is essentially vanilla ice cream masquerading as Pistachio flavour. It used to have a distinguishable pistachio, almost marzipan like flavour. Now it's just… bland.
Thanks Magnum. Thanks for ruining a perfectly good flavour. HOW COULD YOU DO THIS. Also, how can you get away with this? How did you think nobody would notice? I'm not alone – here's some reactions on Twitter:
.@MagnumUK when did you take the pistachio out a pistachio magnum? #bland #vanilla #gutted pic.twitter.com/HEvuZ8XvZQ

— James McCafferty (@JSKMcCafferty) 12 August 2016
@MagnumUK really disappointed with the pistachio magnum. What have you done to it? It was awesome before. Don't think I'll be buying again

— Miz Terrell Tang (@MiZWiZDesign) July 24, 2016
MAGNUM I AM SO MAD AT YOU. 
ORIGINAL POST:
Wandering around Sainsbury's one day, I stumbled across the ice-cream section and from afar I spied a hazy greeny-brown outline of some new Magnum flavours. Excitedly, I walked over (and that walk slowly became a leap of joy) when I saw that it was none other than the best ice-cream flavour in the world. Pistachio Magnum.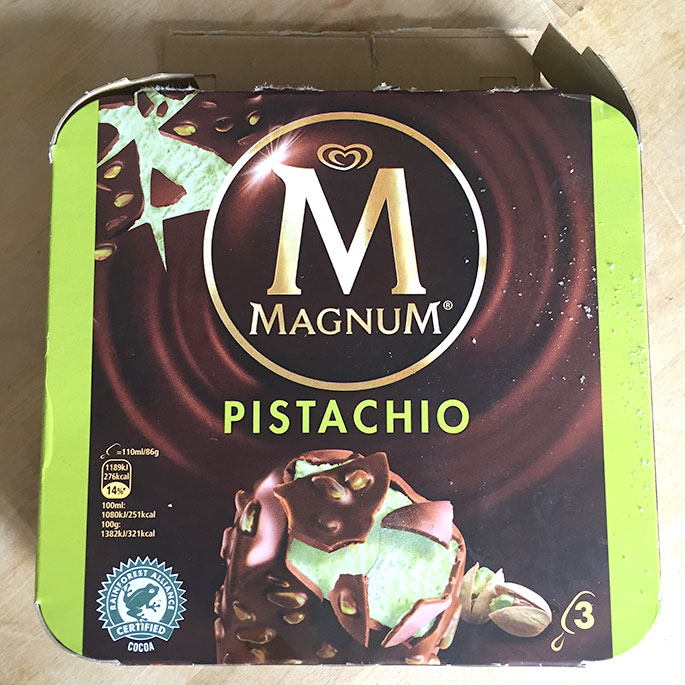 Words cannot describe how happy I am when I go to an ice-cream parlour and they have this flavour, but now it's available in my nearest supermarket AND IT'S COATED IN CHOCOLATE.
I immediately put two boxes into my trolley.
As I peeled the wrapper off, bits of chocolate fell out – which I was quick to pick up with my fingers and transfer back to my mouth. Clearly I'd over-enthusiastically thrown the ice-creams into the trolley as they were a little broken when unwrapped.
Who cares. It still looks gorgeous.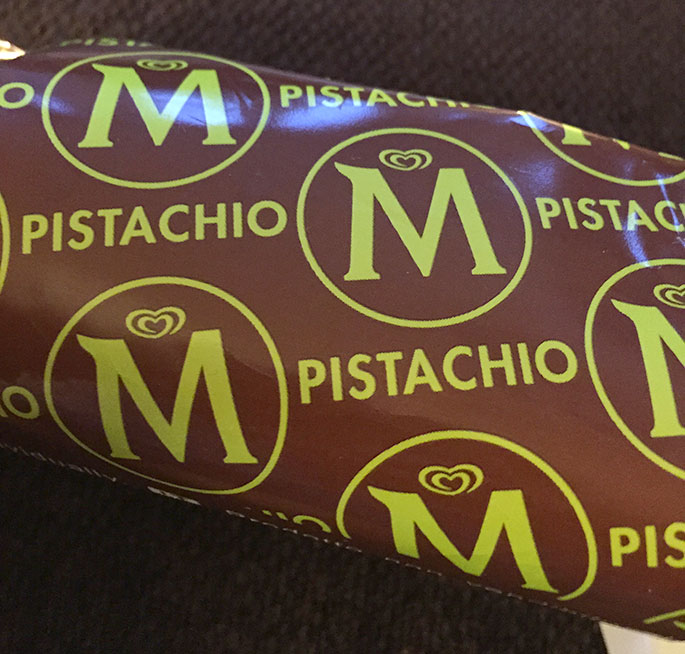 Now, the green colouring is quite bright. Not your usual 'delicate green' frequently found in other versions of this ice-cream flavour, but the dark chocolate around it balances this out perfectly. The first bite is delicious and the chocolate is coated in crumbly, chopped up pistachios. It's a good not-too-dark chocolate but not-too-sickly milk chocolate either. The actual ice-cream itself is sumptuously creamy. The kind where you actually close your eyes in delight.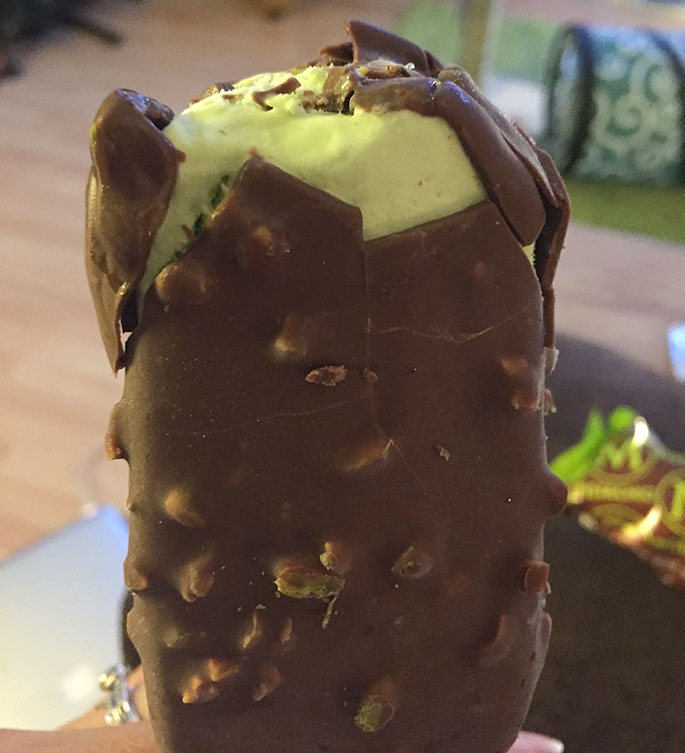 I thought long and hard about how this ice-cream could be improved, if at all and I only came to one conclusion:
It could be bigger.
I'd have happily eaten a Magnum Pistachio XL.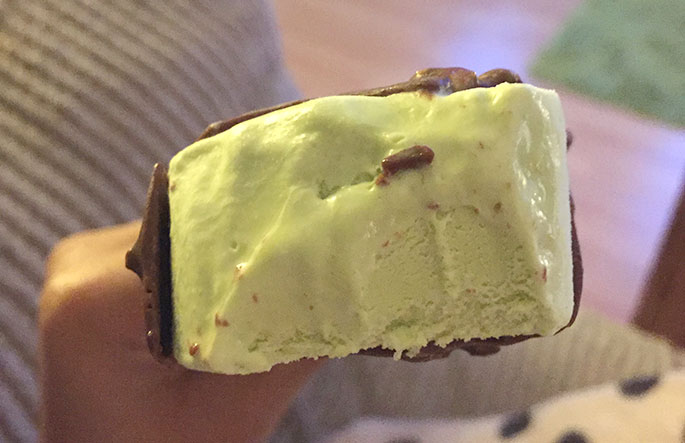 The only thing I'm worried about now is this leaving our shelves and never returning. I know Magnum unveiled a range of new flavours for their 25th anniversary but this has got to stay! It's so frustrating when there's a limited edition flavour of something you adore and then it disappears, never to come back again.
Pistachio ice-cream was made for Magnum's. So please, please, please, people of Magnum – please let this stay.
In fact, if you've tried this flavour and passionately feel it needs to stay – sign this extremely first world problems petition:
https://www.change.org/p/magnum-unilever-make-the-limited-edition-pistachio-magnum-s-permanent
I give this a solid 9 out of 10. It will be a 10 if I wasn't worried about it disappearing.