Pate. It's synonymous with Christmas. Gathered round a cheese board with sliced up baguette is how I spend many evenings in the run up to Christmas. Adding pate to the mix turns it into a celebration.
So what kind of pate do you go for? Chicken Liver Parfait seems very popular, as does duck. How about fish?
I got to try a new luxurious Pate made with Siberian Sturgeon fish, and after tasting it I reckon this will be a sure favourite with my friends and family too. According to online fish retailer The Fish Society – the recipe for their new pate has has been devised by top food technologists. I particularly enjoy experimenting with flavours and was delighted to see their range: Classic, Smoked, Wasabi, Green Pepper, Chipotle and the extra special Classic with Caviar. These lovely little tins of pate are perfect for Christmas; whether to create quick and easy festive canapés, or as an unusual gift for a food lover. The packaging is beautiful and when I first opened the delivery box, I couldn't wait to tuck in.
To get under the skin of the brand and the pate I had the opportunity to ask Alistair Blair, the founder of The Fish Society some questions. Born and bred in Grimsby, fish plays a big part in Alistair's life with a Danish fisherman grandfather and a father who ran the Birds Eye fish factory. In fact, before starting his own company he had an award winning career in financial journalism. Combining learnings from both his career and passion he's gone on to set up an impressive business having doubled the company in size in the last five years.
So Alistair, how is the sturgeon used by The Fish Society harvested?
"The sturgeon is responsibly raised on a modern enclosed sturgeon farm in Latvia. None of the fish is from the wild, and "enclosed" means none of the waste is released into water streams."
We tried the classic pate with caviar. It was delicious. Why is caviar from sturgeon fish the best? Why not other fish?
'"Caviar" in the sense of preserved fish eggs/roe IS made from other fish, but it's not called caviar, which is the term used for the roe of sturgeon. Salmon eggs are called "keta." These are very popular – outselling caviar by a mile. Other roes which are salted and preserved like sturgeon roe include those of herring, sea urchin, flying fish (called tobiko), lumpfish ("poor man's caviar"), trout (similar to keta) and there are others. You can check out whitefish roes here and salmon roe here."
What makes this fish the stand out choice? I've heard sturgeon produces the best caviar, is this true?
"No doubt about it – sturgeon roe is simply in a class of its own. If you set down 10 dishes of different roes in front of someone who had never heard of any them before, they'd decide caviar beat all the others hands down."

Similarly, why did you choose to make the pate from Sturgeon and not another fish, like Mackerel?
"In fact we do have pate from other fish including mackerel, salmon, sardines and many other kinds of fish, but most of those are pretty familiar. However, this sturgeon pate is new to the market and unique."
What were some of the flavours that were invented for the pates that didn't end up making the final cut?
"There have been flavours on which we have so far passed! Ginger flavour – couldn't get on with that. Whisky – not a winner either."
…and which is your favourite flavour?
"Smoked. I just like the taste. I can eat it with a spoon."
Do you have any suggestions on the best way to serve the pate? We had it with toasted sourdough but would love to hear any unusual or favourite methods!
"I emptied a tin of smoked onto a baked potato. I thought it was a winner."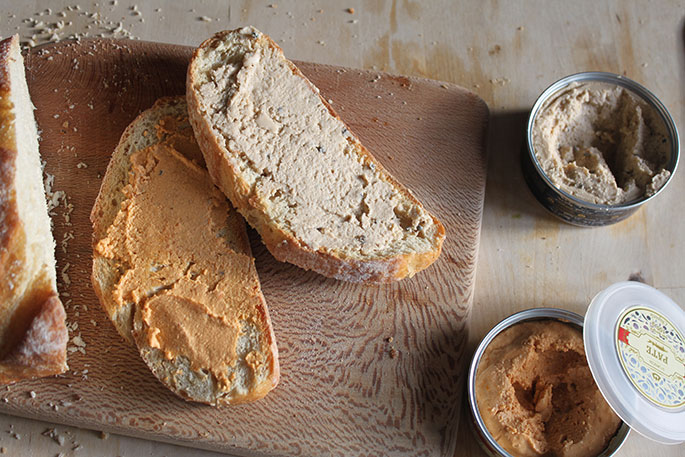 ---
My standout flavour of choice was definitely the Chipotle. There's a distinctive smoky flavour that comes through. It's not spicy to the point where it's noticeable but there is a tiny, mild kick that comes together beautifully.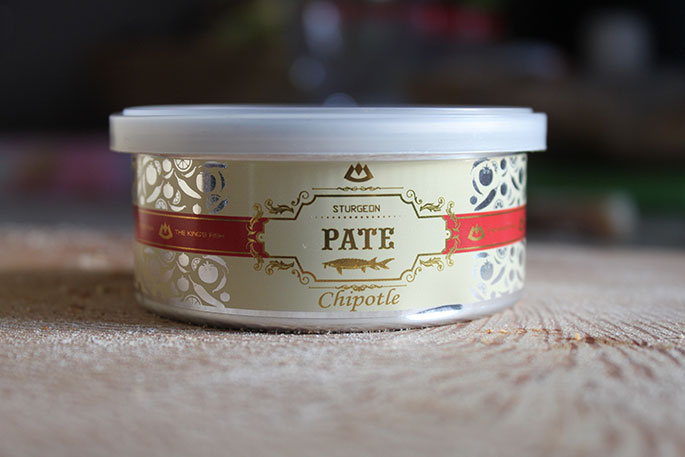 The caviar pate, although sturgeon fish tastes almost mackerelly to me. It's creamy and melts in the mouth. I can see this working perfectly in a sandwich.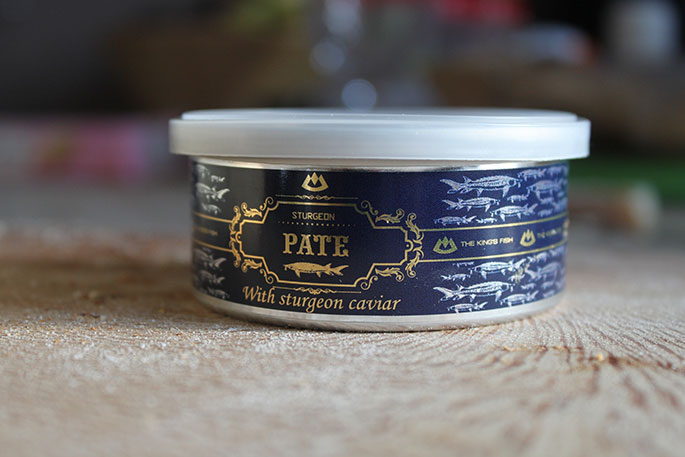 Want to try your own? The Fish Society are the sole UK importers of the pate (currently on their website starting from £4.80 per tin) and can deliver anywhere in the UK next day.
If you're thinking of this as more of a gift then why not nab their pack of 4? Currently £17.70 on their website and I guarantee…. if you whip this out at Christmas as a gift you will make a food lover very happy.
Purchase from thefishsociety.co.uk