We're big fans of a good pun, and even bigger fans of a good gin. Put those together and you've got the newly launched, delicious CollaGin – the world's first gin distilled with pure collagen. Genius!
I ordered mine from DrinkSuperMarket.com pretty soon into their big launch, tucking in straight away to create my first Skin & Tonic. Brainchild of Camilla Brown and Liz Beswick – these two gintrepreneurs are ones to watch as they begin their journey taking the drinks industry by storm.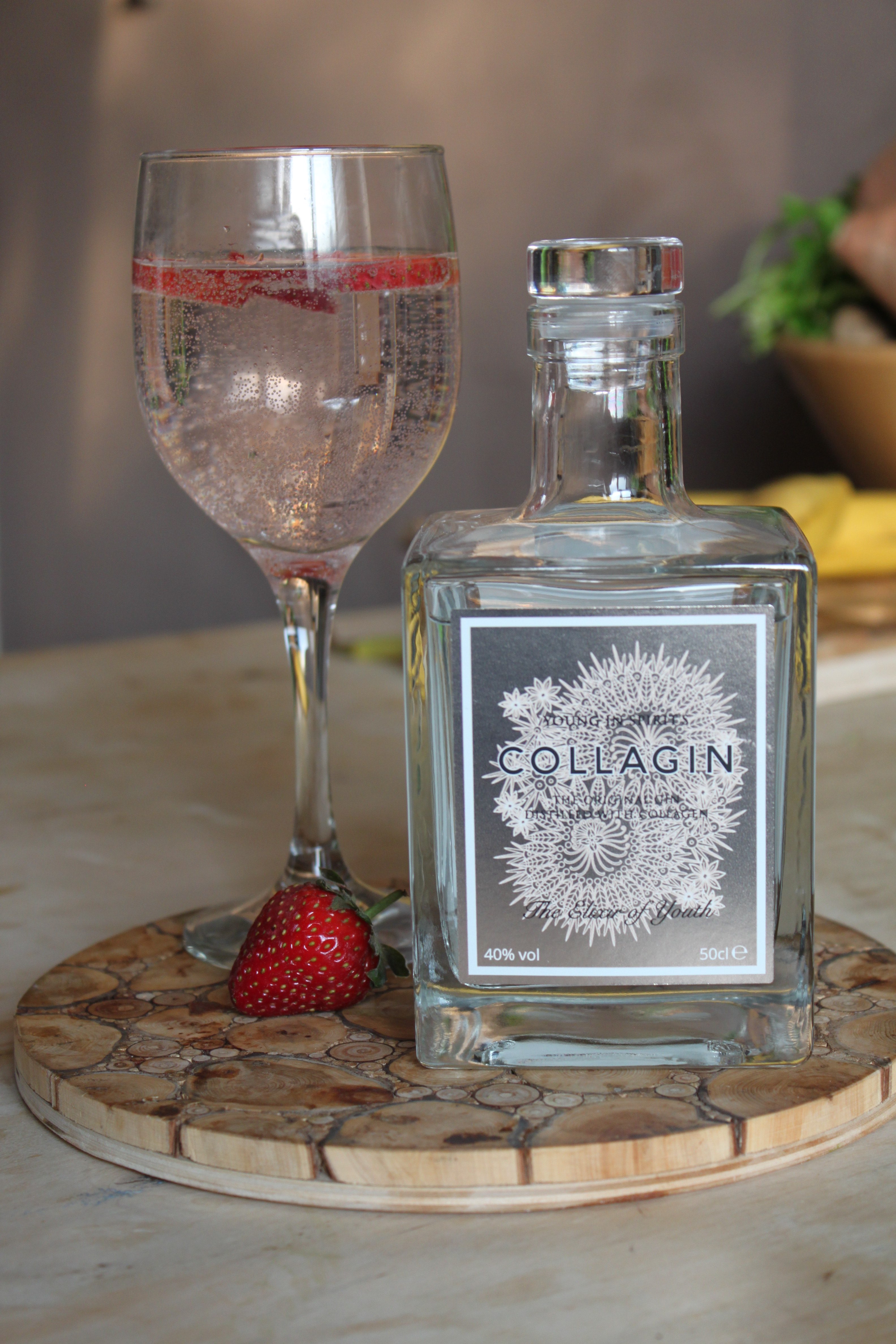 As well as being pipped as the hot new beauty drink, when it came to the taste test, CollaGin actually tastes pretty darn good, if not better than I expected. It comes in an elegant glass bottle and has a refined taste. The recipe is unique and has stayed true to the principles of a classic gin but with a rejuvenating twist of anti-ageing botanicals such as star anise, pink grapefruit and orris.
The other botanicals featured in the gin include vanilla, pink peppercorn, angelica root and liquorice, resulting in a smooth and fresh flavour that can be enjoyed as a sipping gin, a cocktail gin or with the classic tonic water. Serving suggestions were pink grapefruit or star anise, but I fancied pairing it with some strawberries to bring out the sweeter vanilla notes.
Co Founder Camilla Brown adds:
 "This really is the smoothest gin I have ever tasted and works so well in many different ways. We've used botanicals with healthy benefits and a big dose of pure, powdered collagen, so if you're going to drink gin anyway, why not drink one with added bonuses?
Quite right!
I give this a solid 9/10 on the Annem-o-meter on flavour alone.  It's a stunning little drink and will be coming out of my cupboard a lot this Summer.
[related align="right"]
Can this gin make you younger? That's too big of a statement for my liking, but for any beauty conscious gin fans out there who already purchase expensive collagen face masks and creams – why not put it in you as well as on you?
You can pick up a bottle of CollaGin from DrinkSuperMarket.com for £34.99, or on Amazon (at a slighter steeper £42.99). Not cheap, but on par with prices for a high quality gin – which is exactly what this is.