I confess that whilst I'm a huge fan of eating cheese, I actually know very little about its origins and history. It's not something I've taken the time to learn about or consider whilst I'm busy eating as much as I can cram in. Perhaps I can make educating myself on the topic my New Years resolution for 2017!
Kick starting my cheesy education, I was recently invited to spend an evening learning to cook with a cheese that has brought an immense amount of pleasure to my tastebuds: Parmesan. Not just any kind of parmesan though, we're talking the real deal Parmigiano Reggiano – often referred to as the 'King of Cheeses.'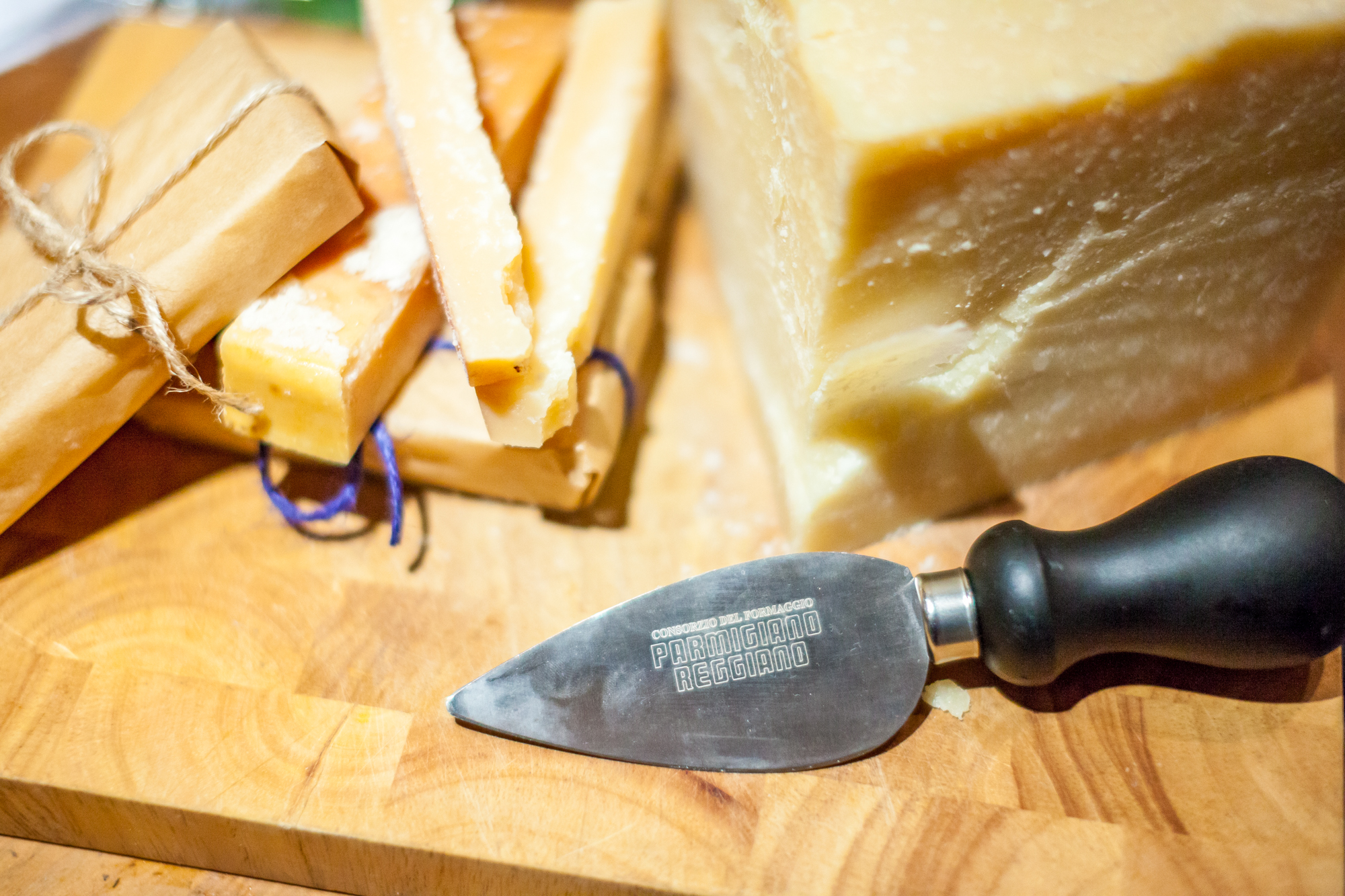 I wondered what the difference was between 'regular' parmesan cheese and Parmigiano Reggiano. In the process of answering what I thought was a simple question, I ended up learning so much more. Parmigiano Reggiano labeled on the rind means that the cheese was produced in the Italian areas of Bologna, Mantua, Modena or Parma (from which the name of this cheese originated). What I found even more interesting is that there is a 'Consortium' overseeing its origin. As a not for profit organisation, it's responsible for building the brand and monitoring the standards of production. A group of 650 small, artisanal cheese producers are part of the Consortium and they've worked tirelessly to preserve the centuries old production methods – making sure only high quality produce can carry the Parmigiano Reggiano name. In fact, the cheese has been recognised by the European Union as a DOP (Protected Denomination of Origin) product so you can always trace the good stuff back to its roots.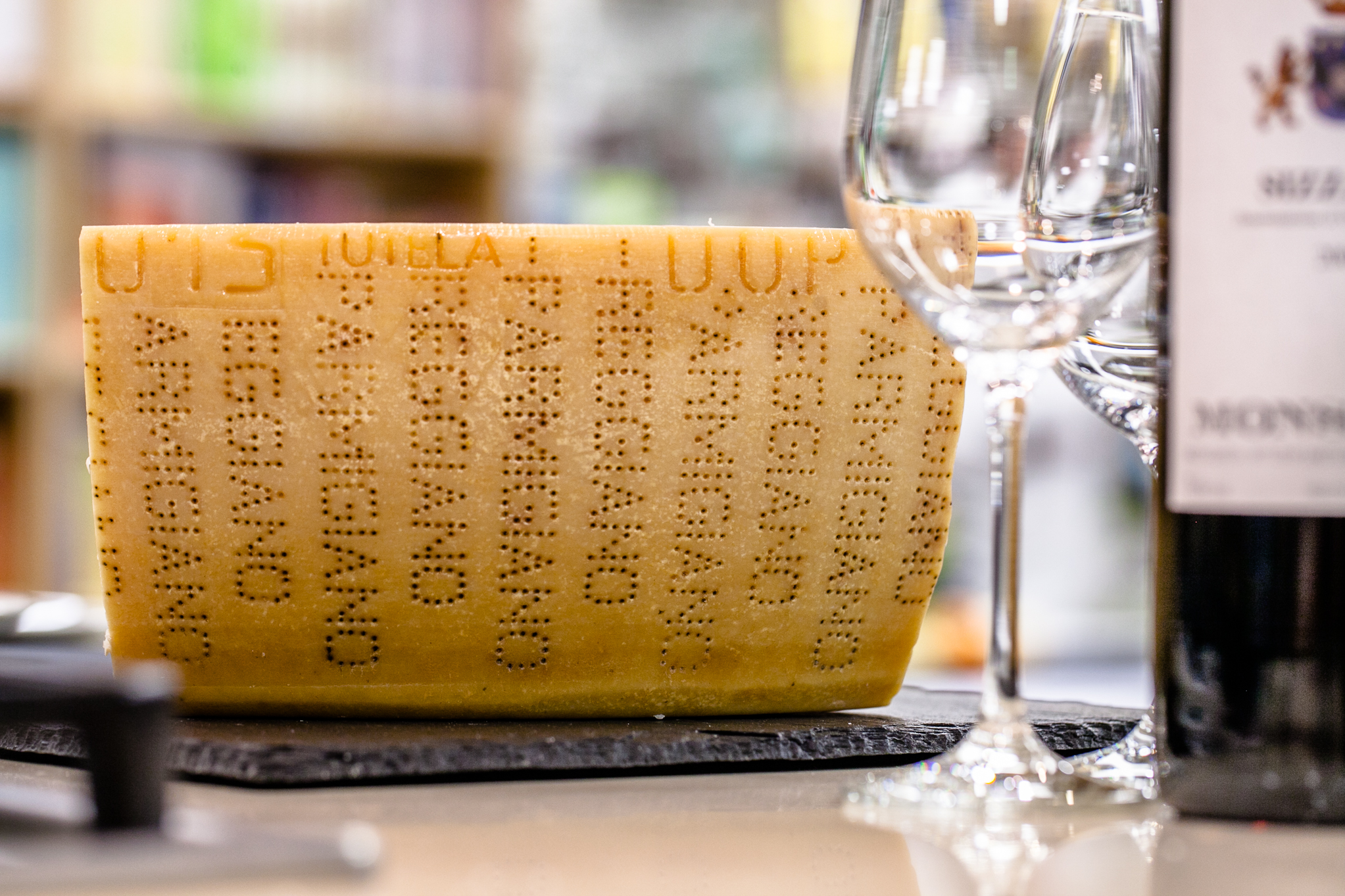 So there you have it. An incredibly short history of the 'King of Cheeses.' You'll probably find lots of cheese labeled as Parmesan that's not genuine Parmigiano Reggiano and although not a patch on the original – it can still be pretty darn tasty. Remember that cheese making is an art, and often when getting creative we take inspiration from the very best. Lots of artisan cheese makers are inspired by Parmigiano Reggiano and have produced their own high quality spin on parmesan. Then again, don't be fooled by a poor imitation with no love for the flavour…
Cooking with Parmigiano Reggiano
My evening began at Food at 52, full of recipe inspiration from cheesy canapés through to the two items on the menu for that day:
Parmigiano Reggiano & Sage Gnocchi with Walnut and Parmesan Pesto followed by…
Apple & Almond Cake with Parmigiano Reggiano, Pine Nut Streusal and Vanilla Cream.
After I hovered around the canapés trying as many as possible, we were led downstairs to our cooking stations. In groups of 4, we got cracking with both the gnocchi and the cake.
Starting with the cake, I began to peel the apples.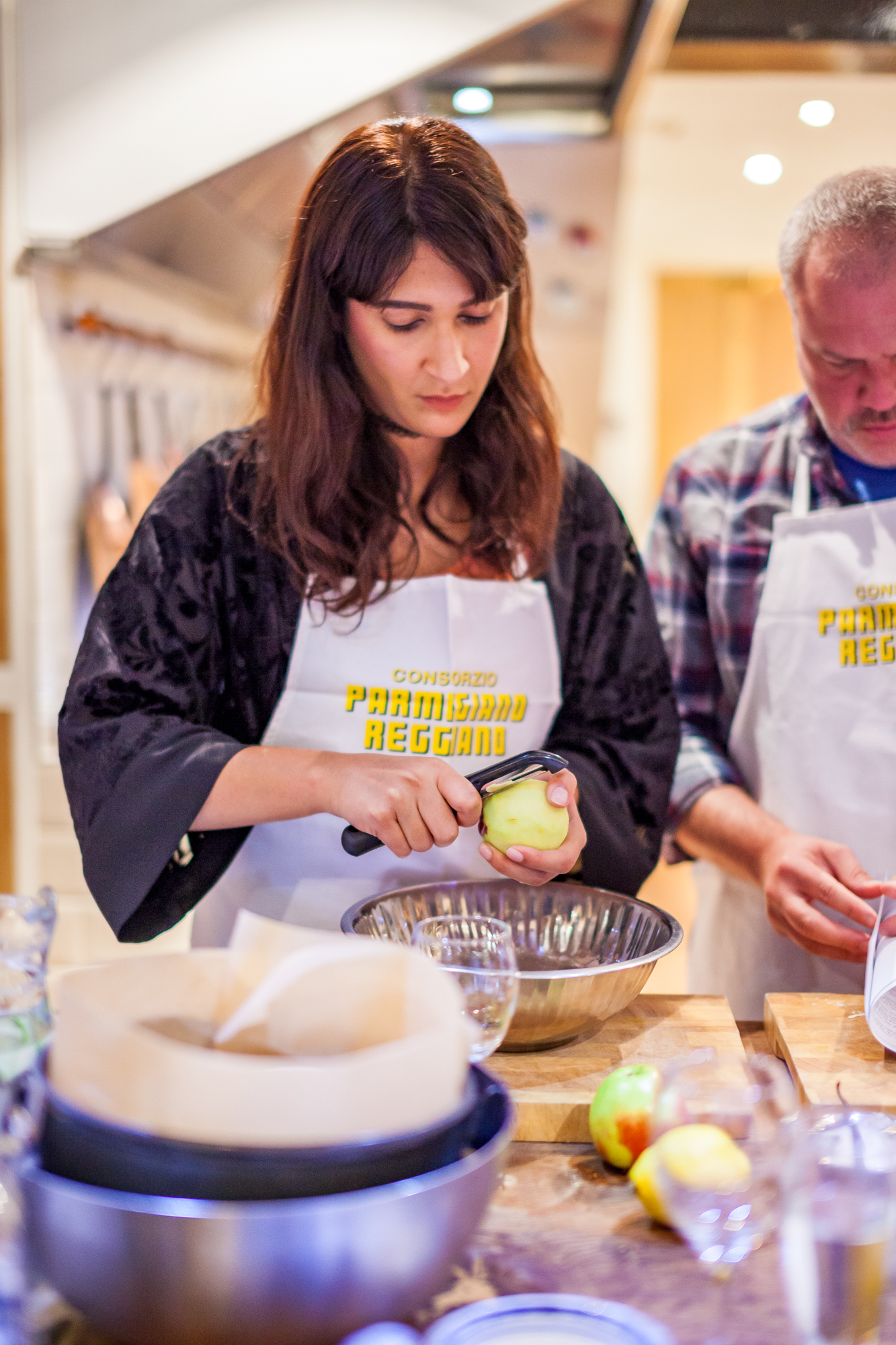 The rest of the team were beating the butter and sugar getting it light and fluffy. After adding the eggs we folded in the apples, lemon zest, cinnamon, flour, ground almonds, sugar and of course – parmesan!
Spooning the mixture into cake tins, we started on the streusel topping which gave the cake a delicious crunch. We made this by rubbing the butter into the flour (like breadcrumbs). Next, add in roughly chopped hazelnuts, rolled oats, sugar and parmesan. Sprinkle the streusel over the cake batter and get baking! We served ours with whipped up chantilly cream and of course… more parmesan!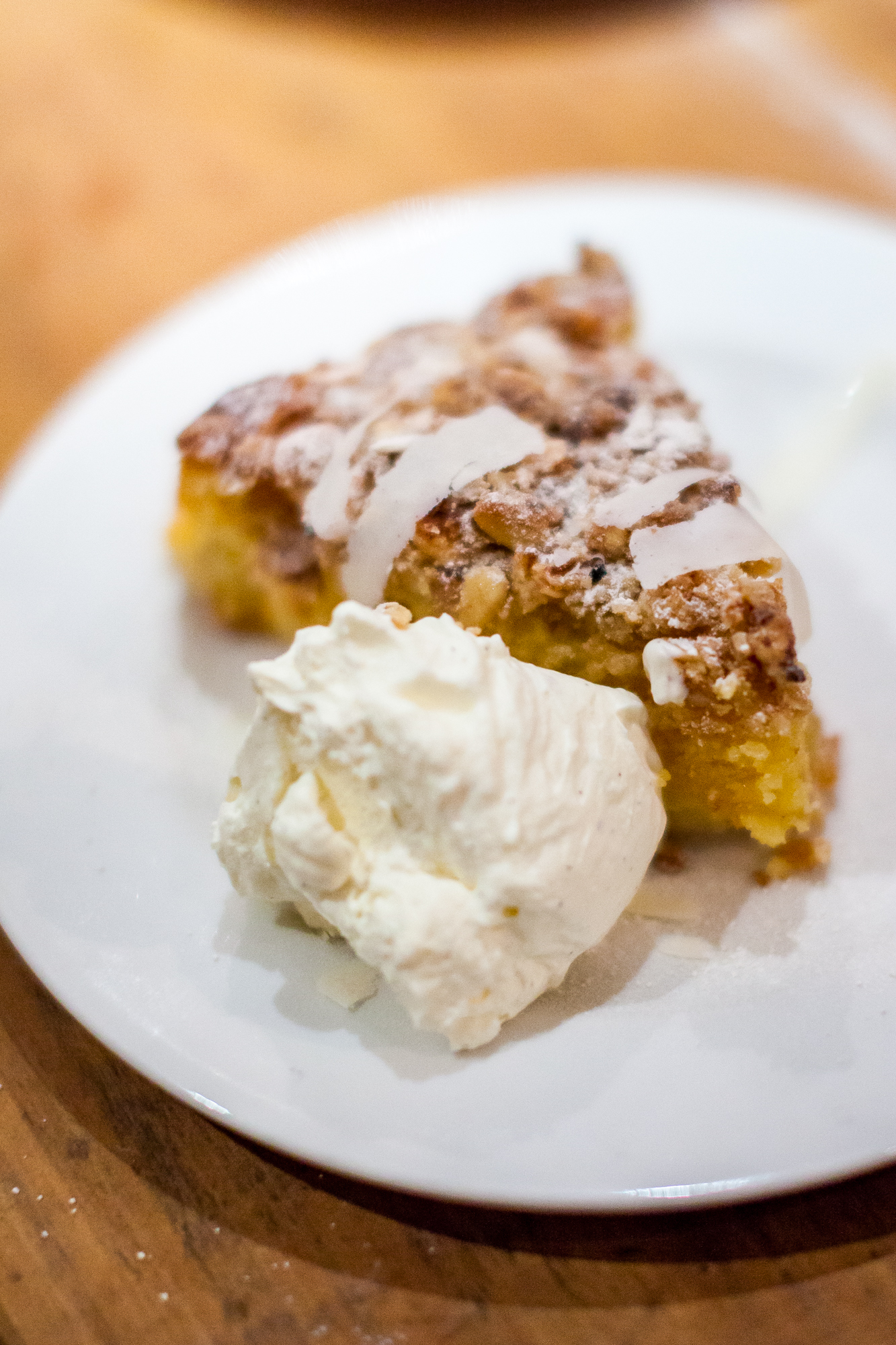 Onto the gnocchi, and the potatoes were roasted in the oven.
Top tip: Don't boil the potatoes when making gnocchi as the potato will have already absorbed too much water.
Whilst the potatoes baked, we began on the Parmesan Walnut Pesto. I've never made my own pesto before and absolutely loved the process. It tastes so much better than pesto out of a jar once you have the freedom to tweak the recipe to your own taste.
There was a lot of pounding involved from the garlic, butter and salt to the rocket leaves, parmesan and nuts.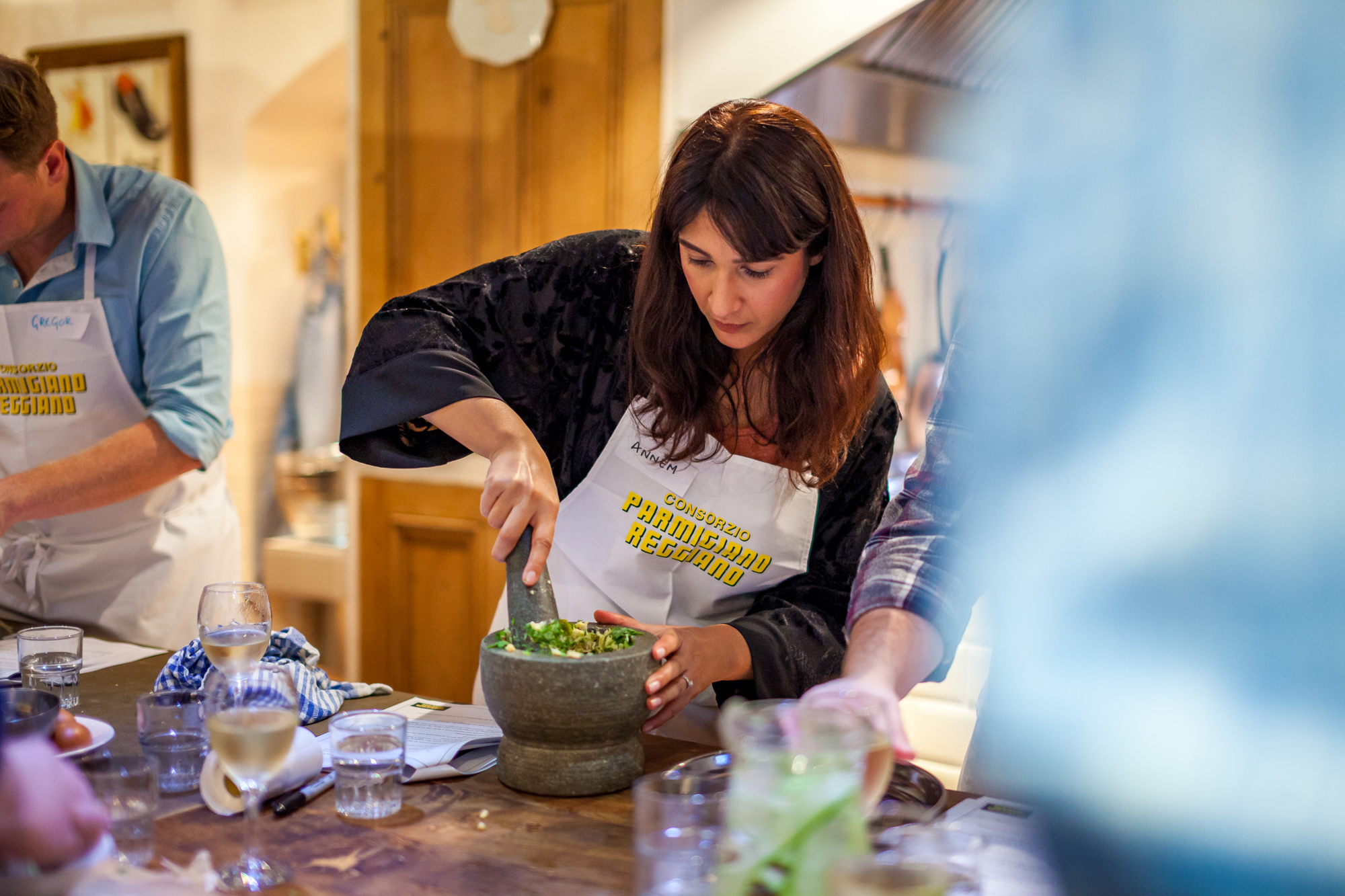 Back onto the gnocchi, we scooped out the soft potato and pushed it through a potato ricer. I've never owned one of these, but have since made sure it's joined my cupboard full of kitchen gadgets. They are brilliant and give you far smoother results than mashing up potatoes by hand. Egg yolks, pasta flour, sage and of course – parmesan were added and then we worked it into a dough!
After shaping as sausages, a sharp knife was used to cut them into 2cm pieces. We rolled each piece over the ridges of a table fork for a nice little pattern – but the rustic look works too. 😉 Lightly dust with rice flour and add the gnocchi to large pan of salted boiling water for 1-2 minutes (until they float). Easy peasy lemon squeezy.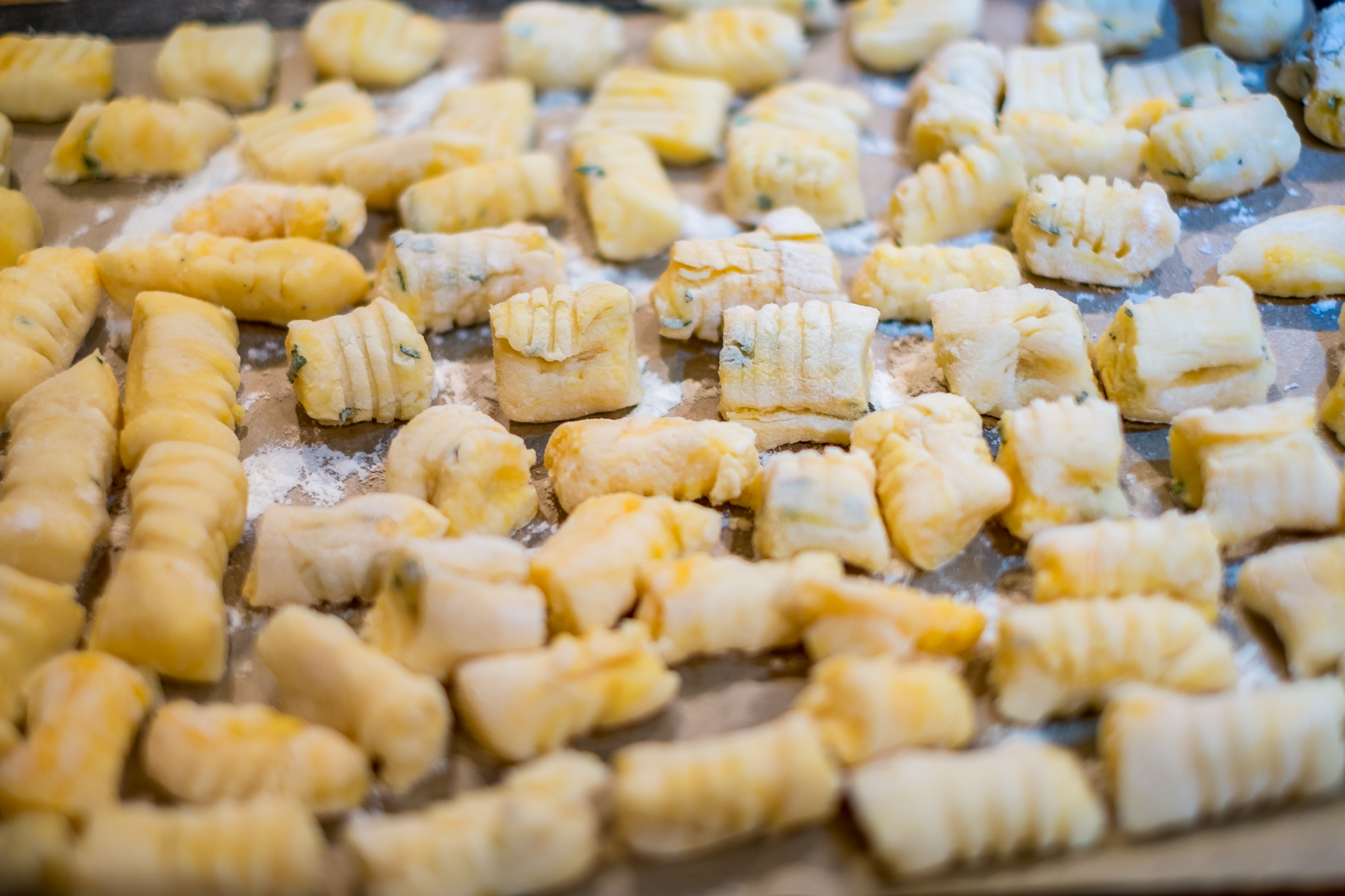 After we all high fived ourselves for successful team cooking, we all sat down for a candle lit dinner finally tasting what we made!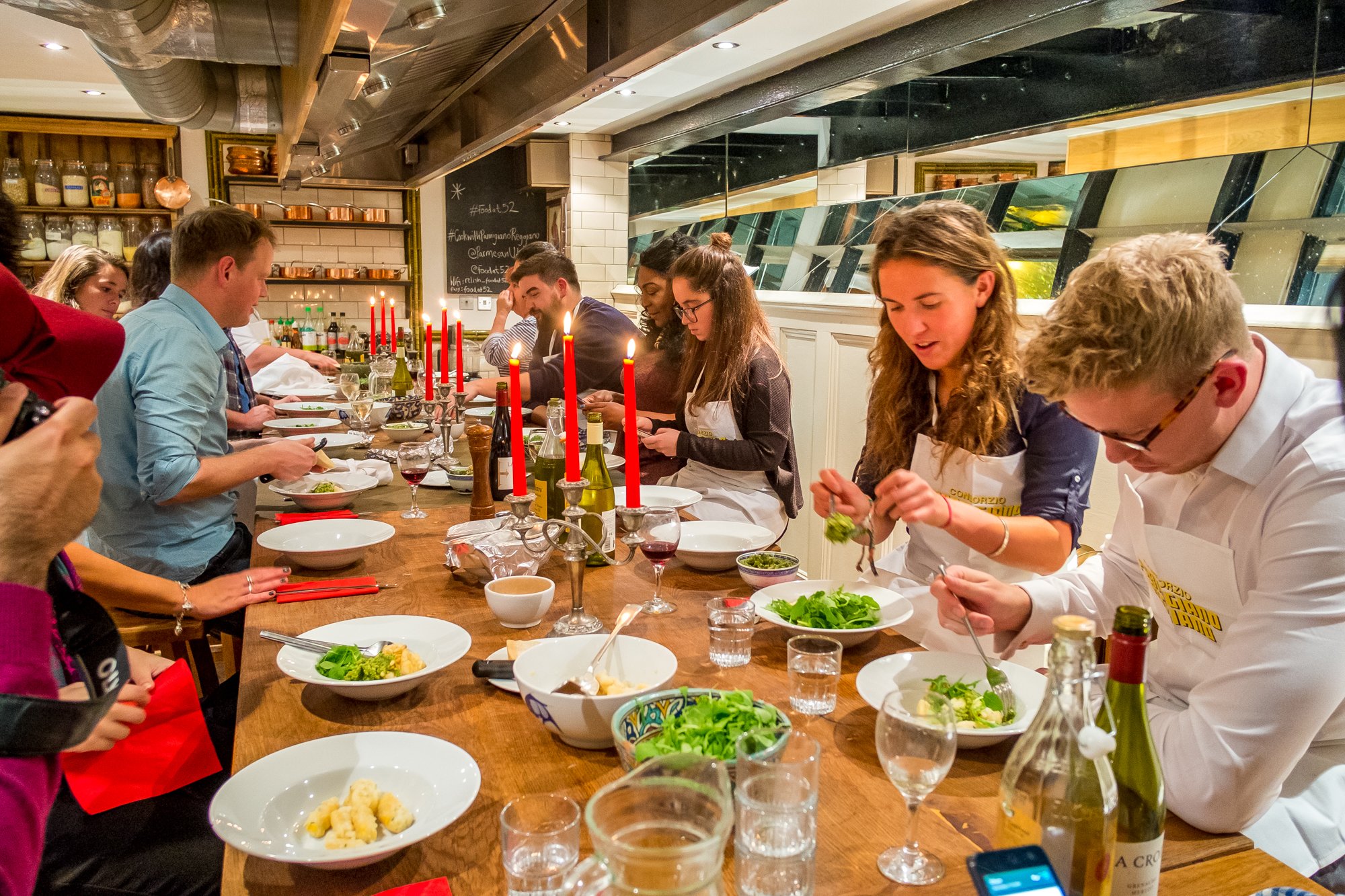 We served the gnocchi on a bed of rocket, a layer of walnuts, a generous gulp of olive oil and lots of our delicious pesto.
Top with as much parmesan as your heart desires.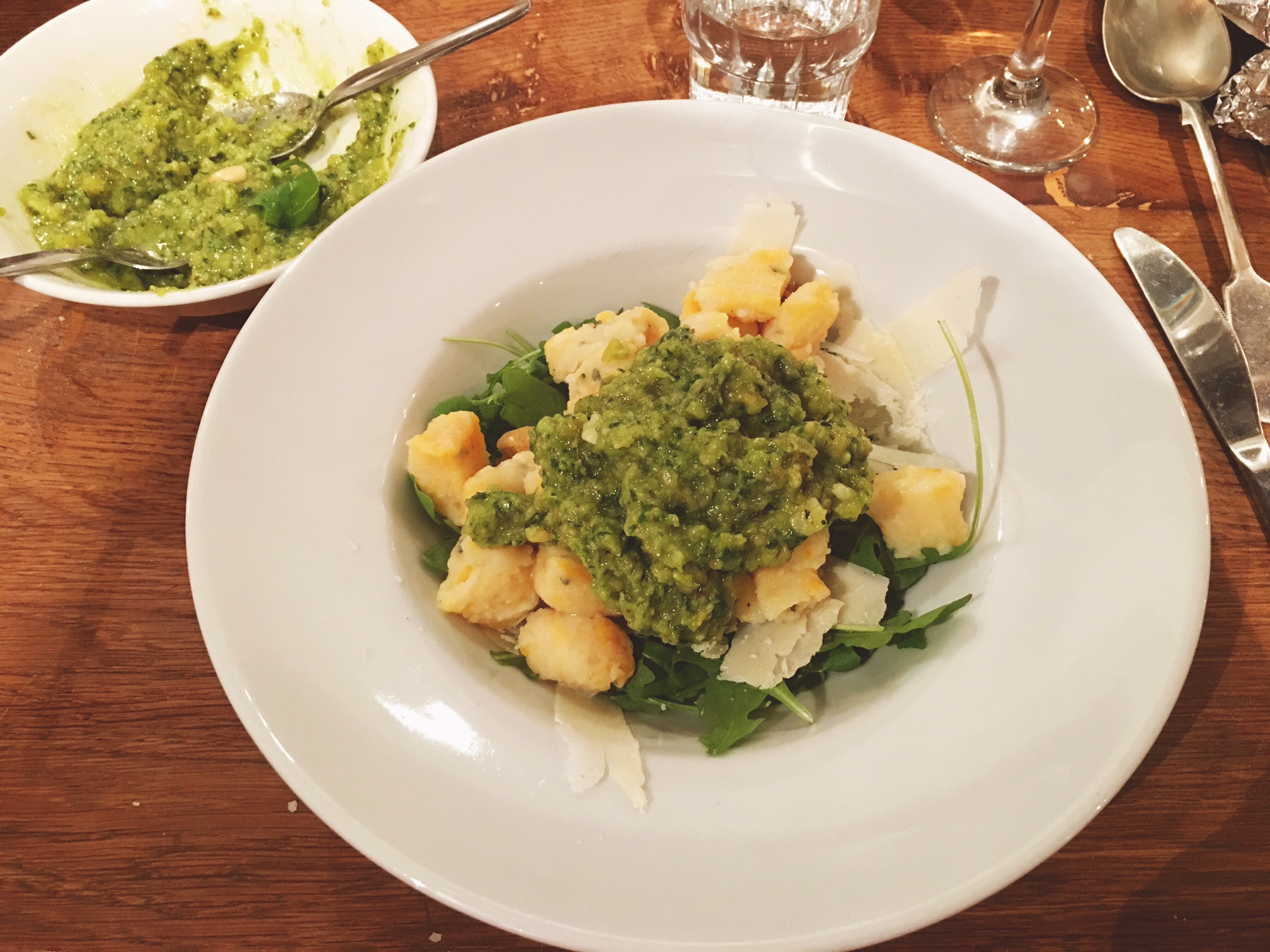 I walked out of Food at 52 clutching my stomach. Thank god I had worn my stretchy eating pants.