Here's my top 5 roundup of the best food and drink calendars out there. Well, actually 6 with a little surprise at the end of the list. In my opinion, all of these are a little more impressive than just a few bits of standard choc!
So why are we so obsessed with Advent Calendars? The origin of them can be traced back to the 19th century. In the past they've been made with candles that you light every night in the run up to Christmas. Chocolate became popular to use around the 1950's. Ultimately, what we want from an Advent Calendar is to get a treat, some excitement! But, what if you don't like chocolate? Your idea of a treat will differ from others.
Maybe try these…
You can listen to this roundup on talkRADIO's Big Set Breakfast Show with Paul Ross too! We went through them all live on air.
Pact Coffee Advent Calendar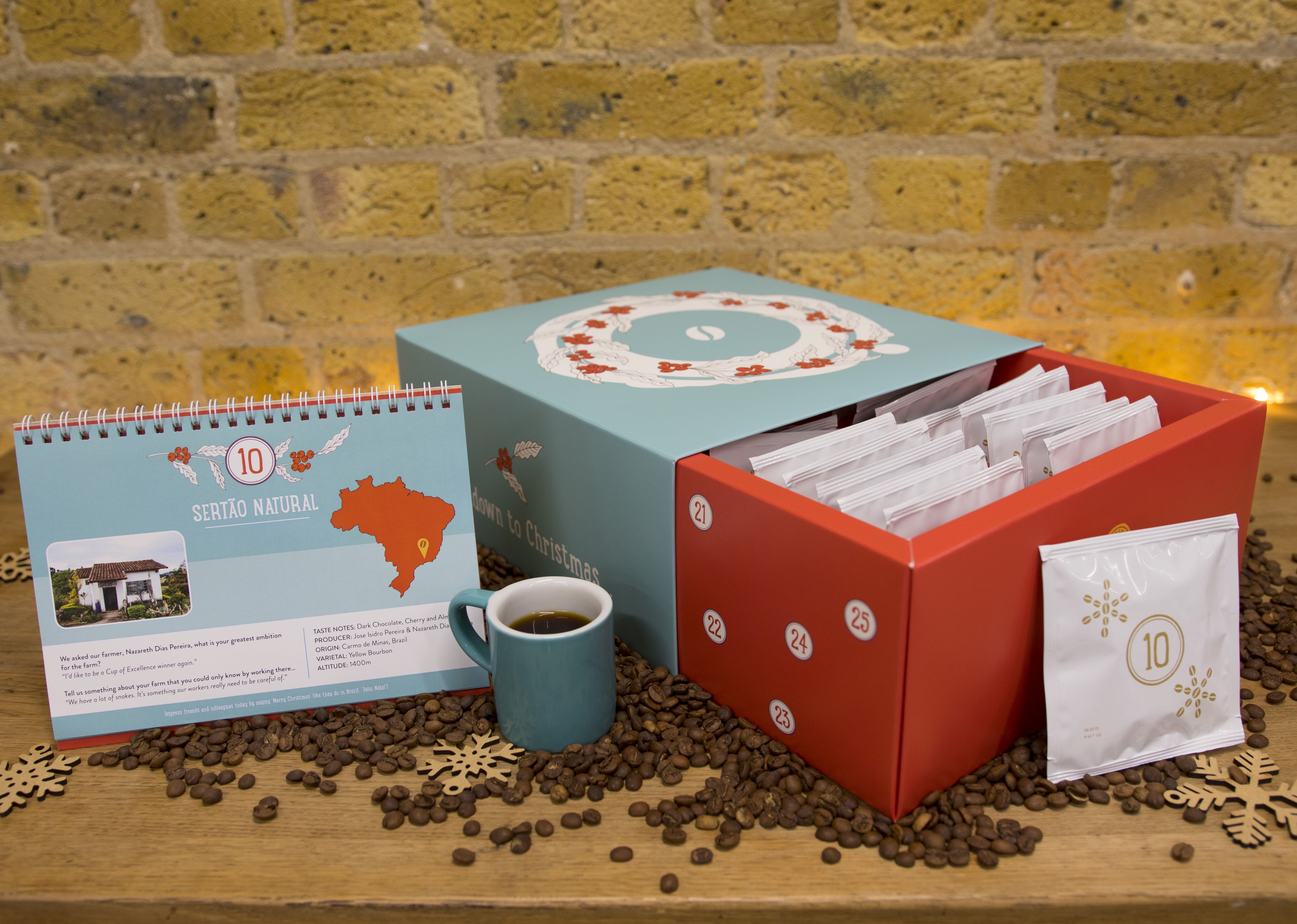 This is a beautifully put together calendar where the treat is coffee! Not just any coffee though. This particular Advent Calendar is by Pact. They're a coffee subscription company delivering freshly roasted coffee in the post. It's directly traded with farmers and the coffee is always using the highest quality beans. This year they've carefully curated 25 coffees, including six Limited Edition lots. If you love your coffee then this one is for you! You'll get an incredible variety of taste and flavour so it's a great way to explore and try a coffee you haven't drank before. It comes with a detailed coffee 101 booklet, including an introduction to the farm the beans are sourced from as well as tasting notes. You can get this for £39 on pactcoffee.com 
Haribo Advent Calendar
Next, kids and grown ups love it so – the happy world of… Haribo! Now I won't be able to get that jingle out of my head all day. This calendar is new for 2016! The Haribo Advent Calendar contains a selection of mini bags hiding behind 24 windows. A nice little sweet treat to help countdown to the big day! You can get this one for £7 from Ocado.
PAUL Advent Calendar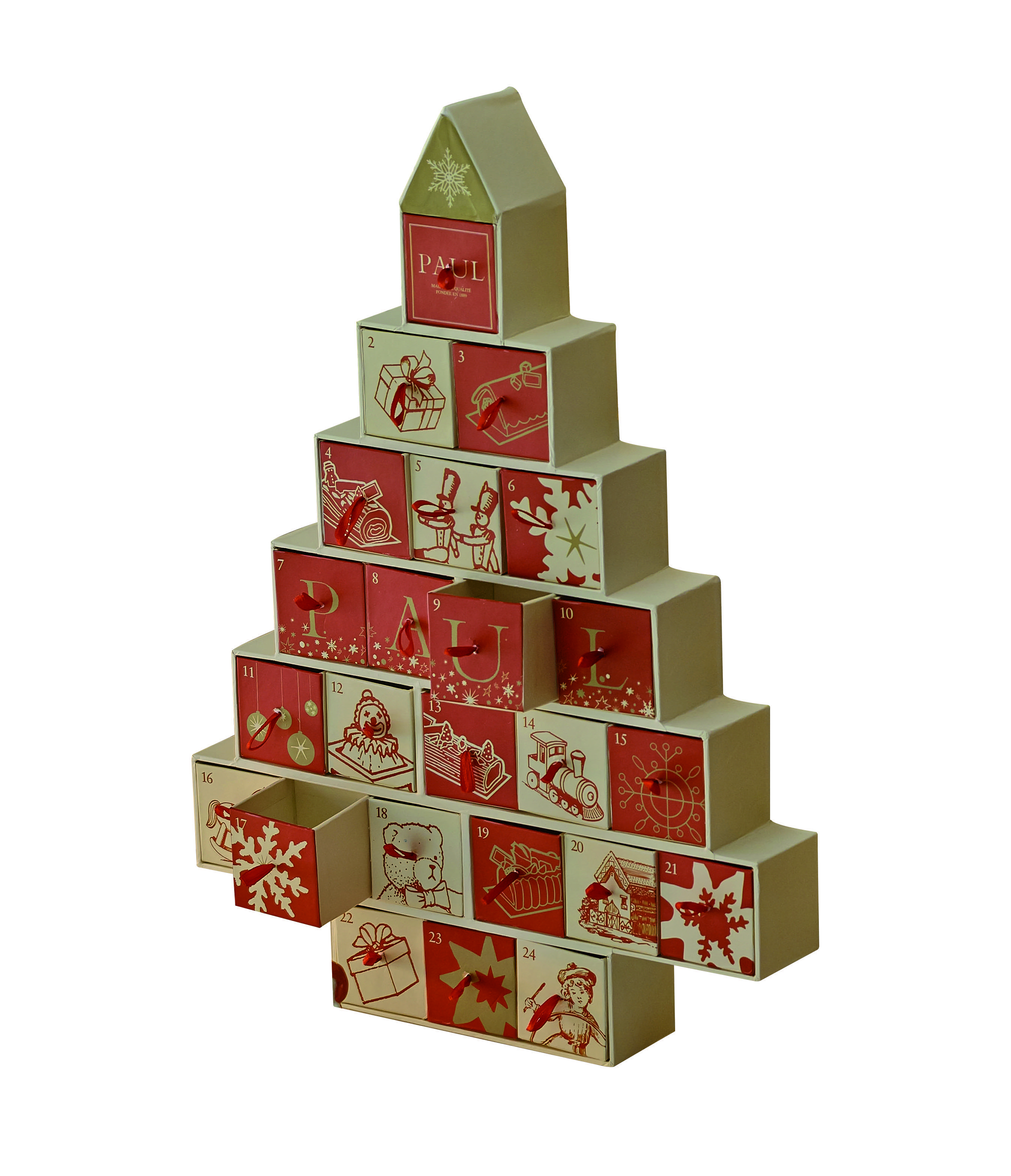 Now I have kept a chocolate one on the list, but my thoughts are – if you're going to go for a choccy calendar, why not get PROPER chocolate. Not the cheap, tasteless stuff. This one's made by PAUL, a family-run French artisan bakery and patisserie. The box is beautiful. It has gorgeous little decorative individual drawers that when you pull open reveal a silky smooth chocolate bonbon. Even better, this box can be used year after year. It's re-usable! Get yours for £19.95 available on paul-uk.com
Cheese Advent Calendar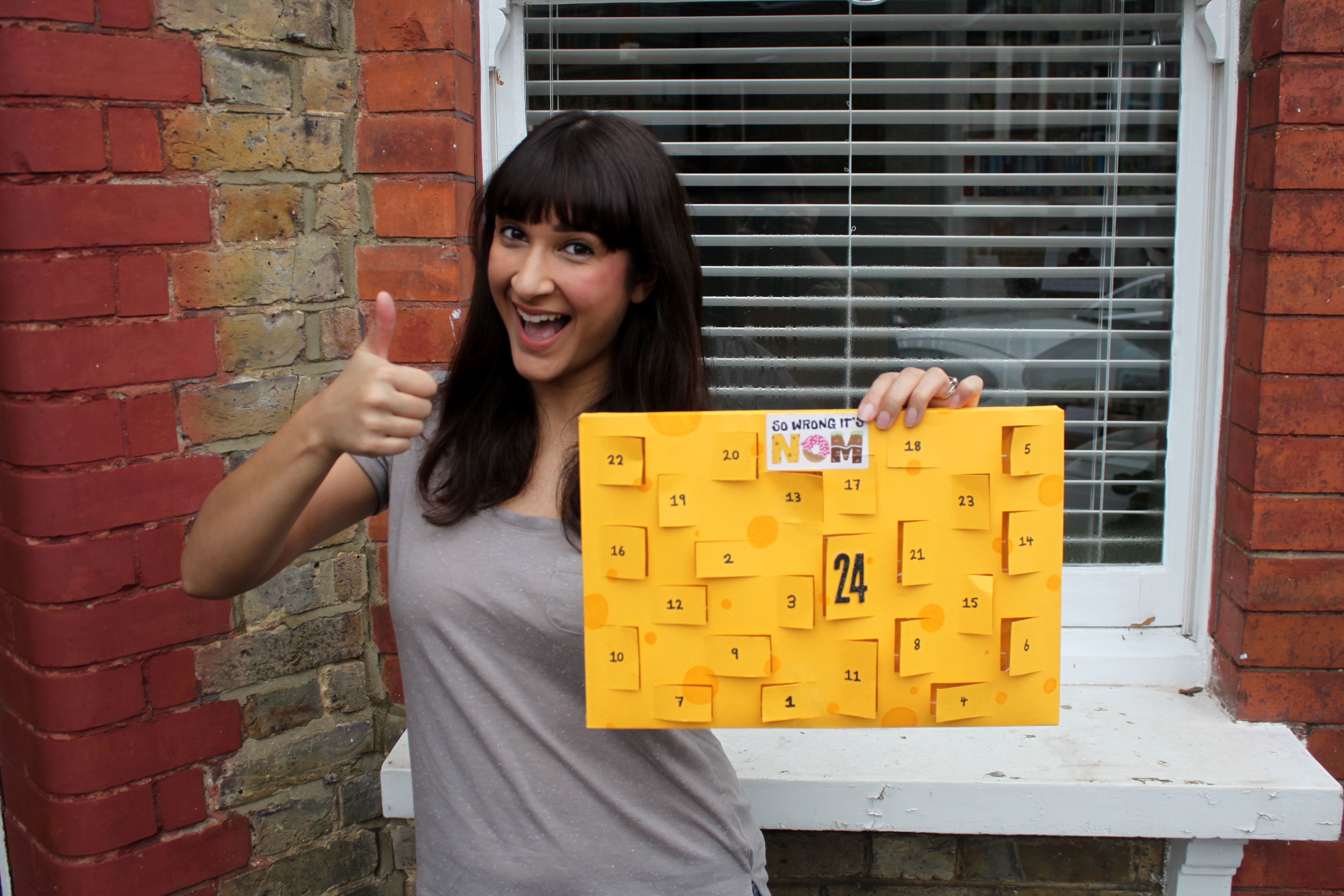 This one is mine! Last year I invented the world's first Cheese Advent Calendar (as a bit of a laugh with some cardboard myself). After blogging about it, the response was overwhelming. I'm finally close to getting it into production, so if you'd like one next year you have to sign up now! I've already spoken to manufacturers, but by showing your registered interest, I can take it to retailers. I know there's an army of cheese lovers out there, so give me some support! 🙂 NOTE: The photo is a prototype.
Price TBC, sign up now on cheeseadventcalendar.com 
Beer Hawk Advent Calendar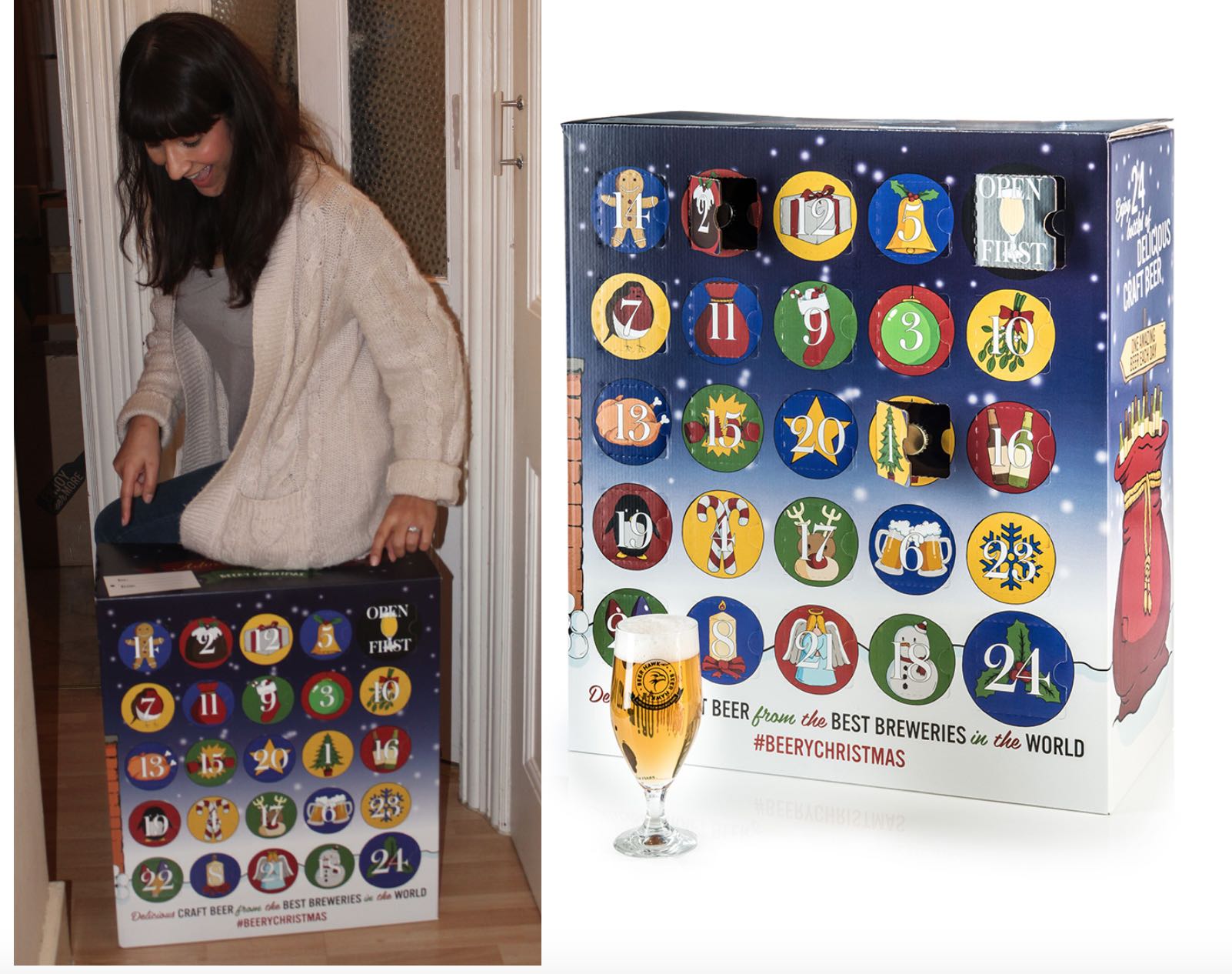 Next, we've got something that is a grown up alternative to chocolate. A beer advent calendar by Beer Hawk! It's BIG (as demonstrated above) and it's heavy. This one features 24 bottles and cans of craft beer from all over the world, including a lovely little Beer Hawk glass and bar blade. There's all sorts of delicious pale ales, IPAs and stouts inside! You're going to want cold beer though so open it in the morning and put it in the fridge for the evening. Something to look forward to after a hard day of work! This one is £75 and you can get it from moonpig.com
Lily's Kitchen cat/dog Advent Calendar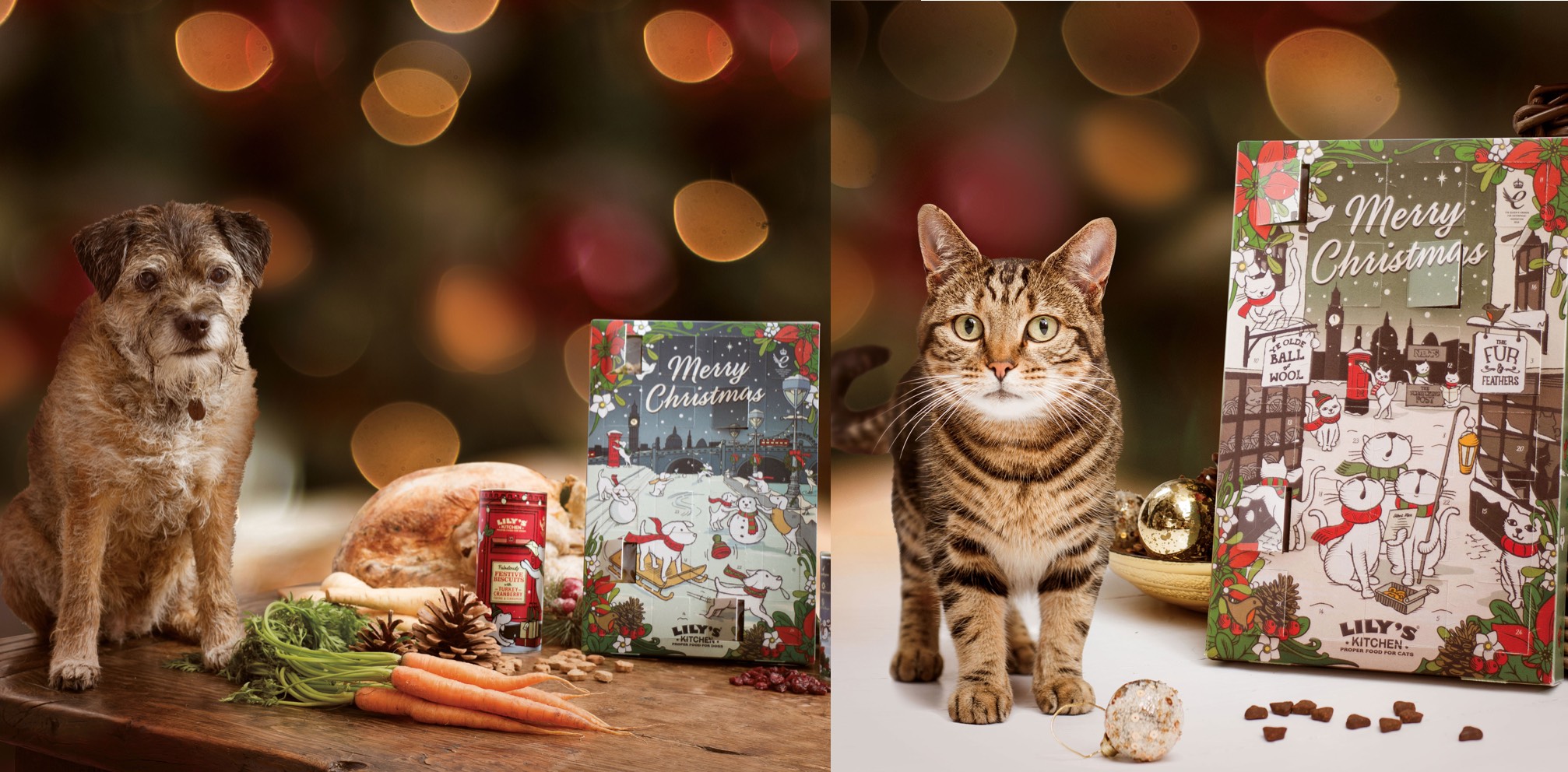 Last but not least, let's not forget our furry friends. Lily's Kitchen have created an Advent Calendar for dogs and cats! After all our pets are an important part of the family, so why wouldn't we want to get them into the festive mood with us? The dog one includes treats like Cheese and Apple Training Treats (made with fresh apples and organic farmhouse Cheddar) and Bedtime Biscuits (made with honey, yoghurt, chamomile and passion flowers). Sounds good enough for humans to eat!
£9.95 available on lilyskitchen.co.uk