Beer is an ingredient I haven't experimented with enough. Aside from drinking, I've never been sure how to cook with it. As a definite fan of beer over wine, I jumped at the chance to head to Leith's School of Food and Wine, which for this particular evening became a school of food and beer instead. With Valentine Warner as our teacher, we eagerly gathered round – ready to get stuck in.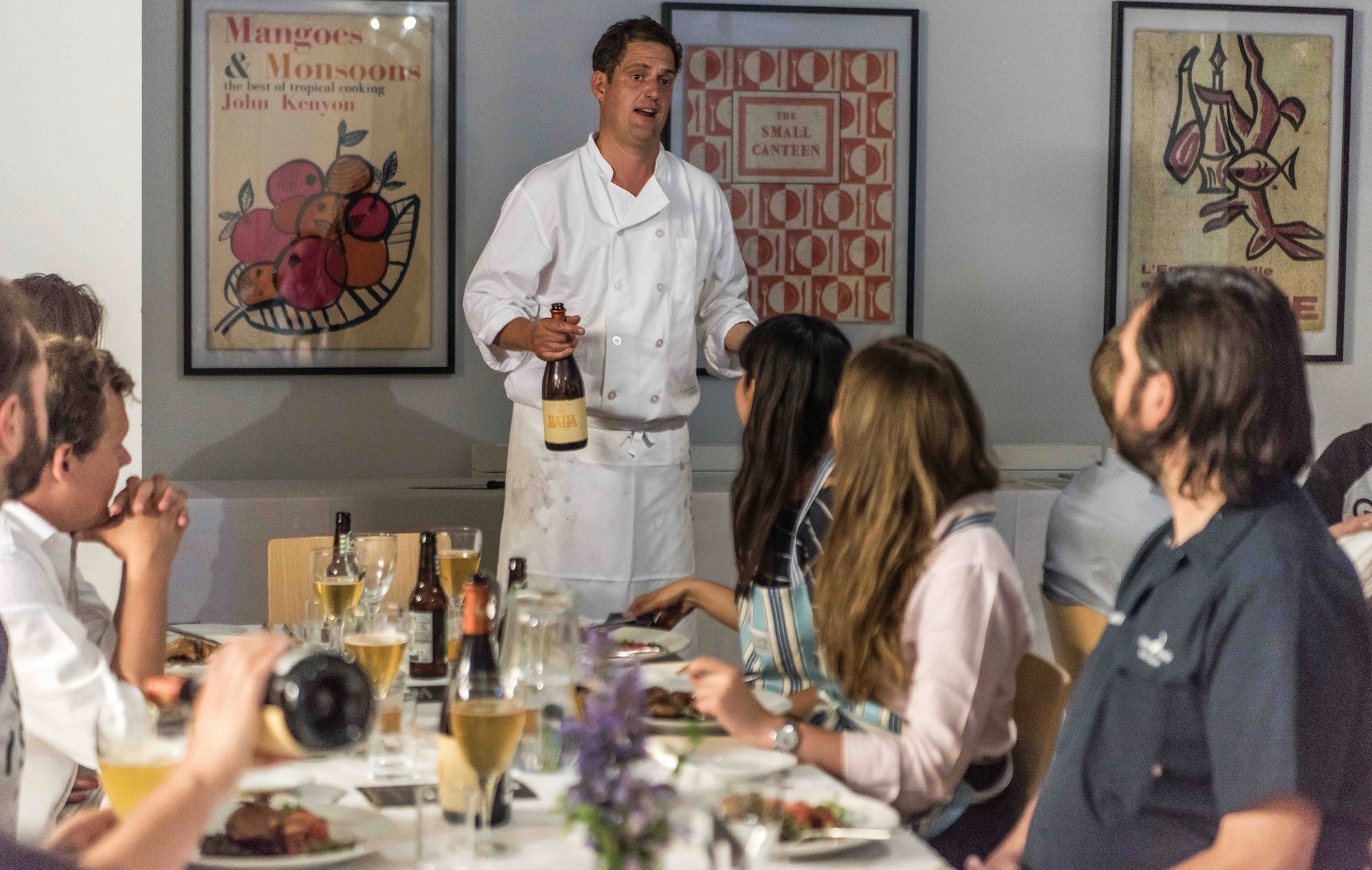 Goose Island Beer hosted the evening, and throughout the night we all learnt something different, shown how to use beer as a main component in dishes. Cooking a chef standard meal is pretty thirsty work, so as we got our hands dirty, we tasted our way through everything from hoppy IPAs, to smooth wheat ales – as well as Goose Island Beer's Matilda and Halia.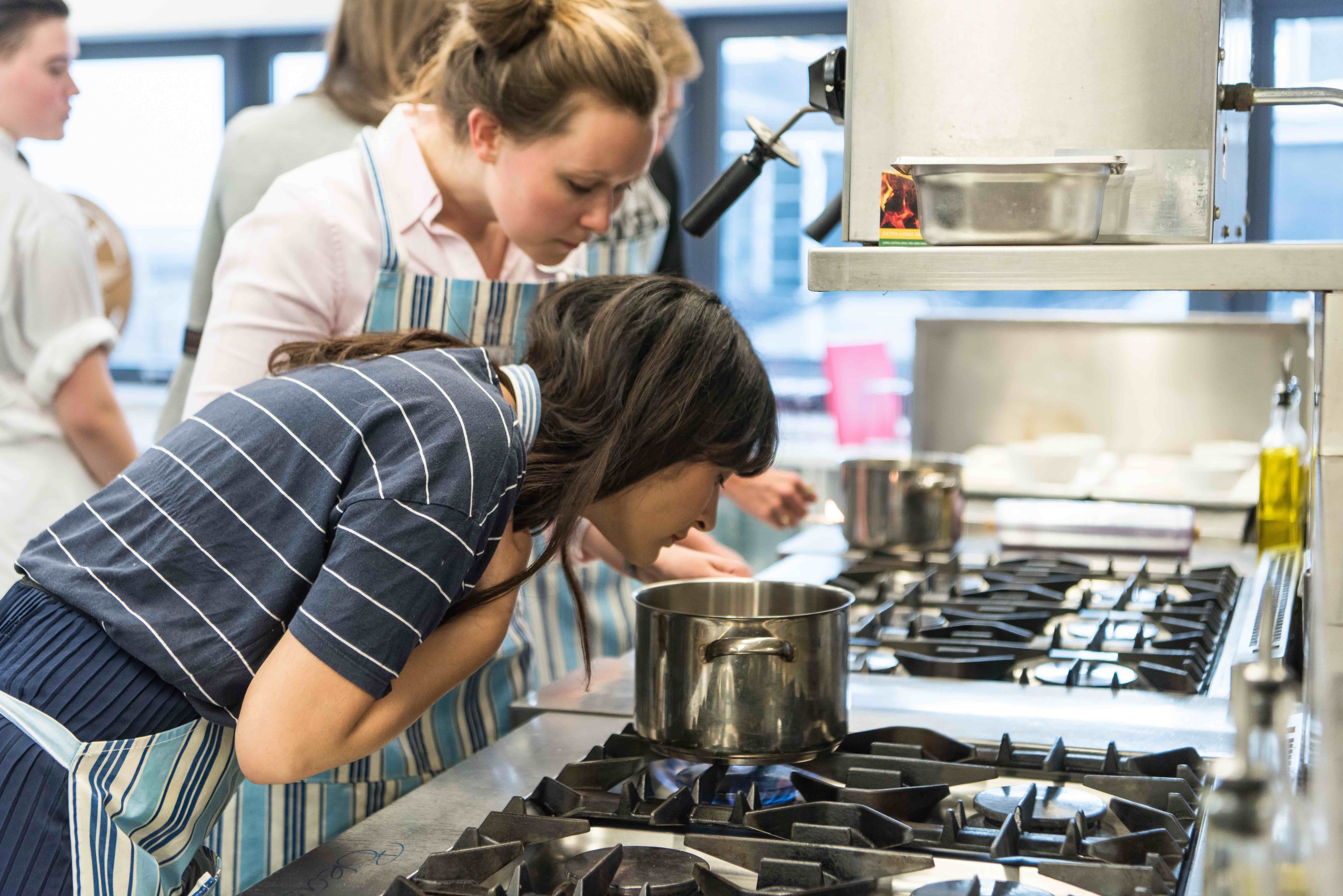 The three main dishes we made were:
Confit Duck Legs with Pickled Peaches – This used Goose Island's Halia in the pickling liquor, slowly reduced down into the most delicious, finger licking accompaniment to the duck.
Crispy Goose IPA Battered Cod Cheeks with Smoked Cod's Roe Mayonnaise – The Goose IPA has a delicious floral aroma, and made the crunchiest of batters. Now I know how to make my own mayonnaise, I'm keen to never buy a jar again!
Honkers Ale Black Bread – My favourite concoction of the night, this bread has stolen a piece of my heart. Using Goose Honkers Ale, it has a sweetness from the treacle and a smooth, dark flavour enhanced by the ale.
I was blown away by how simple the recipe for this bread was. There's no lengthy kneading process and an incredibly short rise time. You literally chuck lots of ingredients together, and out pops this gorgeous looking bread that is sure to impress any friends and family this is cooked for.
As my favourite from the evening, here's the recipe for you to try at home:
Honkers Ale Black Bread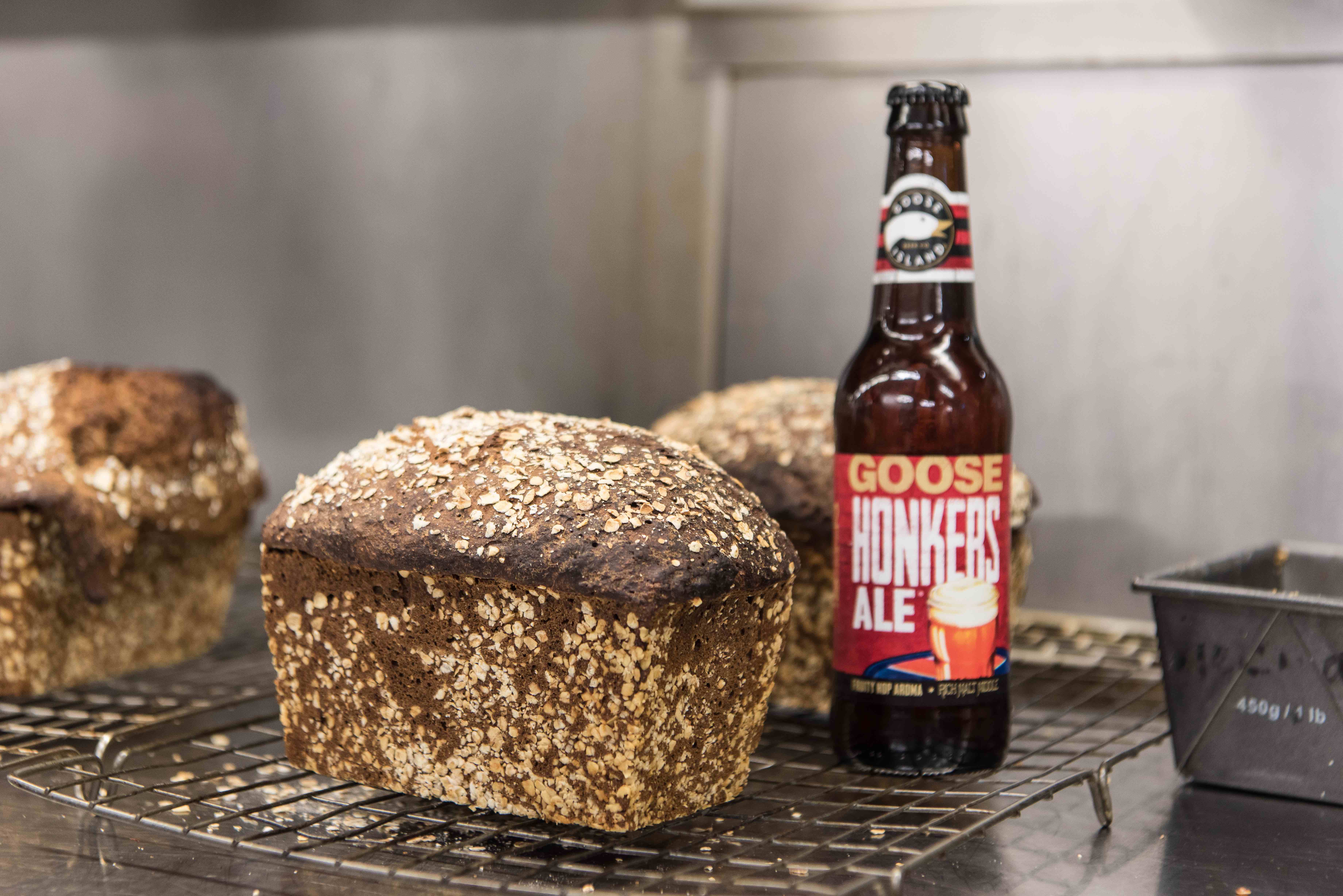 Ingredients:
Butter (to cover the loaf tin)
Handful of oats
225g wholemeal flour
225g plain flour
1 tablespoon caraway seeds (or to taste)
1/2 teaspoon salt
7g sachet of dried yeast (generally this is how much is in 1 small sachet)
125ml black treacle
200ml warm water
125ml Goose Honkers Ale
Method
Butter the loaf tin lightly and throw in a handful of oats. Shake tin so oats stick to the butter inside the tin.
In a large mixing bowl combine both flours (sieve the flour). Add the seeds, salt and dried yeast.
Pour black treacle into a measuring jug, add warm water and Goose Honkers Ale, stirring until treacle has totally dissolved.
Add the treacle mixture to the dry ingredients, stir until well combined.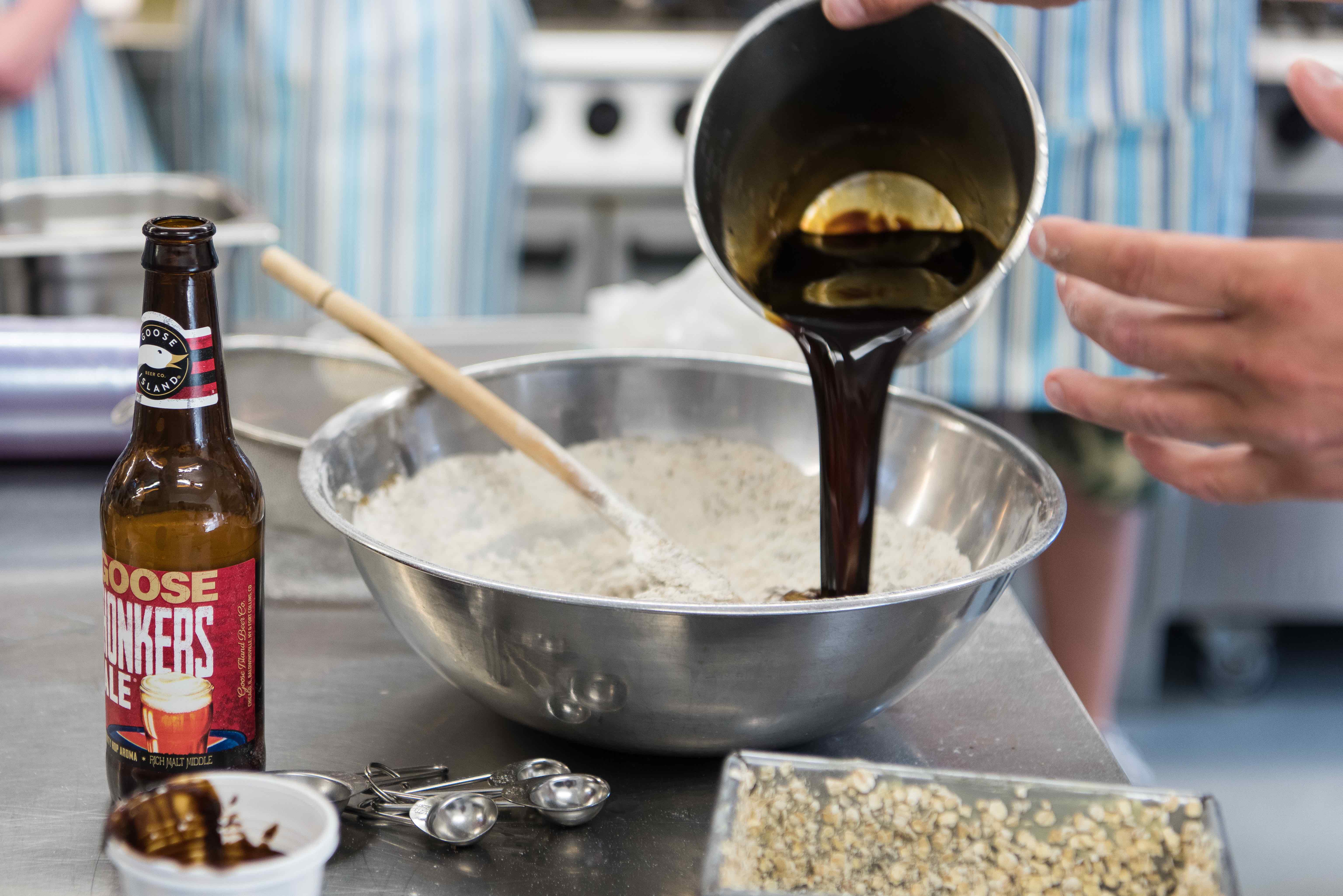 Put the bread mixture into a loaf tin, cover loosely with cling film and leave to rise in a warm place. Let the bread rise for an hour, or until doubled in size. Make sure you remove the cling film before the bread sticks to it!
Preheat the oven to 200c/fan 180c/gas.
Using a sharp knife, score the surface of the bread lengthways (this is important as it allows it to expand as it bakes). Scatter some oats on the top!
Place an oven tray on the bottom shelf containing 5mm of boiling water and add the loaf tin to this. Cook for 50 minutes!
When the bread is ready the water should have boiled away, allowing the loaf to develop a crispy crust. The loaf should be quite dark in colour.
Turn it out of the baking tin and give it a final 5 minutes in the oven!
This bread was incredible when tried at home with some smoked salmon and cheese. The sweetness also makes it a great addition to most meals, a bit like how corn bread is with Southern American food!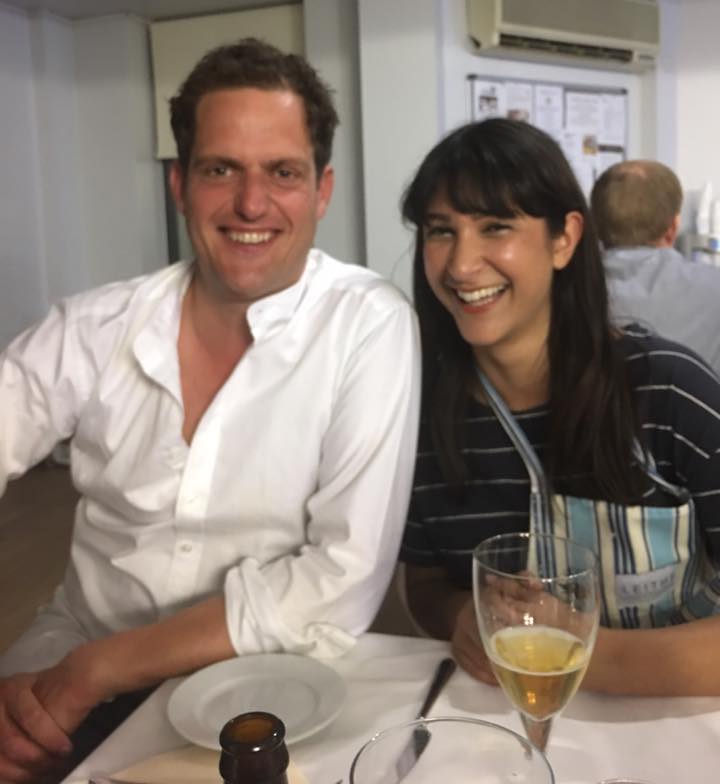 Having eaten our way through a three course meal, followed by an indulgent cheese board – I was feeling pretty full and happy come home time. Armed with my new found knowledge of cooking with beer, this Black Bread has already been made a few times in my kitchen.
Turns out cooking with beer is just as fun as drinking it.