Oh, Venice! I had always wanted to visit, despite being put off by friends telling me how expensive and full of tourists it is. We decided to go for our wedding anniversary, and in the run up to the holiday I spent months researching the best places to eat, hang out, stay and drink. Below is most of what I learnt, and where we visited. The main thing to note is, that Venice is in fact not expensive. We spent a lot of our time filling our selves up on ciccheti, (like Italian tapas) and ate like kings on a budget. You just need to know where you're going, and for the love of god – avoid St Marks Sq. It's like going all the way to London, only to end up in Trafalgar Square.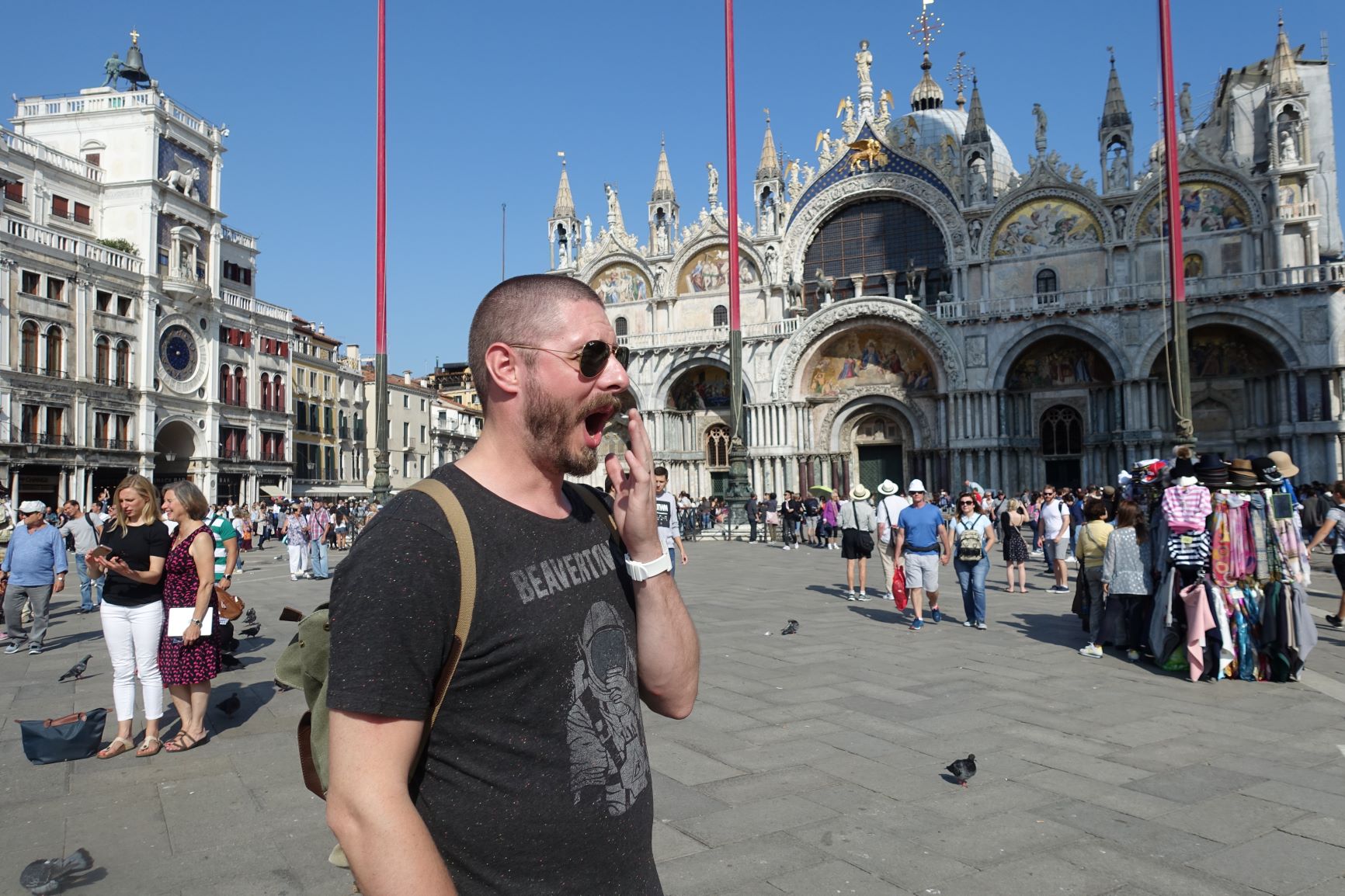 Dorsoduro
The real gem in Venice is the island of Dorsoduro. So much so, that we decided to book our accommodation here. Get there by the Accademia bridge and you'll find a real taste of where the locals eat and drink. It is honestly a fraction of the price you'll find on the other side of the Grand Canal, with the added bonus of not having a tourist ramming into you with a camera every 10 seconds.
Dorsoduro is home to lots of artists, museums and importantly – students, so prices reflect this.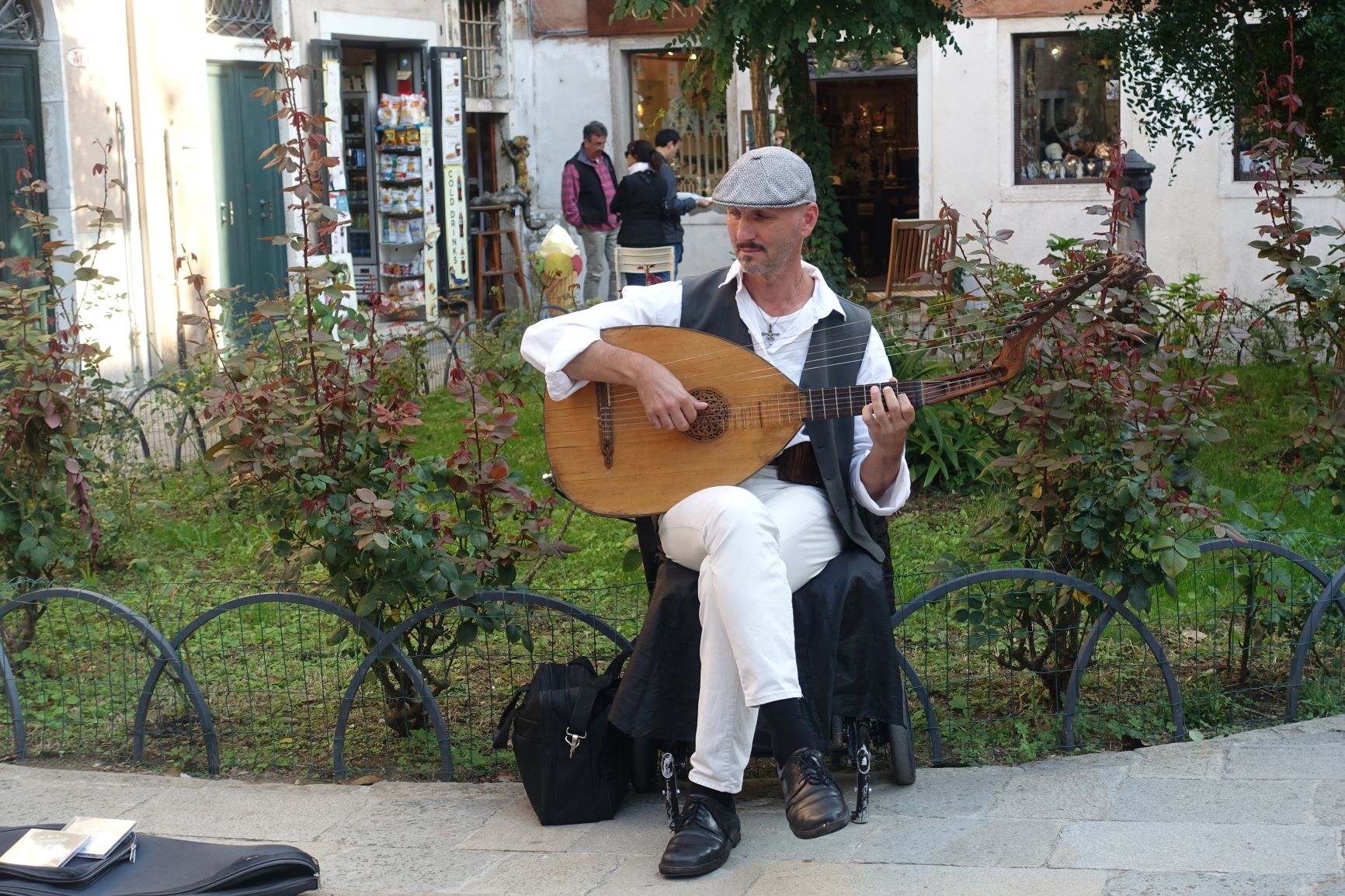 Cantine del Vino gia Schiavi
This gorgeous little wine bar is near one of the city's last gondola workshops. It sells food on the side, specifically gorgeous little ciccheti, from cheese and crostini, anchovies and more. The entire place is covered floor to ceiling by bottles, and there is a great selection of wines by the glass, all from the same region. Ciccheti per piece will set you back about €1.20 to €1.80 a piece, whilst a small glass of wine will start at €2.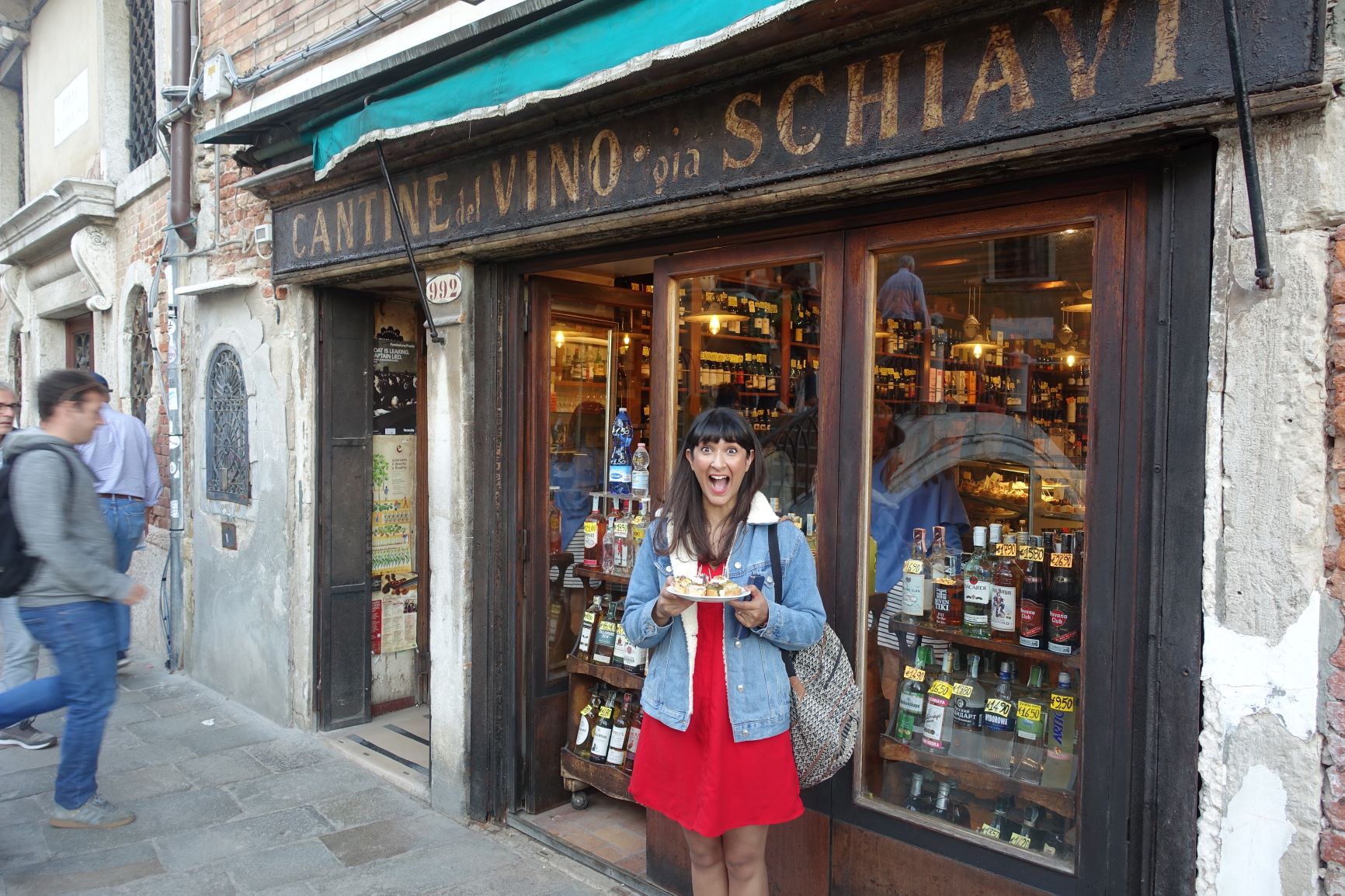 Osteria Al Squero
This next ciccheti bar is very close to Schiavi and is a must-visit! If you like Aperol Spritz, go and treat yourself to a large glass here, served with a giant green olive all for an amazing price of €2.50. Generous glasses of prosecco are similarly priced, and the food here is a winner priced at €1.40 a piece. (Try the Baccala Mantecato, which is salt cod whipped to a creamy paste in olive oil!) It can get busy inside, but directly opposite (over the bridge), there is a bench. We just perched ourselves outside though, and ate and drank whilst watching gondola's being repaired with our legs hanging over the canal.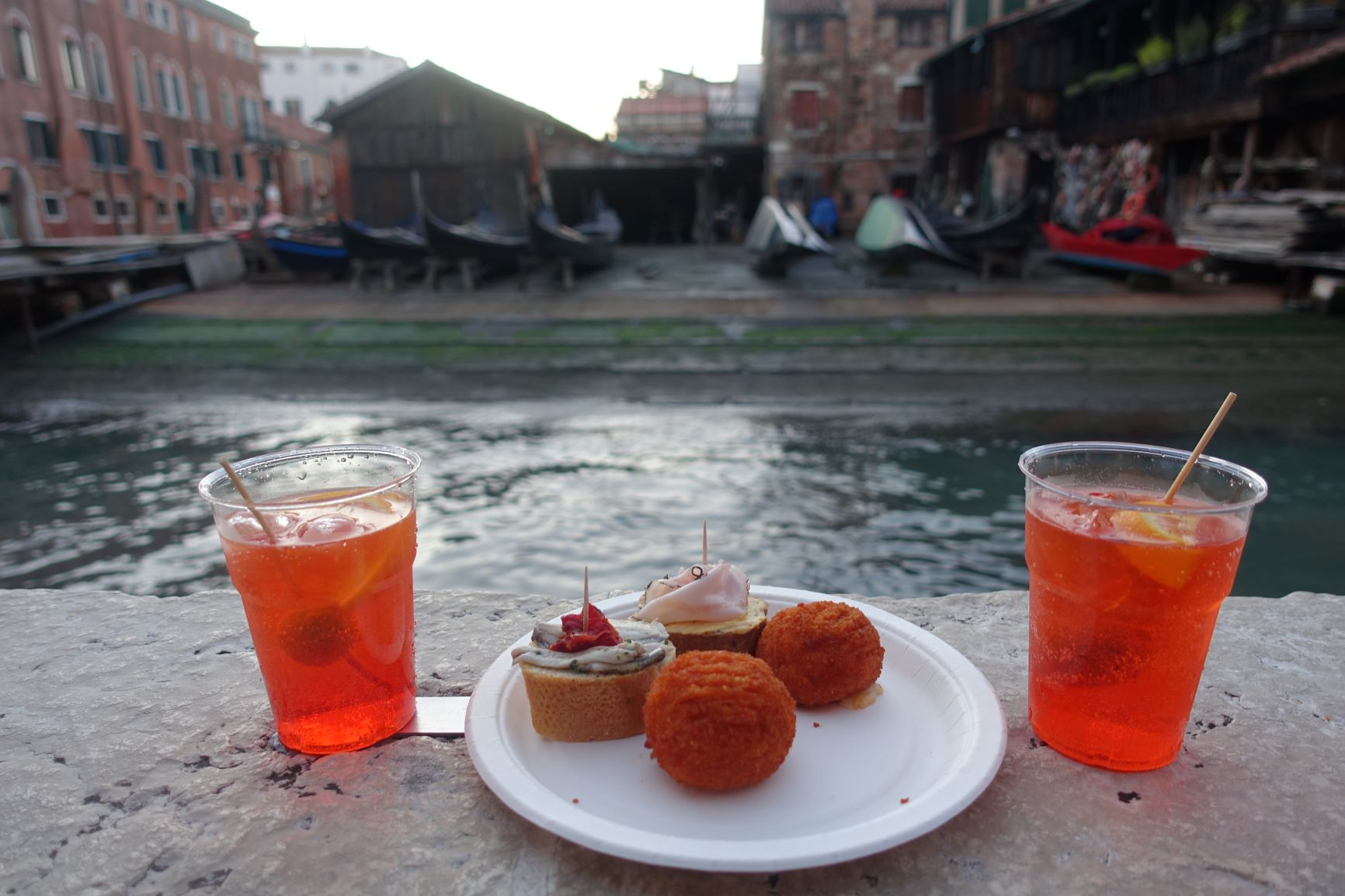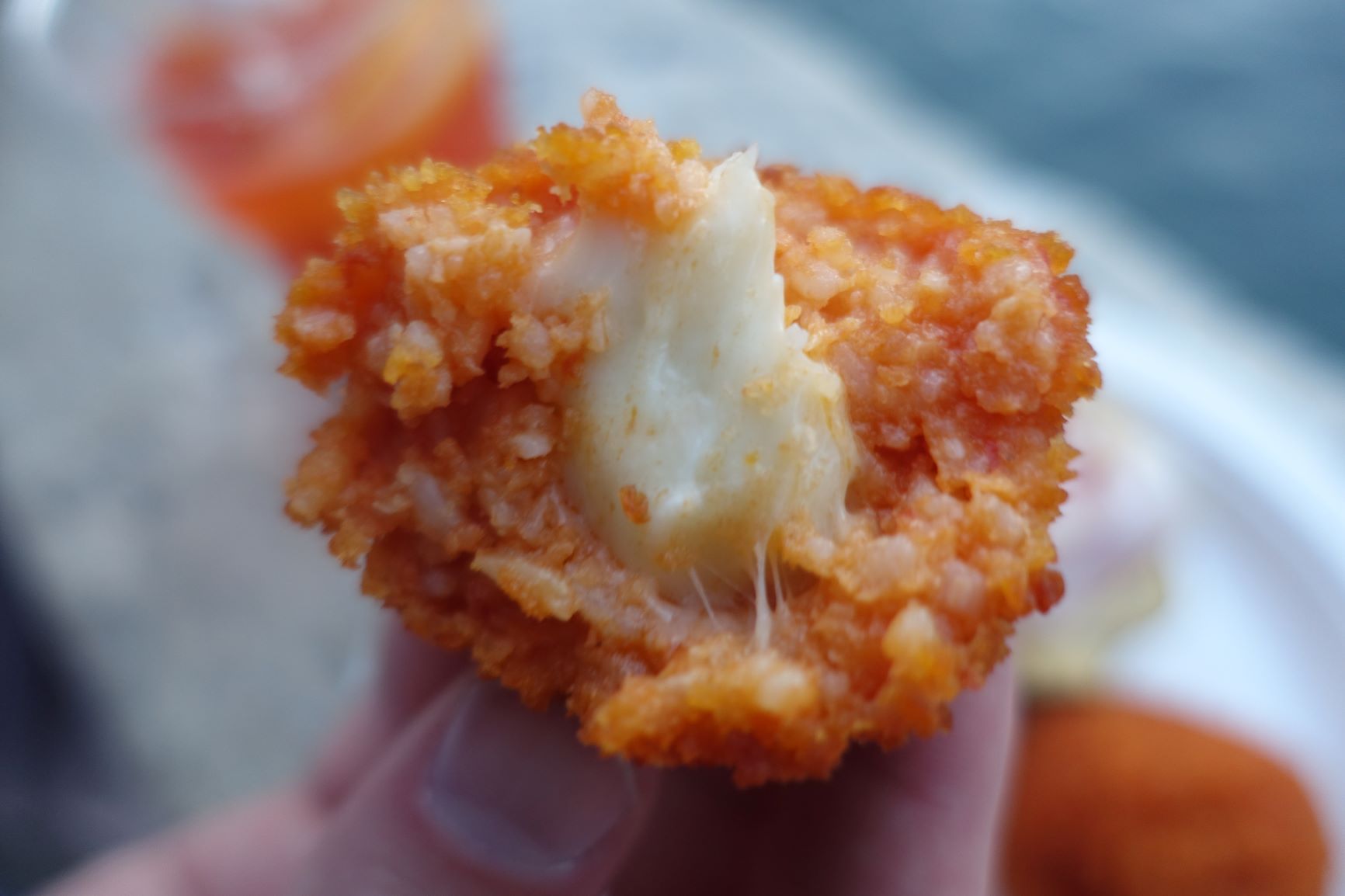 Osteria Enoteca Ai Artisti
This is a gorgeous little restaurant, and if you're looking for a special occasion/birthday/anniversary meal, this is the one! Don't make the mistake of not booking though, as we saw many people turned away on the night. The menu changes, as they cook what is seasonal at the time. We went at the end of September and I tucked into the most delicious plate of pumpkin gnocchi I have ever had. It's an intimate place to eat, with a stunning interior to match. In the summer months you can choose to be seated outside overlooking the canal.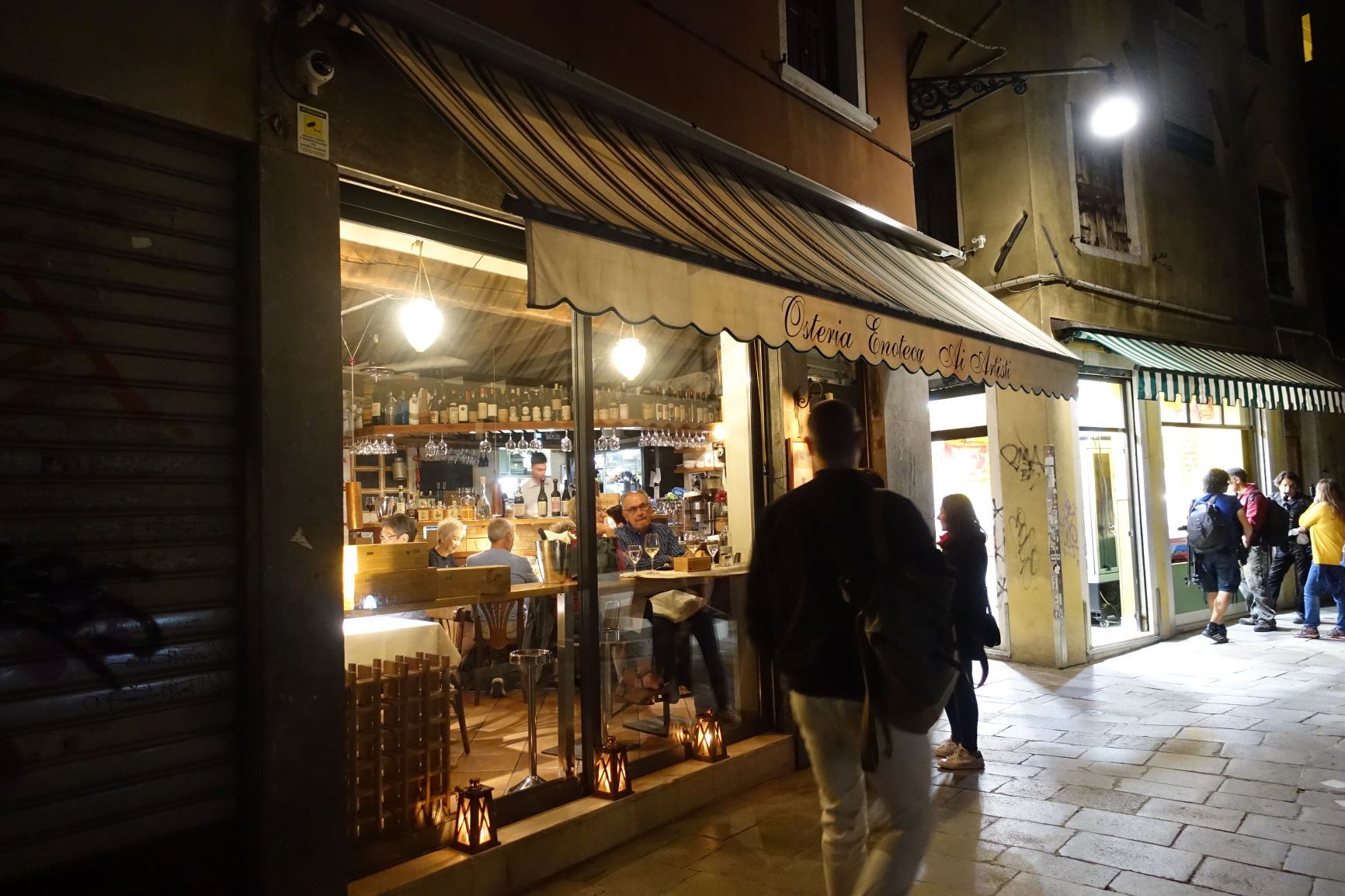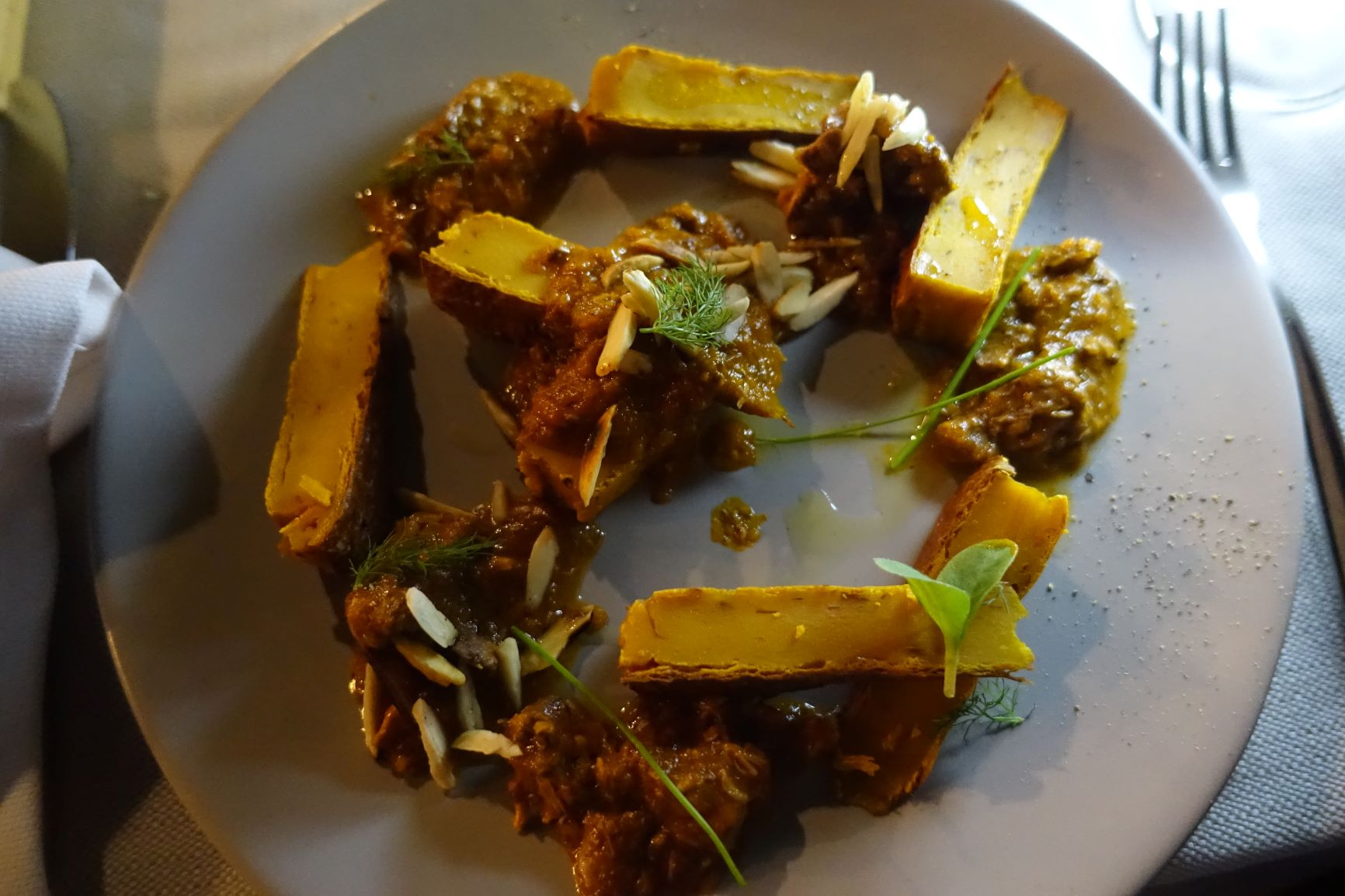 Ristorante agli Alboretti
We loved this little restaurant, and feasted on mouth watering pasta and bread. (The veal ravioli is pretty good!) It was telling that it was packed full of Italians and locals, rather than tourists. In the summer months, you can be seated outside and if you're lucky you'll have an accordian player entertaining you. The wine choices seemed vast, but honestly – just order the house prosecco or wine. They are all from the Veneto region, and high quality!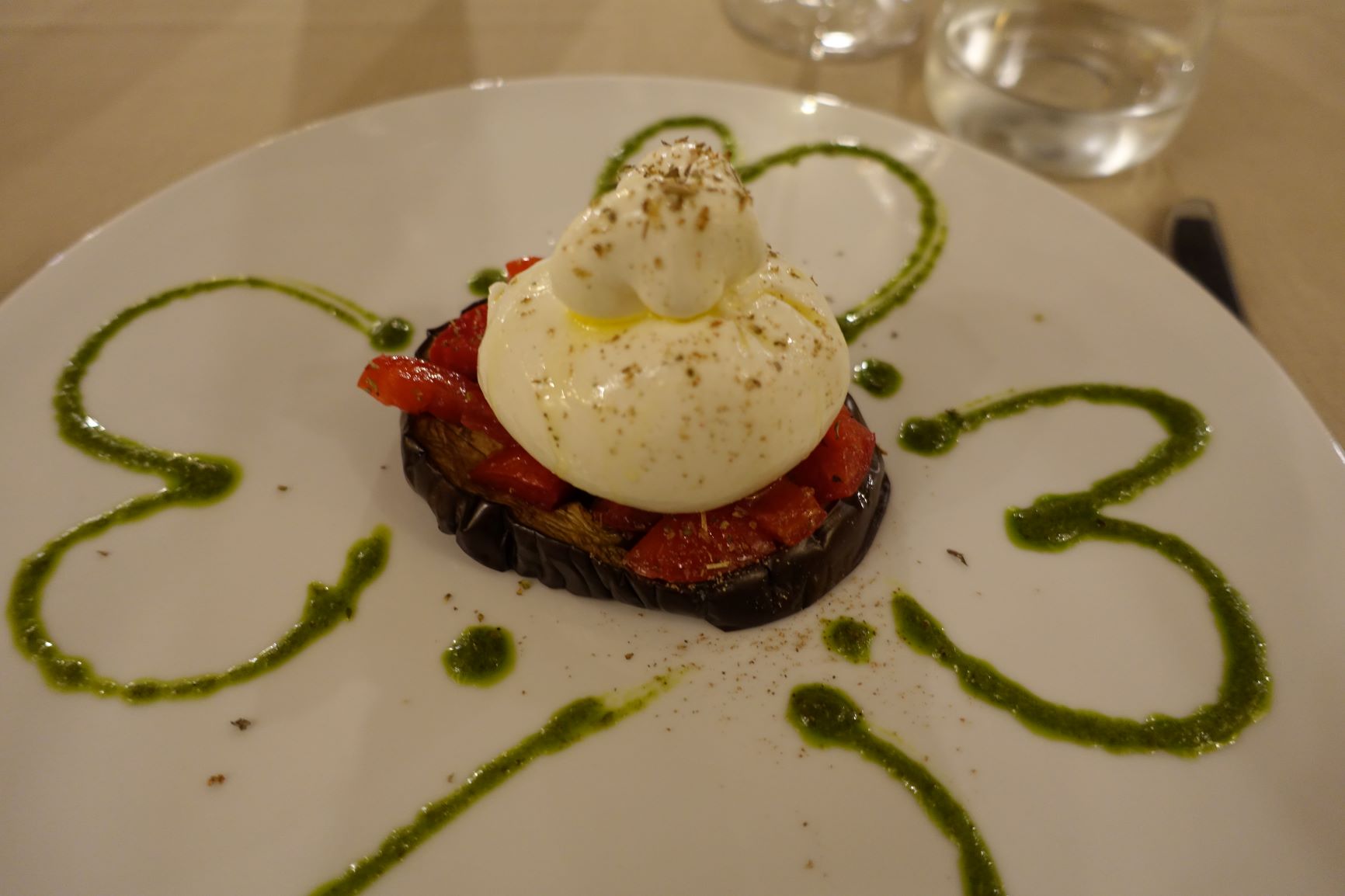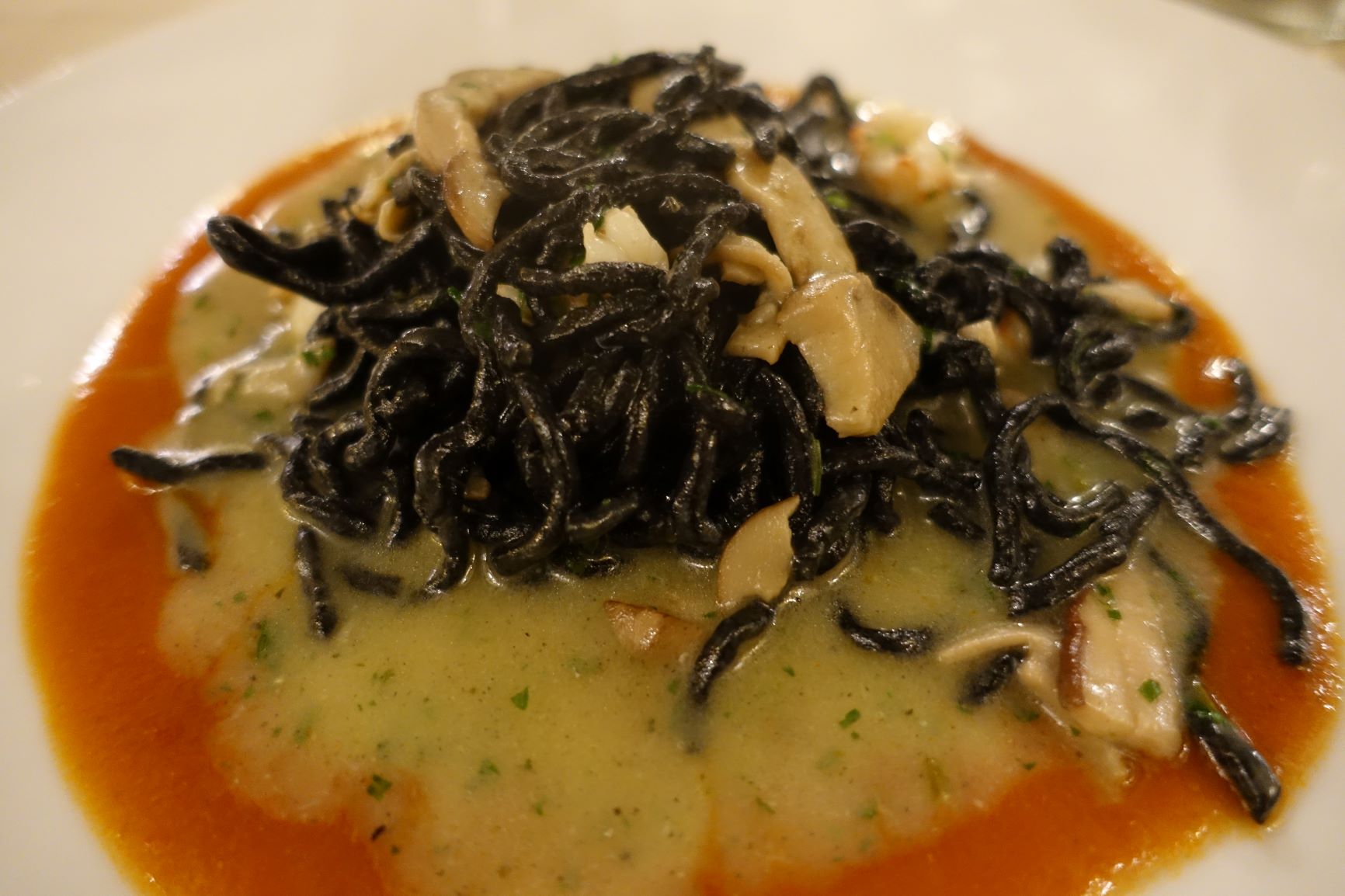 Ai Cugnai Dal
If you're looking for a delicious restaurant without breaking the bank, then Ai Cugnai Dal is well worth a visit. Dine on two dishes with generous portions, a large glass of house wine each and it'll come to approximately €30-40. The staff are welcoming, there are lots of food options including gorgeous seafood platters, and don't leave without trying their tiramisu.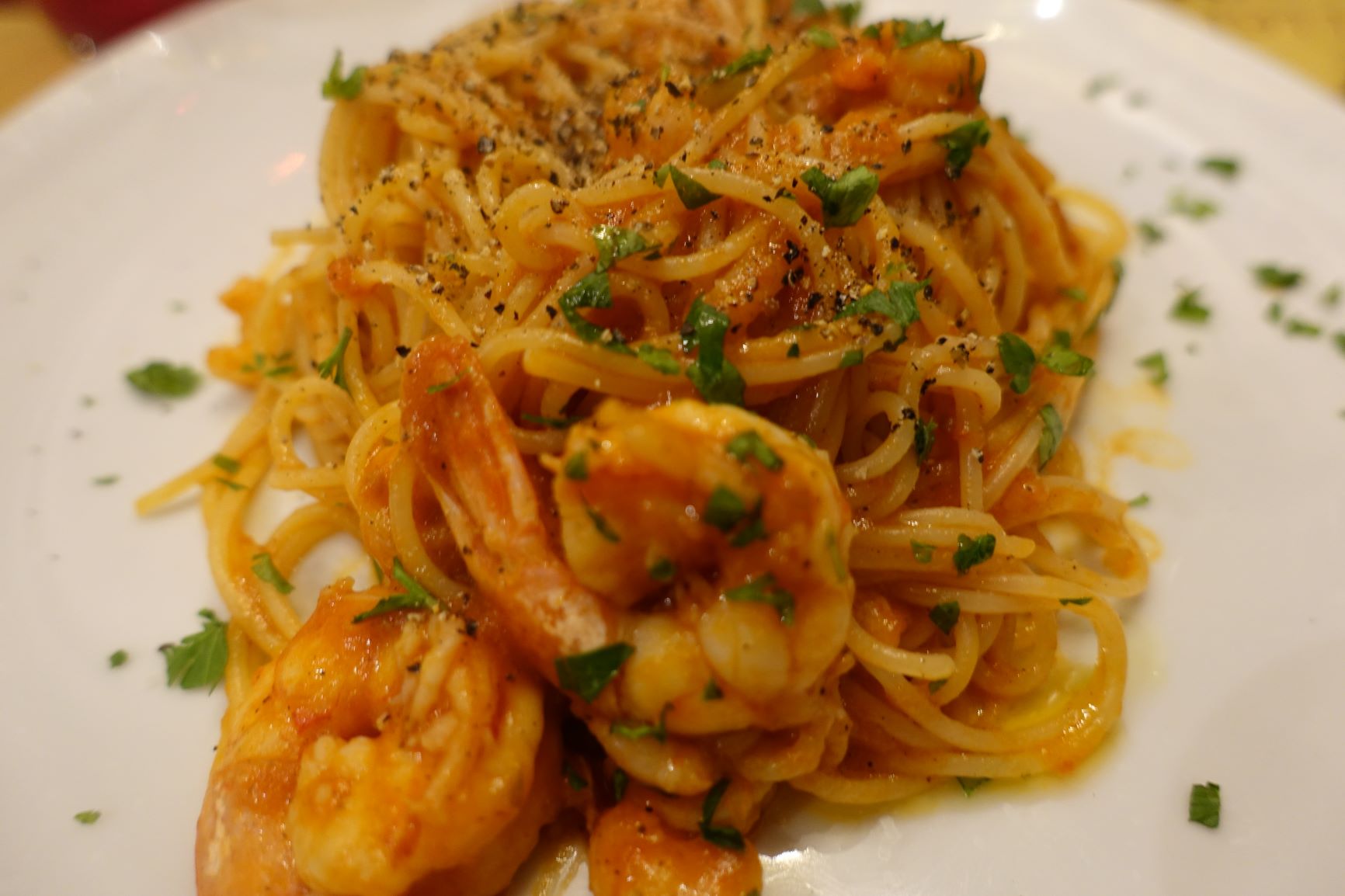 La Calcina
If you're looking for a place to walk along the canal, where you can stop and have the odd drink from time to time, then the southern edge of Dorsoduro, called the Zattere is a good shout. The Zattere is the wide pavement on the Venice side of the Giudecca canal. La Calcina is actually a 3 star hotel, but the restaurant welcome none staying guests too. This is a good place to stop for a snack, or a pick me up. We simply ordered two Aperol Spritz, and a large plate of Fritto Misto (tempura battered veg and seafood) to share. In the summer months it's a gorgeous place to sit and get some shade. In the winter, they may have outdoor heating.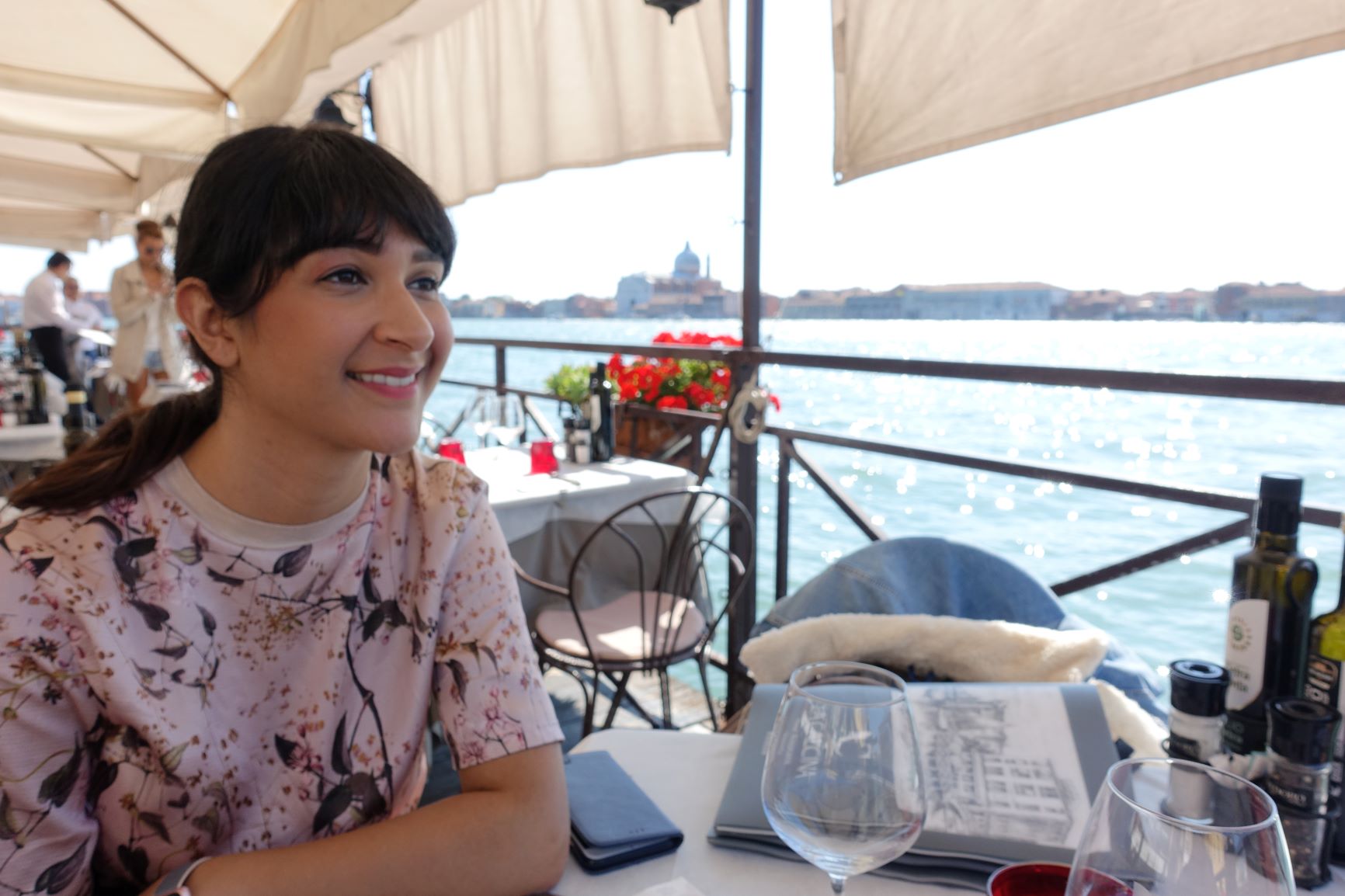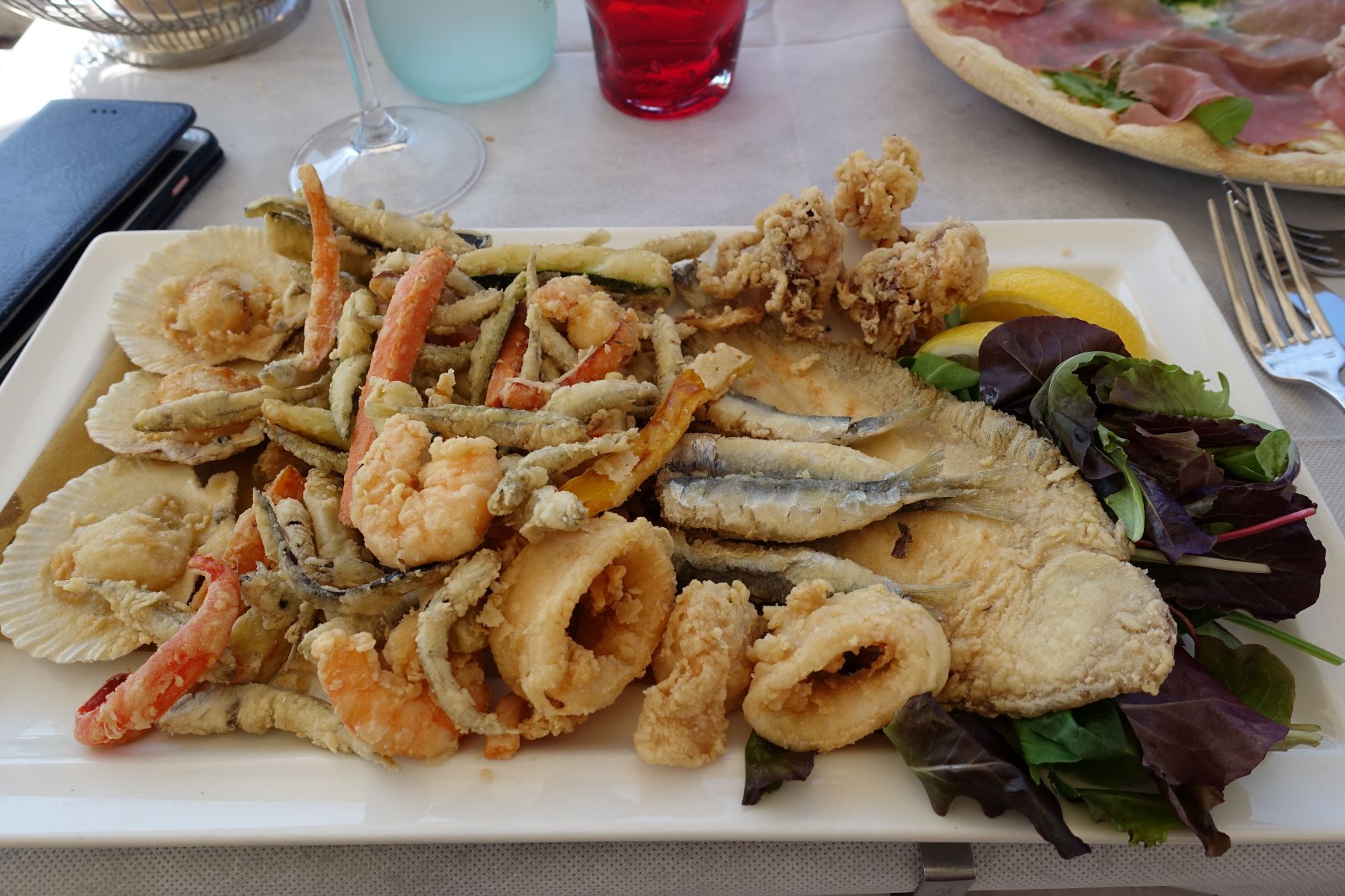 Guidecca
From Dorsoduro, hop across to Guidecca island for a calm, laid back environment. It's where a lot of the Venetians live, and it is home to the famous Hotel Cipriani. Wandering around the island, you can see the large ferries and boats pulling in from afar. It's often ignored by visitors, so it's the perfect escape from the crowds in Venice. Don't go expecting a romantic, old style decorated Venice, but there is a wide variety of interesting buildings, ranging from churches to warehouses and from palazzos to refugee houses. If you don't mind getting a little lost, and wandering around taking it all in – then I do recommend Guidecca. Plus, one of my favourite restaurant discoveries was made here!
Trattoria Ai Cacciatori
This lovely little, intimate place to eat is highly rated on TripAdvisor for a reason. I recommend it for special occasions, but it's still reasonably priced. I came here once for lunch, and again for dinner. Adjacent to the Guidecca canal, it's a great spot to sit in and watch the world go by. If you love seafood, I'm sure you'll love this place even more. There are mussels with tomatoes, marinated sardines, scallops, pasta with fresh tuna and more. The also have heavenly beef carpaccio and steak dishes. Again, all the wine is good – so stick to the house!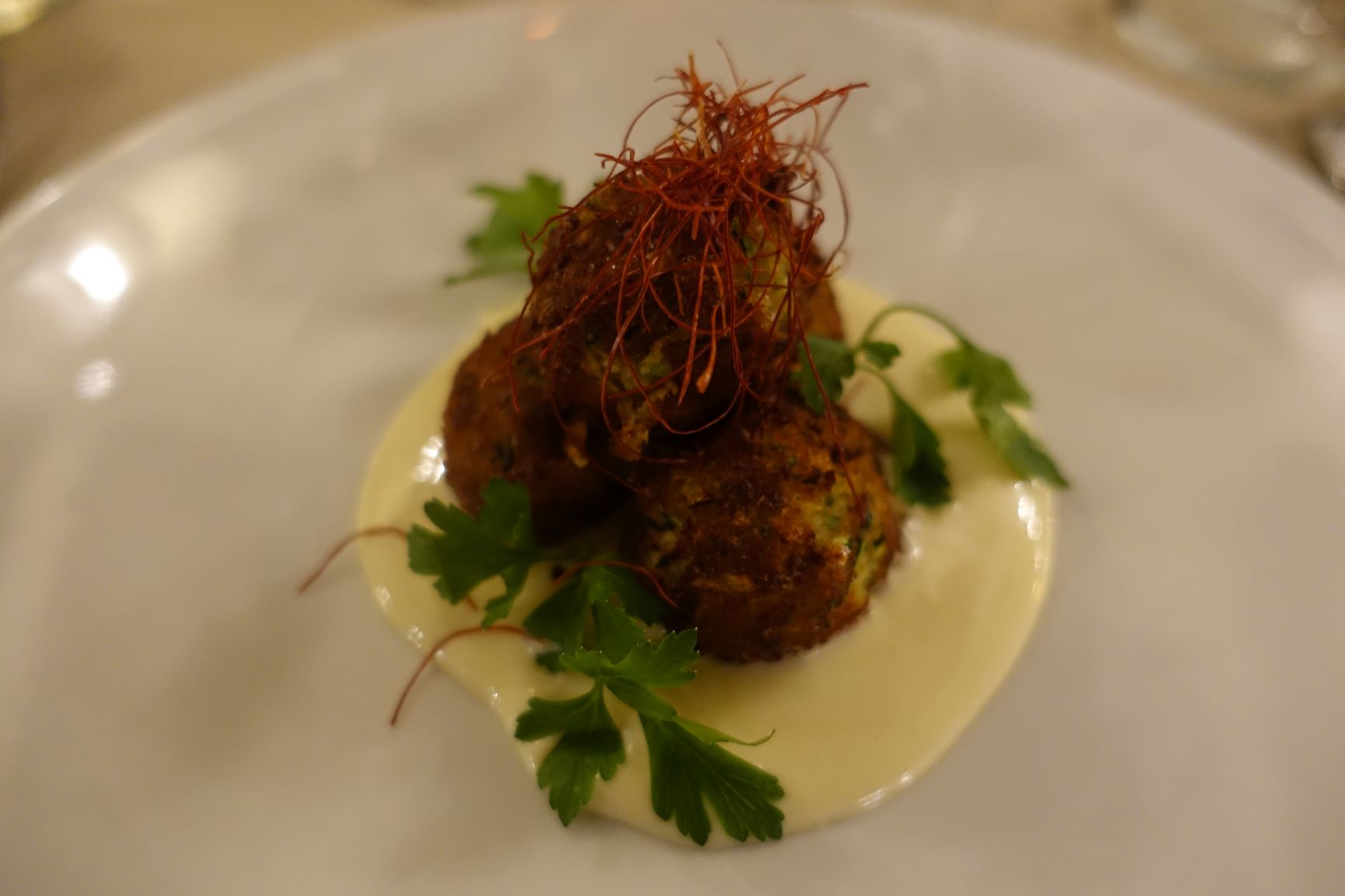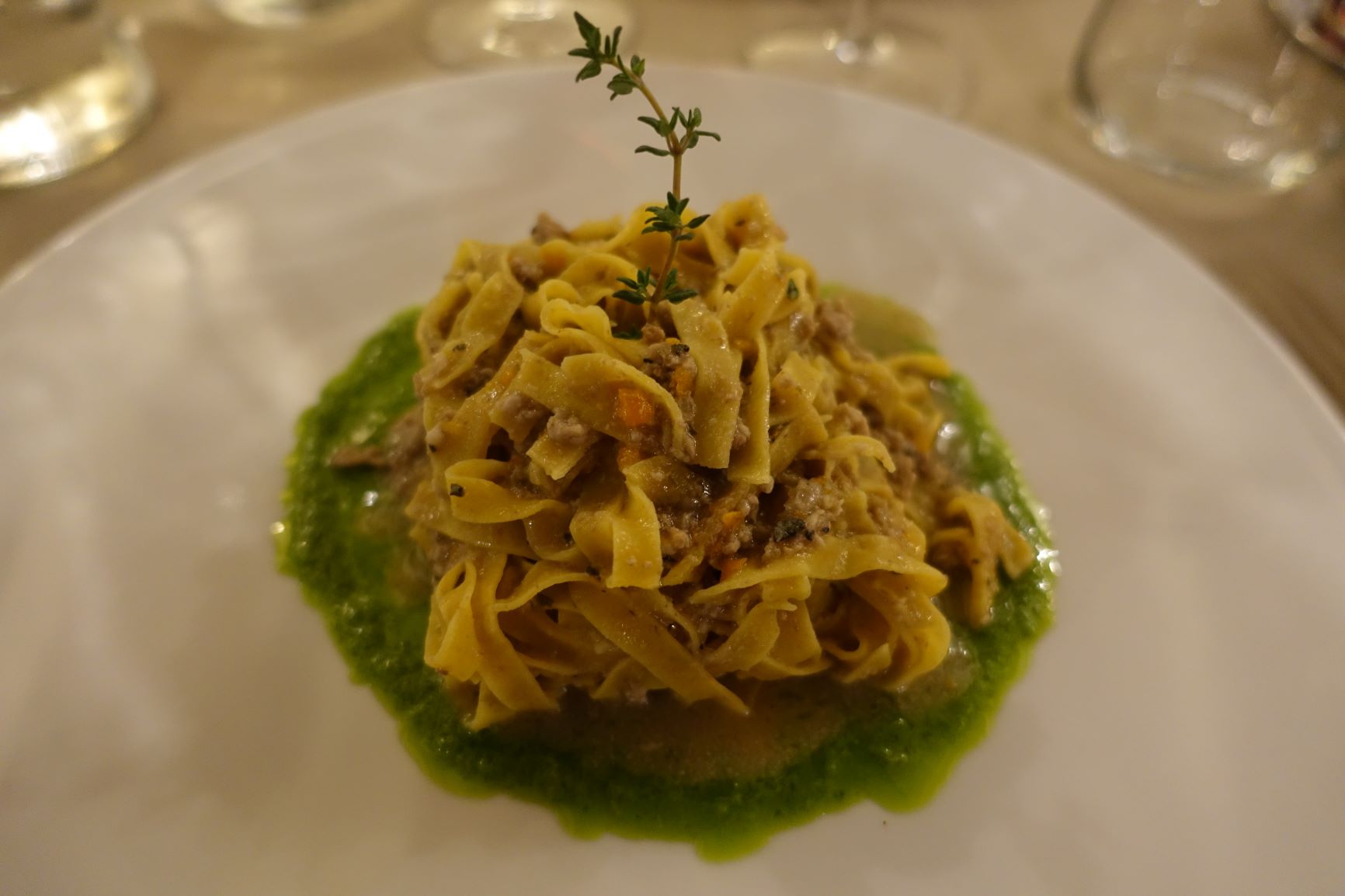 Harry's Dolci
I only recommend this place if you're really, really, really dying to try the classic bellini from the world famous Harry's Bar. This is not the main Harry's, but a smaller version part of the same chain in the quieter Guidecca island. It's overpriced, service isn't exceptional but they had a pretty tasty meringue I wolfed down with my drink. I'd honestly only go if you want a bellini!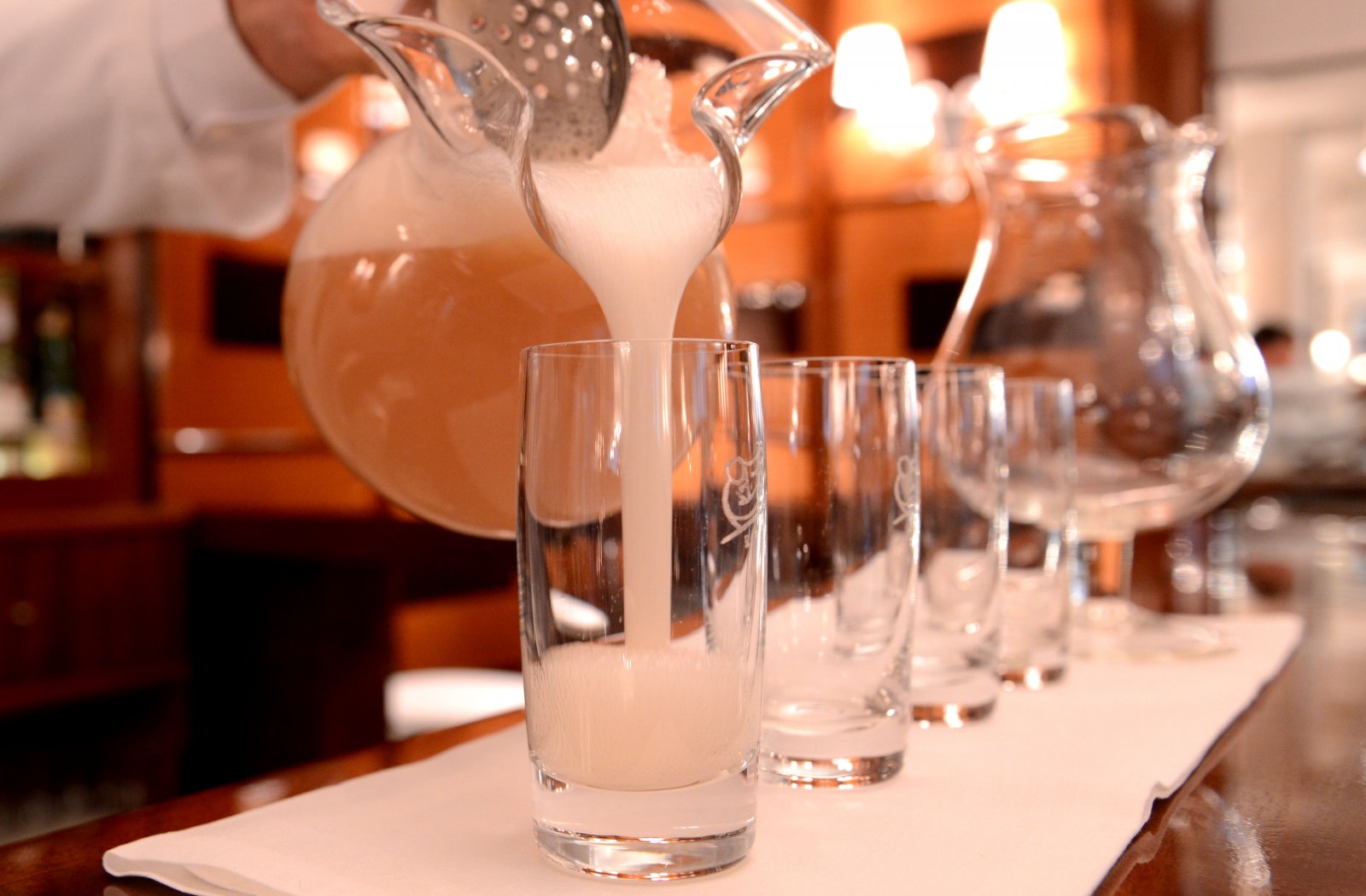 Rialto
We decided to book a ciccheti and wine tour for our time around Rialto, and boy are we glad we did! So many of the places we went to were little hole in the wall buildings that we would have other wise over looked. These bars are called bacaro's in Italian (taverns). Many are cramped and small, but full of locals with exceptional food and drink. It would be tragedy if we didn't share this knowledge! We've listed everywhere we went below, but if you would like to do the tour too – we booked this one, by Viator. It's approx £122 per person, but covers all food and drink, plus a boat ride. It's about 2.5 hours long but we honestly felt it was worth the cost. Not only does it cover food, but they give details on history and more. It's one of my favourite tours I've ever done!
If you're on a budget and can't do the tour, then we recommend you follow this specific order. As a guide, start at the Pescheria del Mercato di Rialto (the fish market).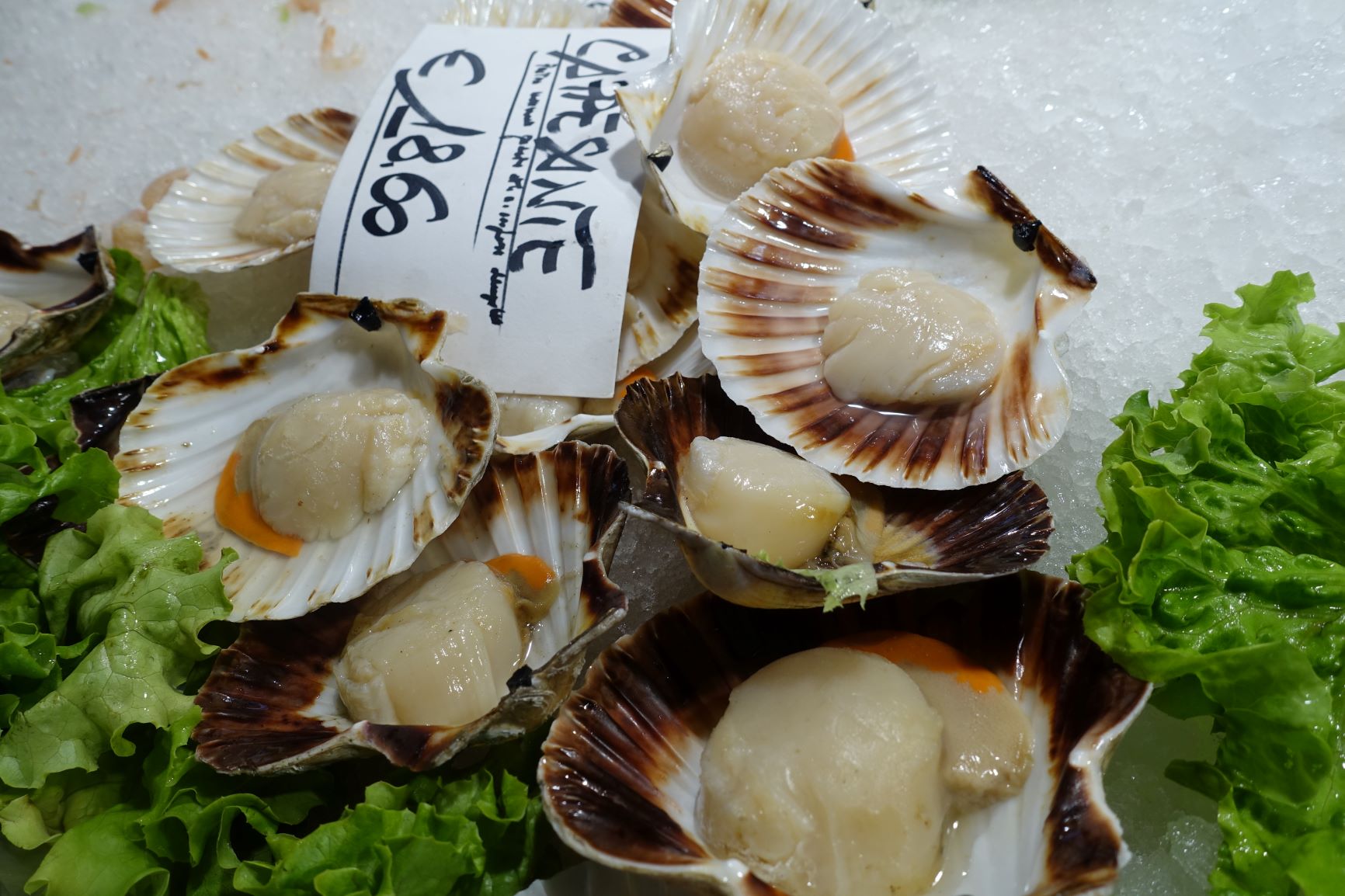 The entire tour in the below order takes you towards the main, (busy) Rialto Bridge at the end. The next thing I recommend is that sometimes these places don't look like much from the outside. I recommend grabbing a drink or two, and just one or two ciccheti in each one – and then moving on to the next bar!  Part of the beauty of Venice is getting lost inside it, so when you're hanging outside these bars, some of which are under cobbled streets, just blend in and hang outside with the crowd. You'll see locals smoking, chatting or walking their dogs. We found lots of them to be friendly, so take in any advice you're given and allow yourself to fall in love with how enchanting and surprising the city can be!
"Part of the beauty of Venice is getting lost inside it."
Cantina Do Spade
One of the oldest Osterie in Venice, and unmissable. Try the calamari for €3, or baked sardines for €1.50.  Their Polpetta di tonno (fried tuna meatballs), at €2 are pretty tasty too.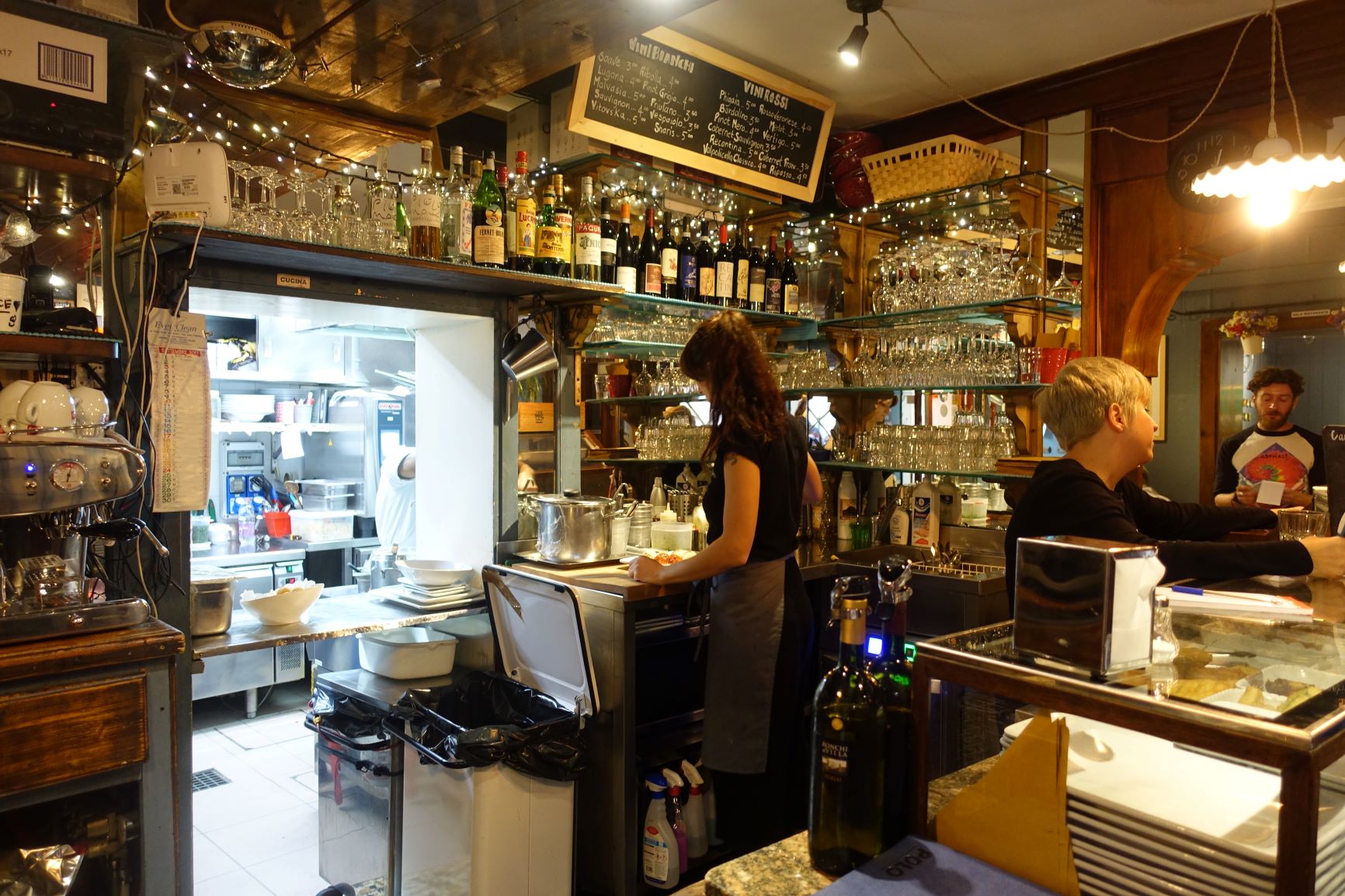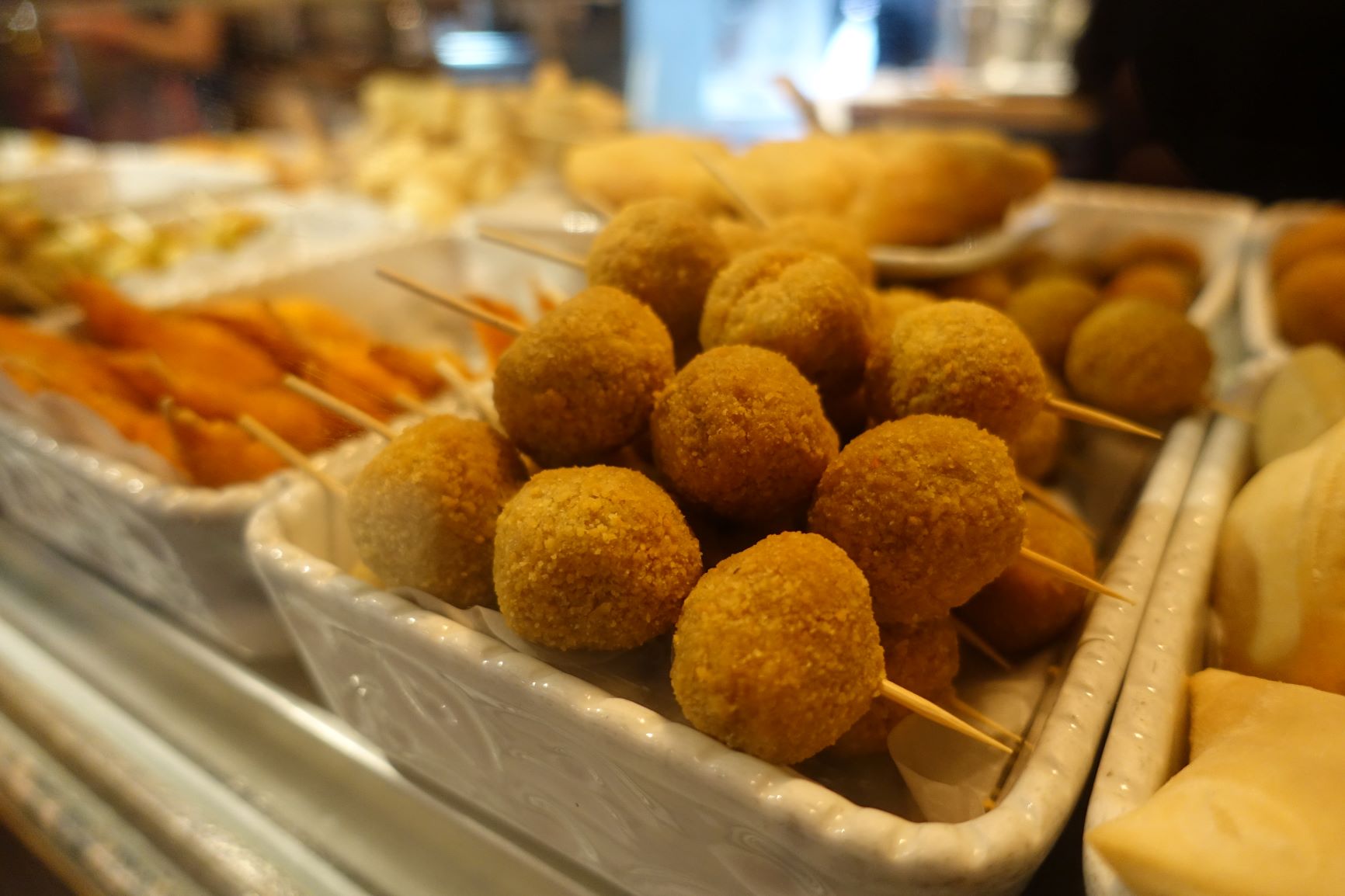 Cantina Do Mori
An ancient looking bacaro with lots of history. It was founded in 1462, apparently! Once you are inside, look around. There are documents hangings on the wall, copper pots on the ceiling, and very old bottles of wine covered in dust. Ciccheti is again between €1.50 and €4 with delicious house wines at an equally delicious price.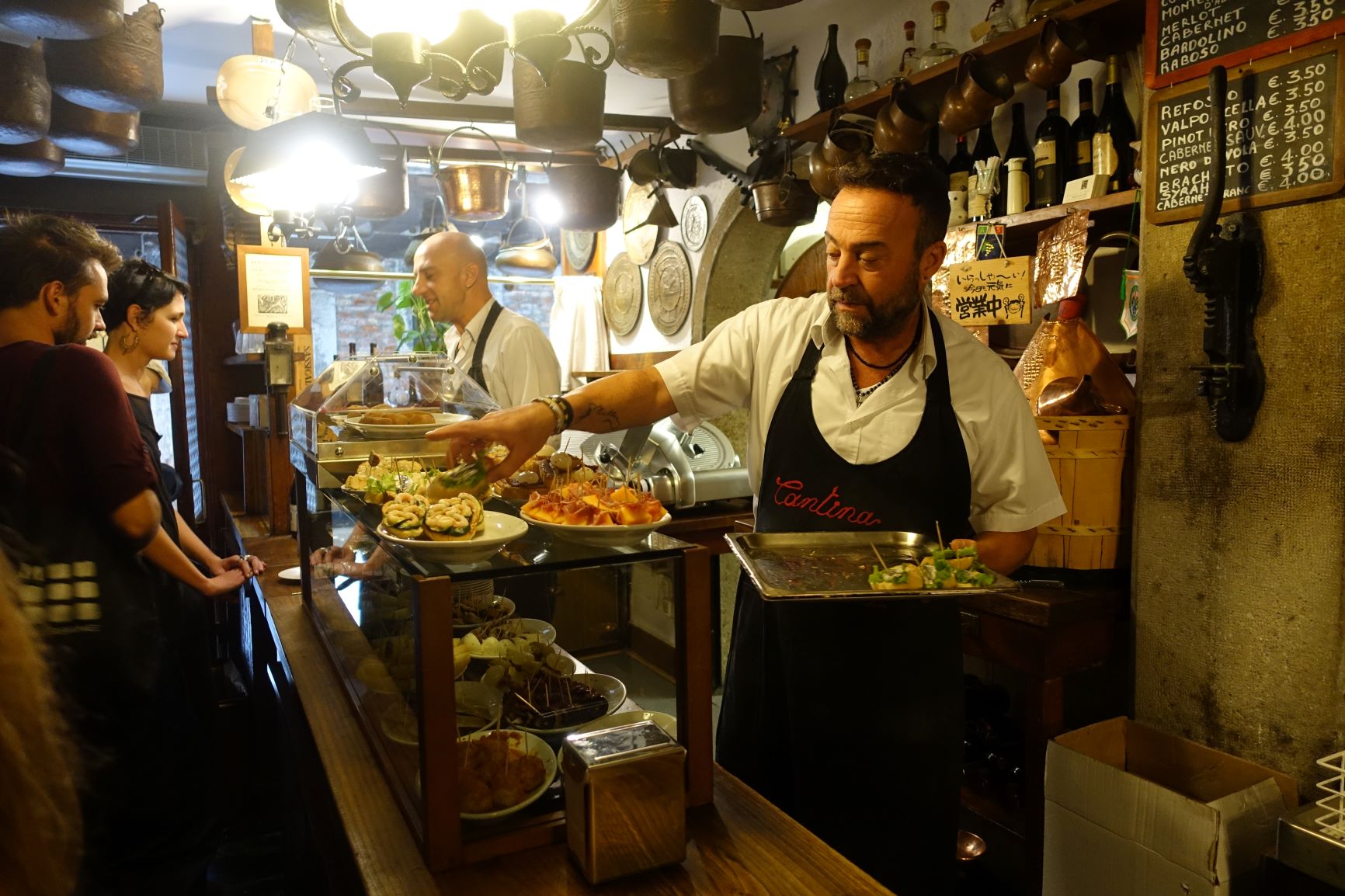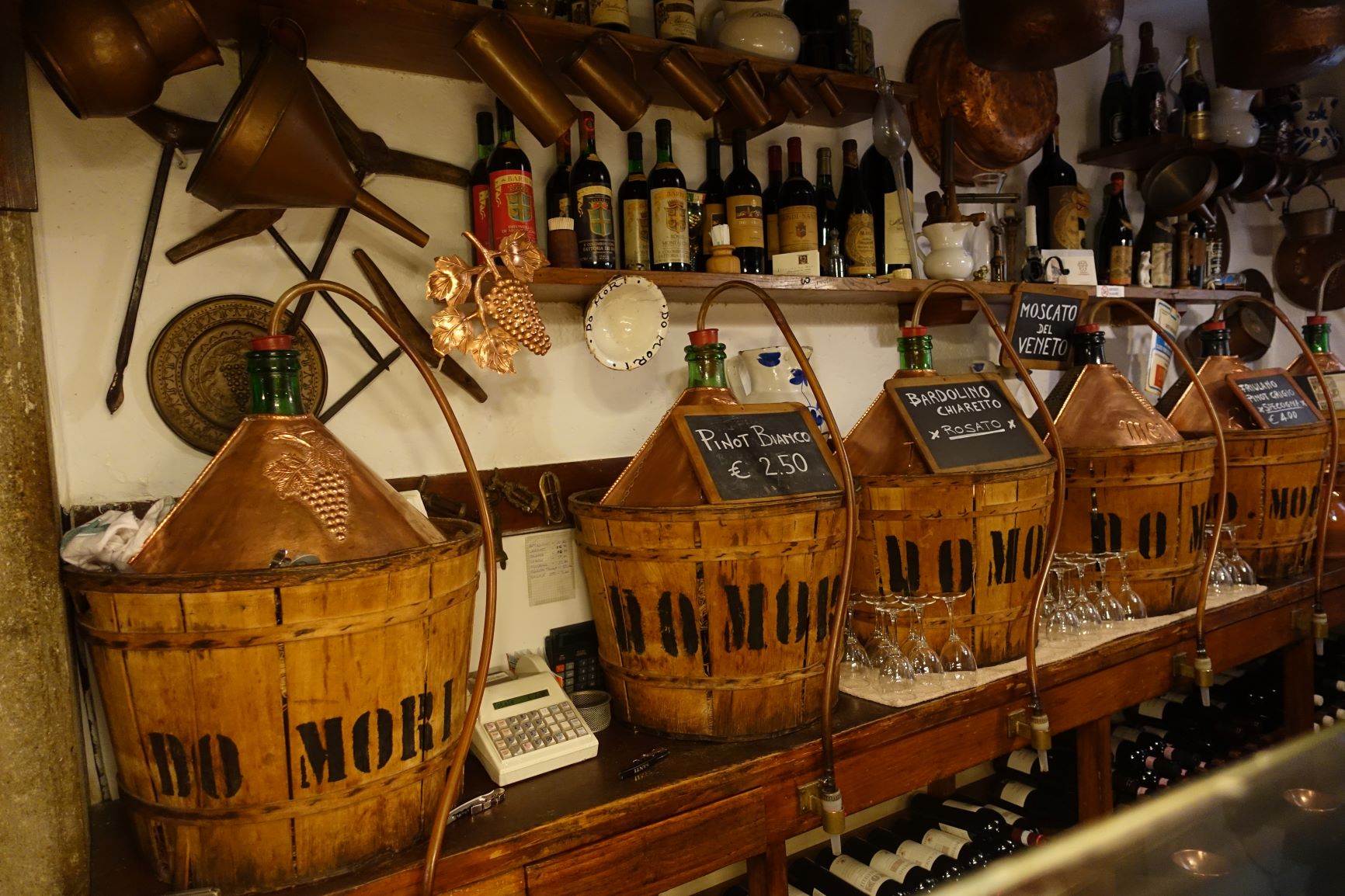 Alla Ciurma
Another hidden gem, and the first thing to note: this place is not well marked so you might walk right by it! There's a ship sign marking the small Osteria, and you'll see the actual sign, "Osteria Alla Ciurma" upon poking your head in. It's very small, and the interior only has a handful of tables. Most people will stand outside, so a good way to spot it is by seeing a little buzzing group! The menu isn't as vast, but the things you'll eat are nothing short of outstanding. The prices are again, reasonable. €2.50 for the house wine and €1-2 for the cicchetti. While it may be a bit hard to find, Osteria Alla Ciurma is totally worth looking for. Last tip: Make sure you try the La Salute Vino Frizzante. Chilled sparkling red wine perfection!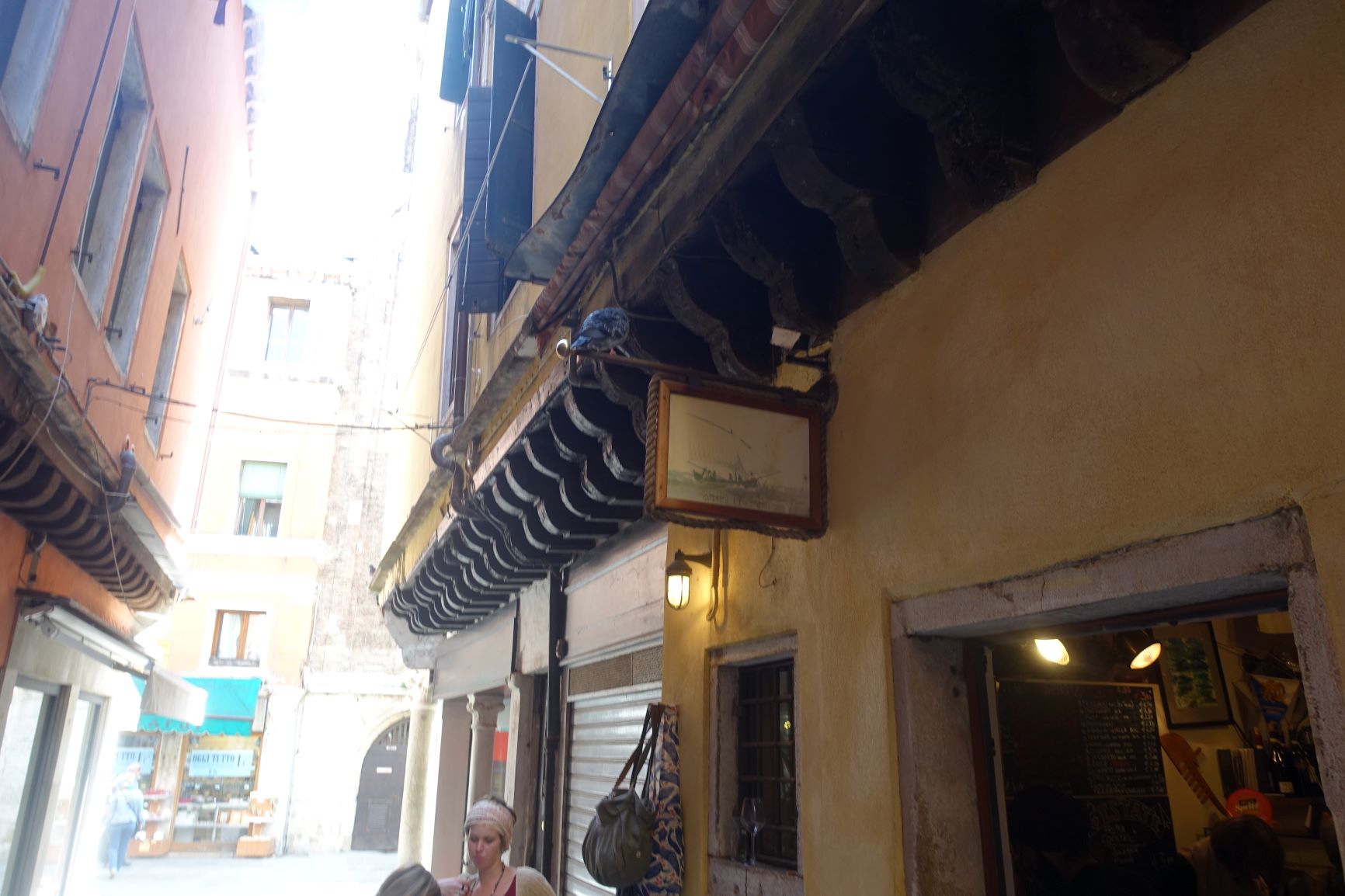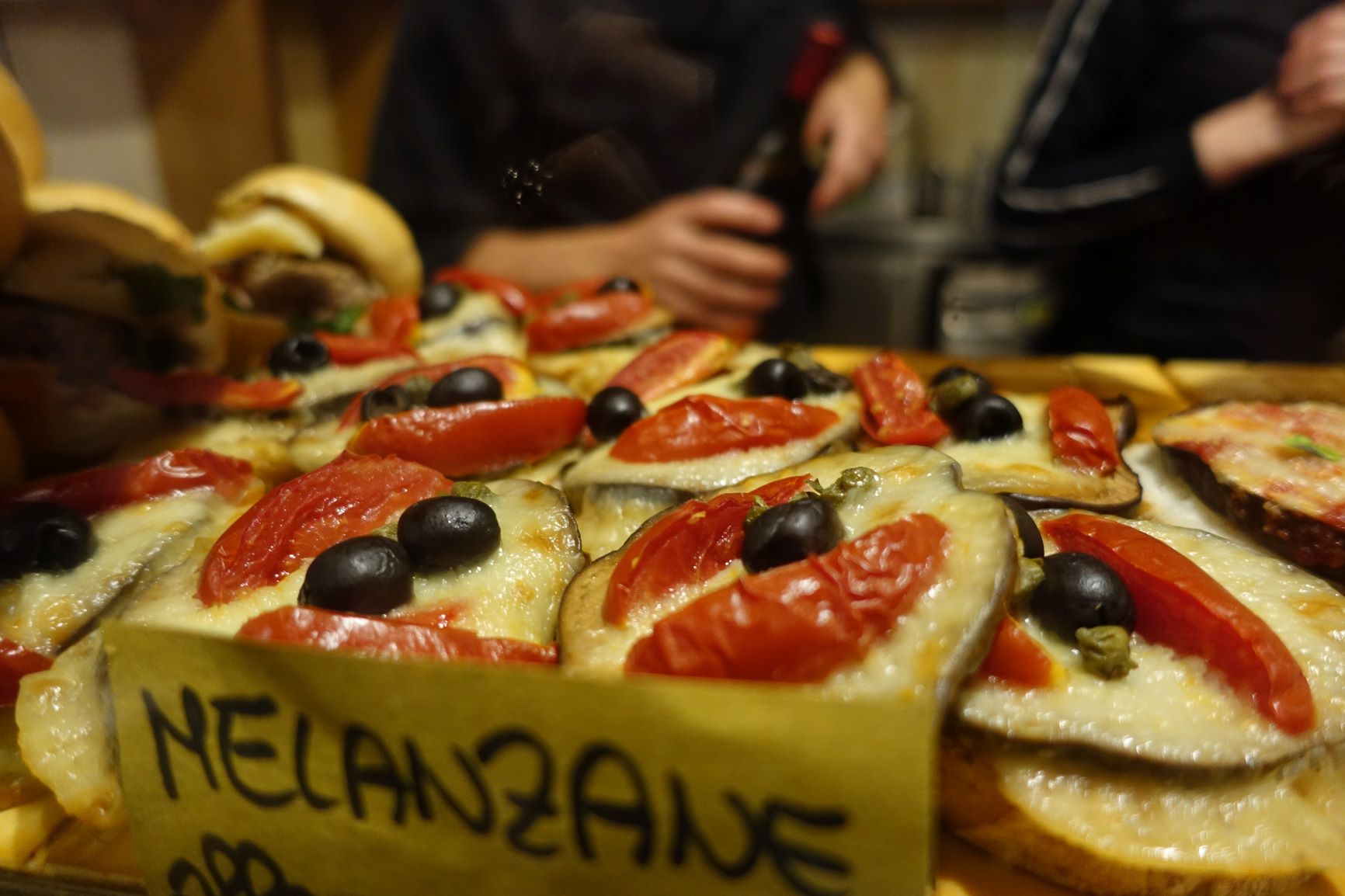 Osteria Al Sacro e Profano
I loved the atmosphere sitting on bar stools around tall tables here, but it's another place that is hidden in Venice's side streets full of character. As a tourist, you may miss it or be put off by large groups of people hanging around outside – but don't be! This place has an incredible selection of snacks and really gave us the full Venetian vibe!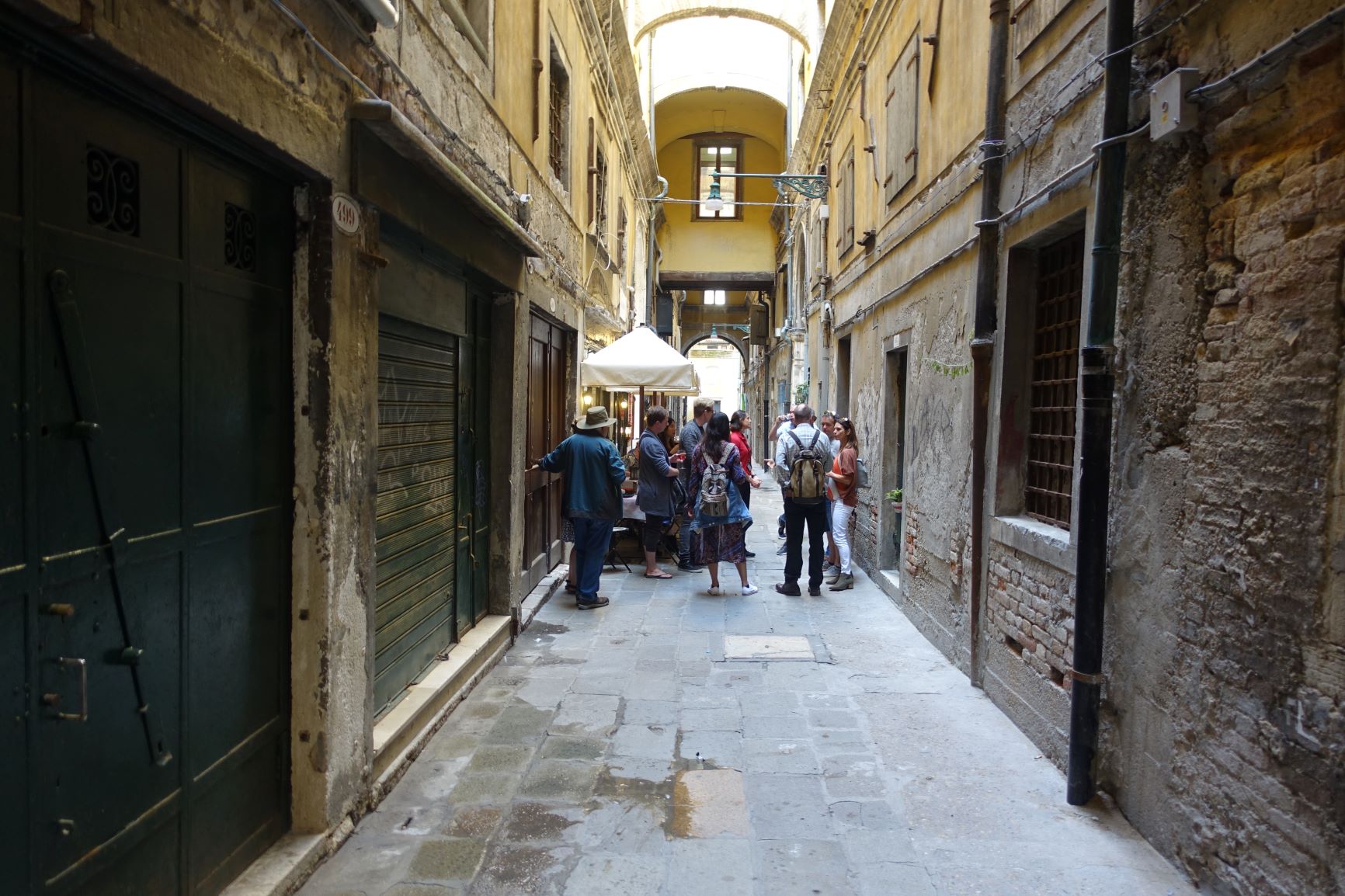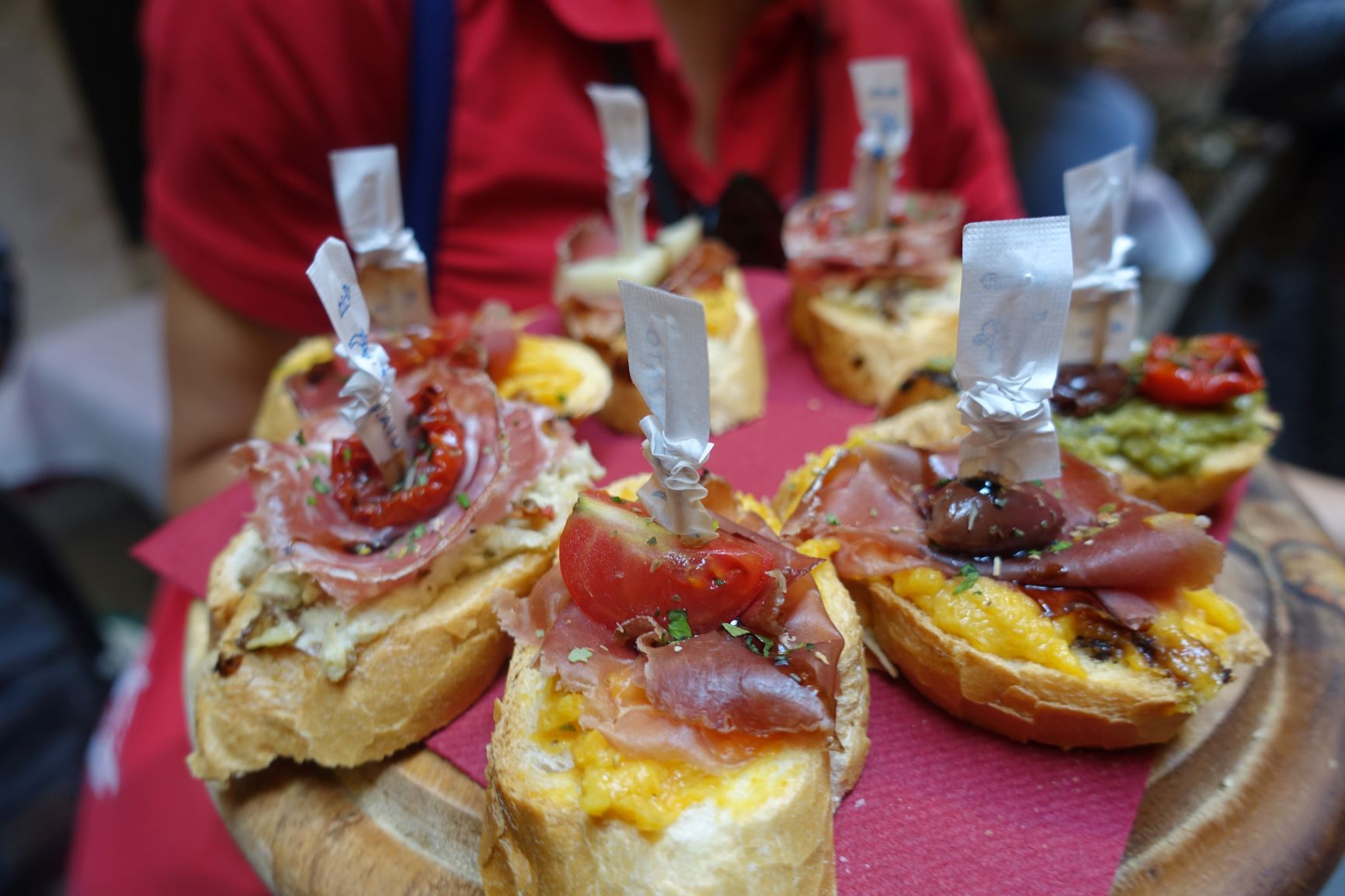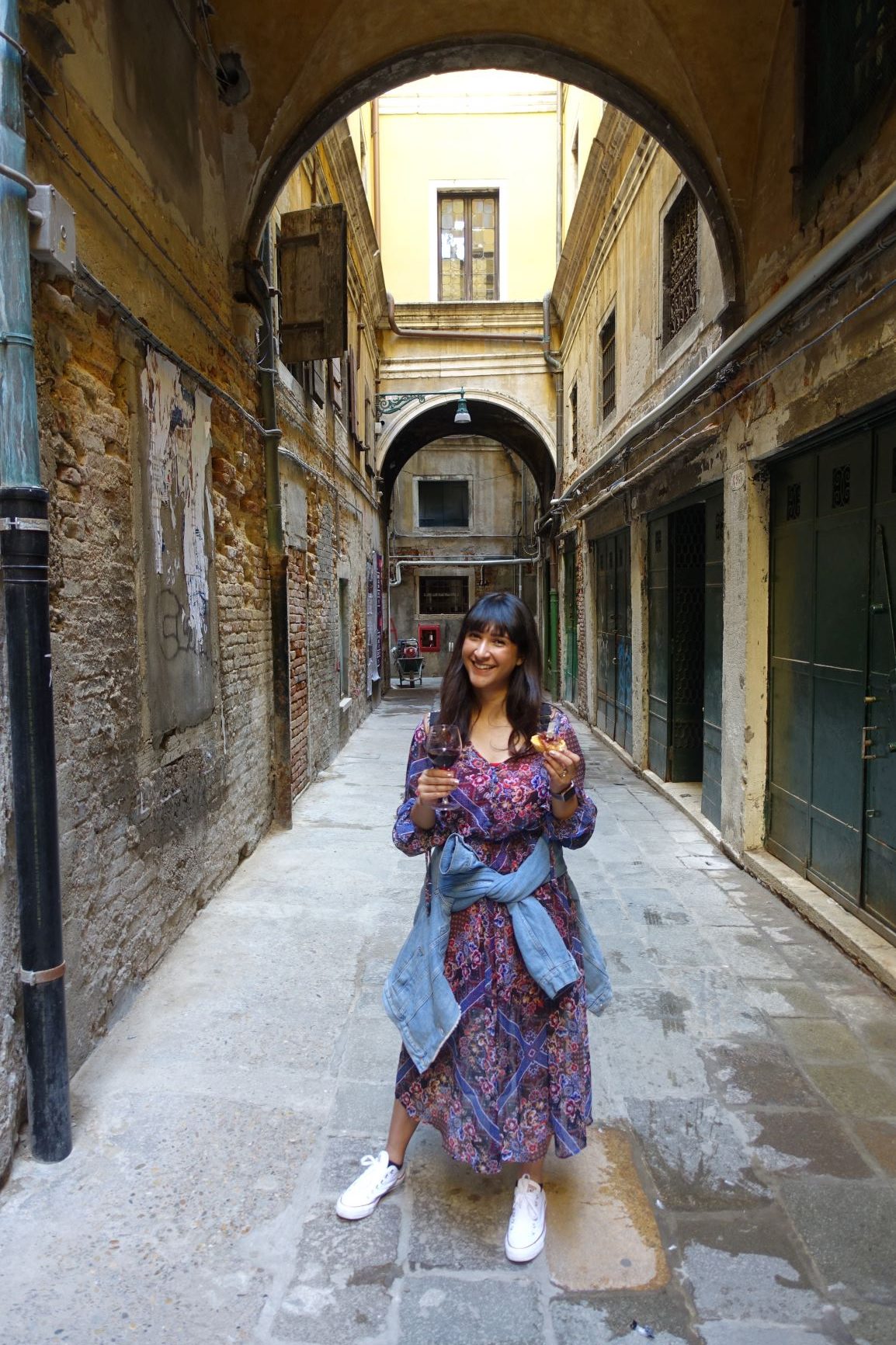 Burano
Trattoria Da Romano
Between Burano and Murano, we spent most of our time wandering colourful Burano and worked up an appetite. After some research, we went for this lovely spot and have zero regrets! It's a family run restaurant lined with stunning paintings. You can peek your head round and see them making all the food fresh. There was LOADS of seafood options, which I love and the desserts simply blew my brain.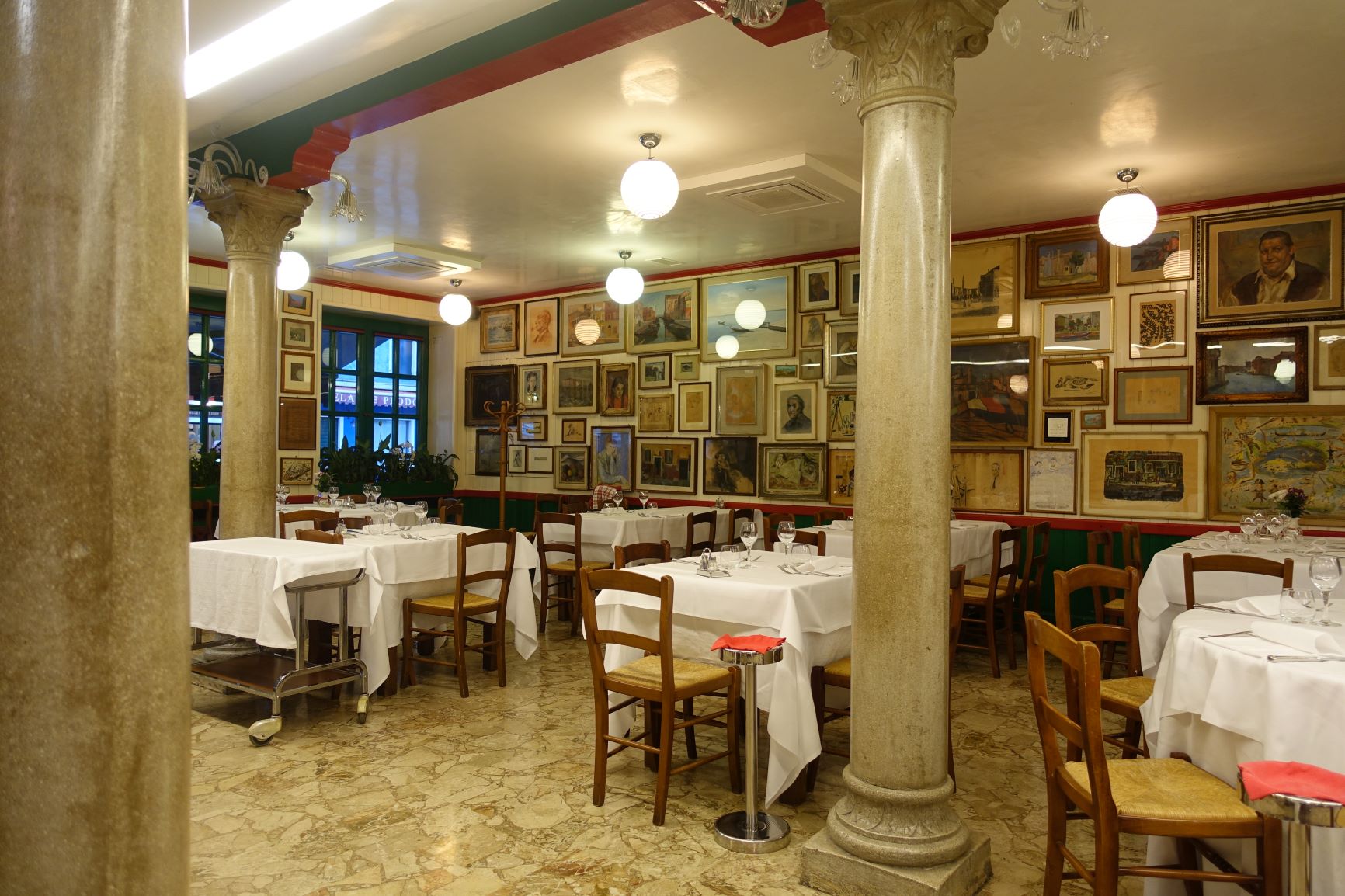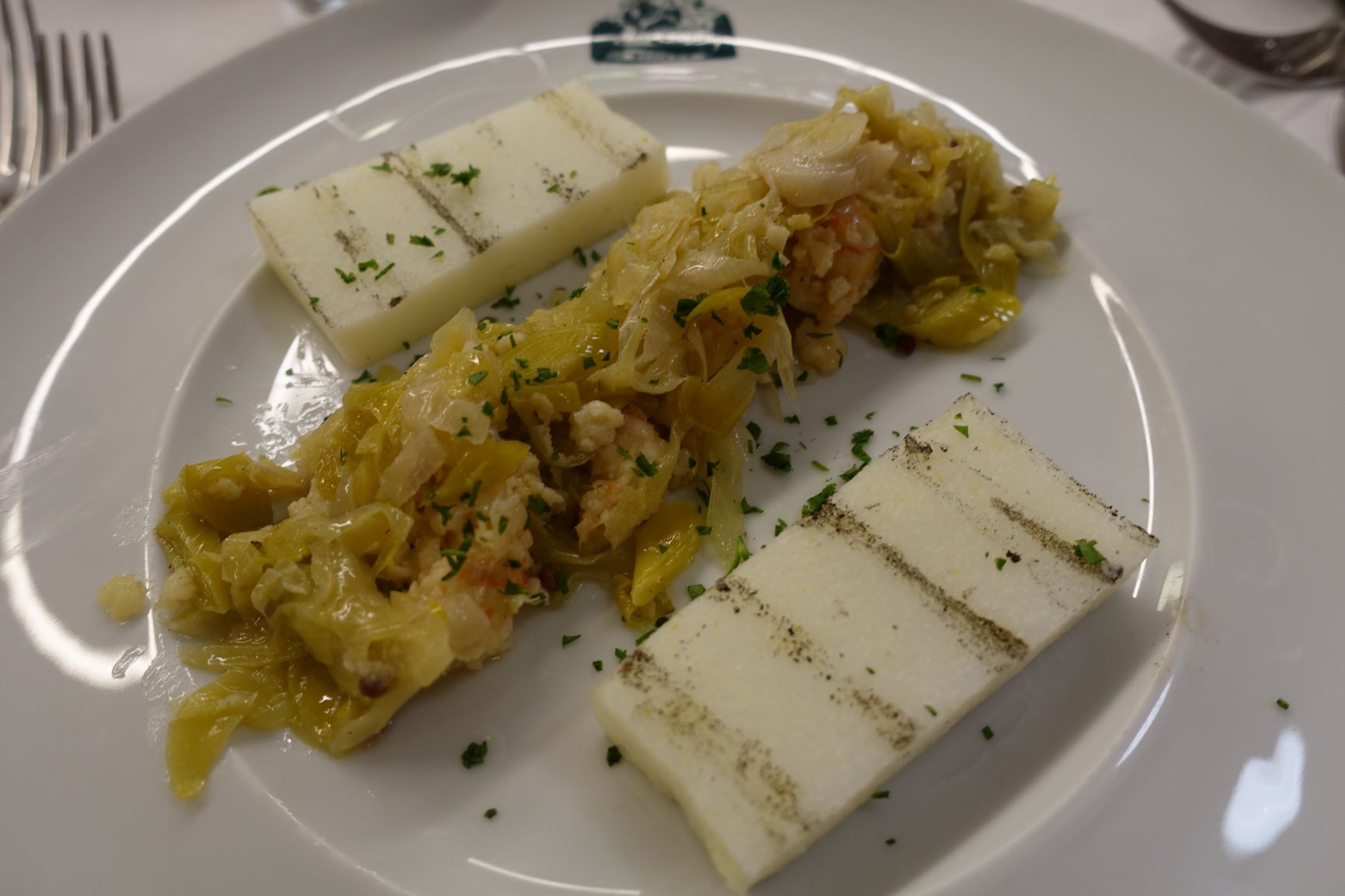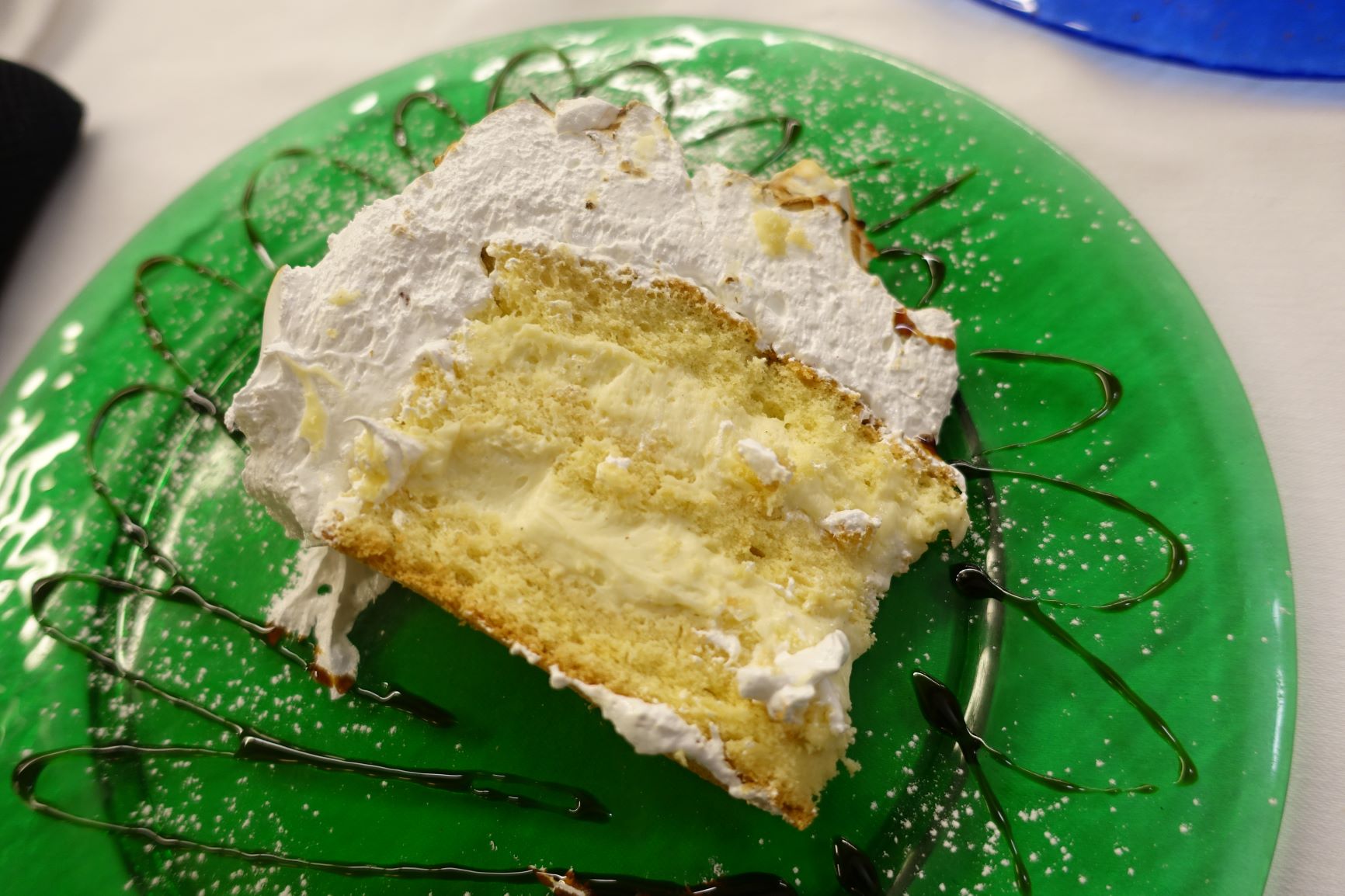 As with lots of countries in Europe, always check on timings. Italy/Venice restaurants have strict opening times for lunch, then they shut completely until dinner time in the evening.
I can't wait to go back!