I love a good Google Doodle, but was particularly thrilled to see it celebrating one of the most satisfying cheeses on earth: Camembert.
Marie Harel is the inventor of Camembert cheese and today, April 28th – marks her 256th birthday. Google is honouring her by telling the story of one of France's most popular cheeses going as far back as 1791, when Harel was a 30-year-old dairymaid in Vimoutiers in Normandy, northern France.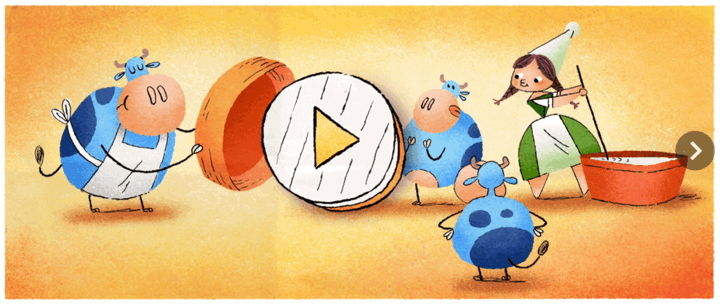 As if we needed anecdotal evidence that cheese brings light to even the hardest of times – legend has it that a priest from the northern region of Brie fled the anti-clerical French Revolution that was sweeping the country, took shelter near Vimoutiers and taught Harel how to make the soft cheese famous in his home region. Not wanting to copy Brie, Harel added her own twist on the recipe, making her Camembert cheese in smaller wheels and without added cream. She packaged the finished product in thin, round, wooden container which we all love and know internationally. Since then, Camembert became a firm fixture in French culture (as well as my fridge). Wheels of it were issued to soldiers fighting in World War I and Harel's famous container also made Camembert ideal for transporting across the Atlantic, where it found a new stateside following.
You can check out the Google Doodle today which features a slideshow illustrating how the cheese is made, step by step.
Happy Full Fat Friday!