Following on from my review of our Mozzarella making fun at Wildes Cheese, we came home armed with balls and balls and balls of cheese. What better way to put this to use than testing it out in a delicious pie carved into scrumptious crusty bread and stuffed with the finest ingredients we could find?
For this recipe, I mostly sat back taking photos and snacking on the ingredients whilst my husband Michael did all the hard work –  so don't worry I've not changed ethnicity with massive hairy hands.
Preparation time: 15 minutes.
Cooking time: 30-40 minute bake.
You will need:
Some decent bread, pre-made or if you're a particularly good baker, make one yourself!
2 balls of mozzarella or 1 massive ball
Large handful of fresh basil
1 pack of proscuitto
1 pot of pesto, pre-made or home made
Handful of cherry tomatoes
Jar of jalapeño peppers
Tomato chutney or salsa (admittedly we had none in the house so settled with none other than Doritos Salsa)
Cooking foil
And that's it!
To be honest though, stick in whatever tickles your fancy. Different strokes for different folks.
Method
We begin with the cutting of the bread. Use a sharp knife to really get in there. but make sure you don't cut out to the bottom of the bread. You're only make incisions so that you hit just past the middle!
After you cut it, give it a little push from the bottom like the following picture to make sure the cubes all fan out with plenty of space to stuff your ingredients!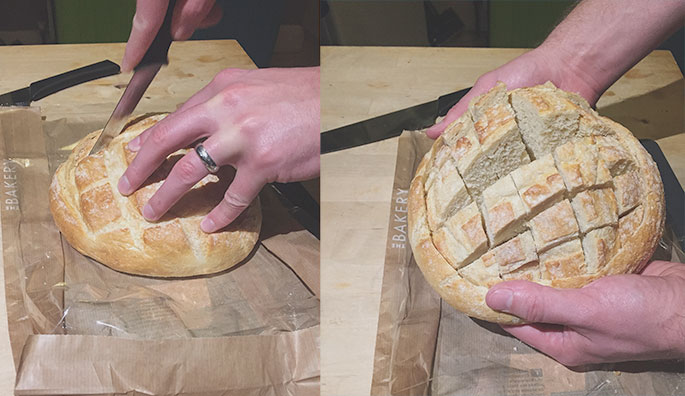 Now get going with the ingredients. Wash and chop the basil. Or just tear it with your hands as that would probably be easier.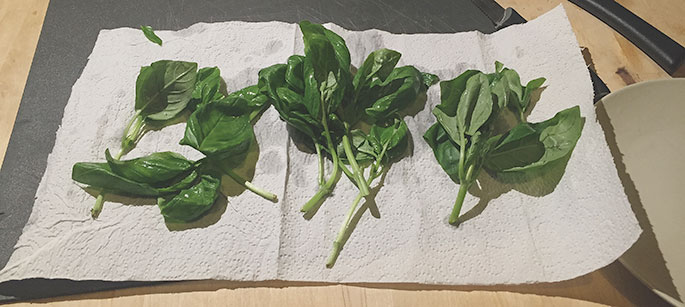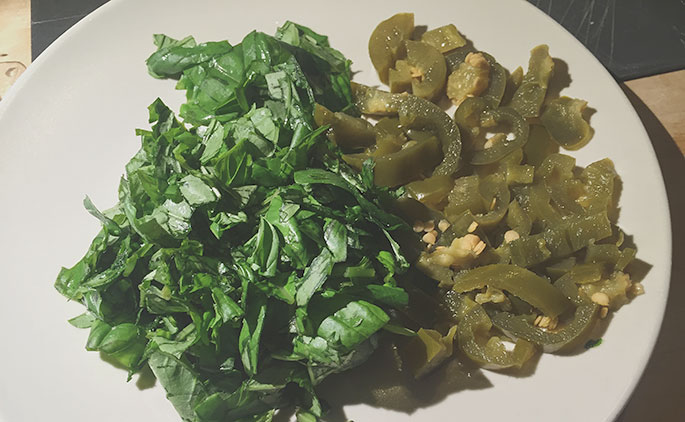 Drain the desired amount of jalapeños from the jar.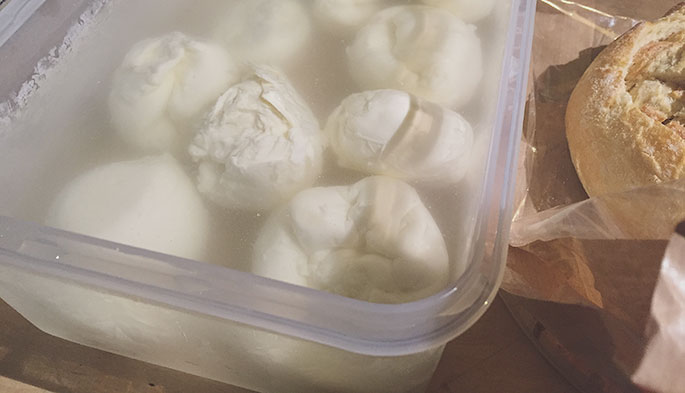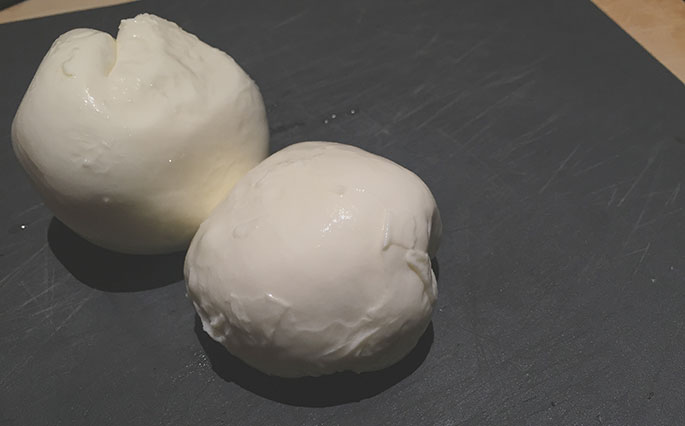 We selected our 2 favourite mozzarella balls from the many we made for this. Find the right ones, and slice!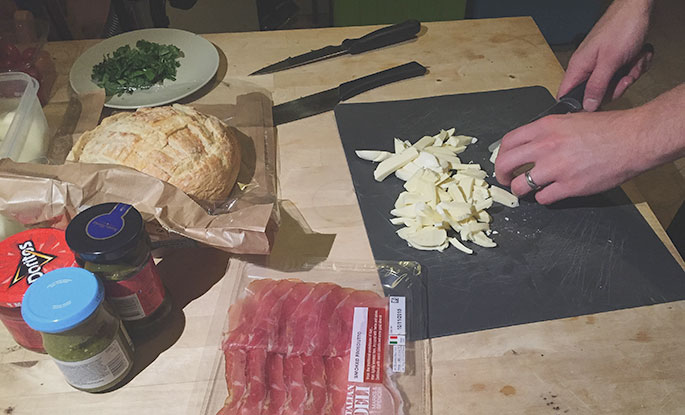 Slice up the cherry tomatoes!
Carefully part the bread like a doughy gorge. Or like a delicate flower. Whichever simile you prefer.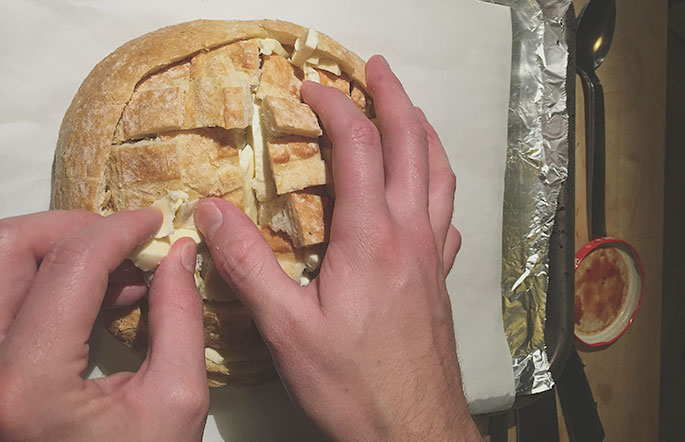 Using your fingers, get stuffing. Start with the main ingredient of course! CHEESE!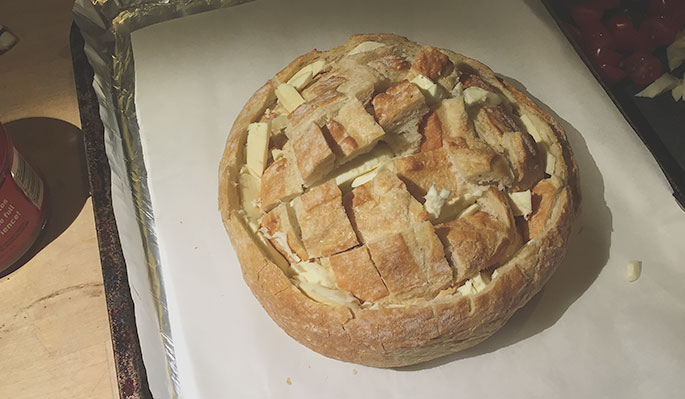 Don't be afraid to get your fingers right in there. You'll be doing a lot of stuffing.
Next, the basil! We sort of sprinkled and decided to push it in with our fingers after. Add the jalapeños, preferably also chopped.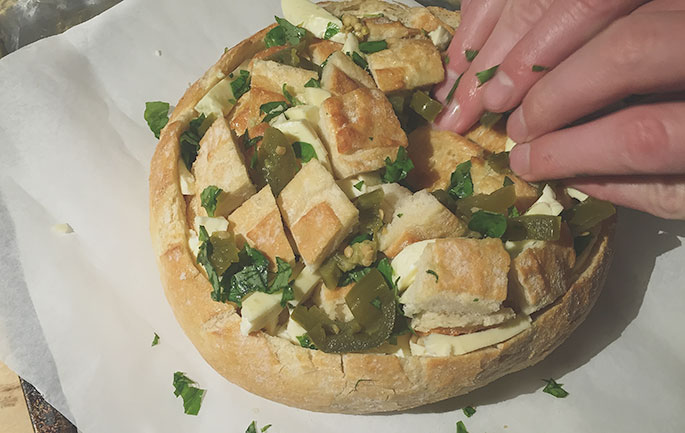 Then those delicious juicy cherry tomatoes go in, and a few dollops of salsa or tomato chutney. As mentioned in the ingredients list, we settled with Doritos Salsa for nachos. Use whatever is in your fridge though! You can posh up or posh down.
Now, start pushing in some proscuitto in the available space. Be generous.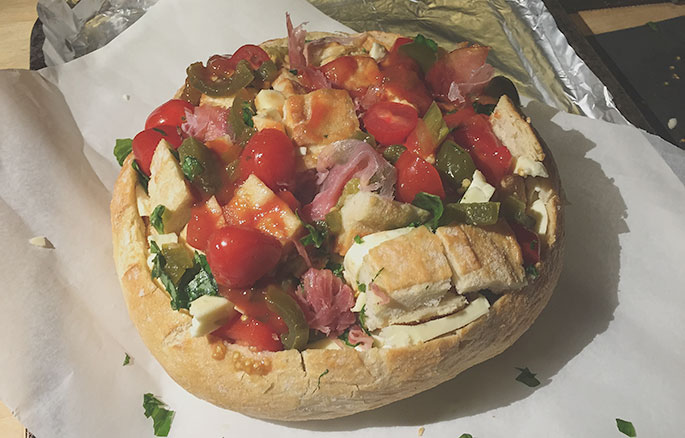 Then shove the remaining mozzarella on top. This is a cheese pie after all and you want that gorgeous golden gooey texture on top. Finish by glazing with pesto! Slather it on according to taste, but I absolutely love pesto so wanted to use a lot of it – all over.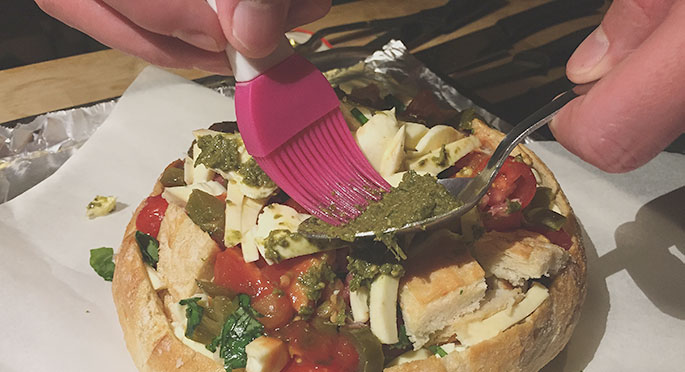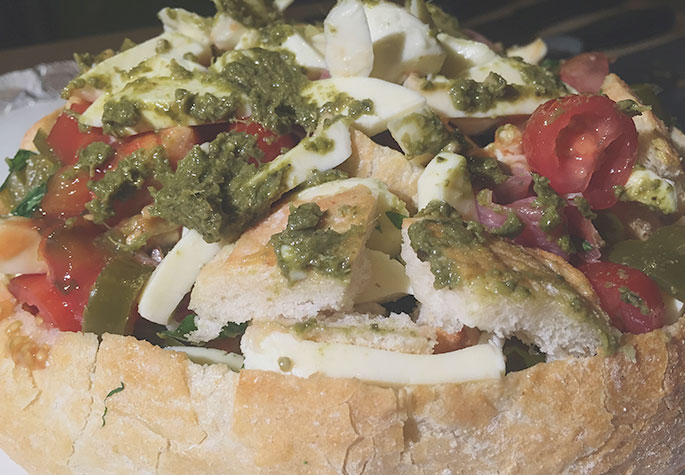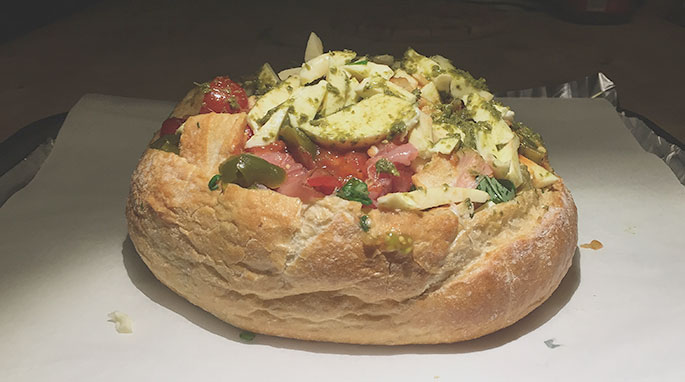 From here, we move on to the baking part! For this you will need your cooking foil, cut big enough to completely wrap around the now cheese pie. We're covering it in foil so that the cheese that's been shoved right through to the inside of the bread melts perfectly – encapsulated in heat.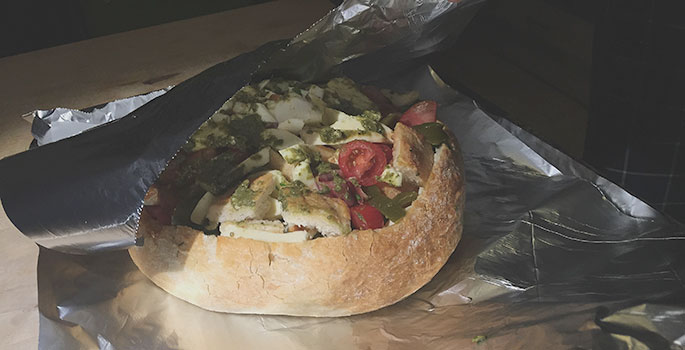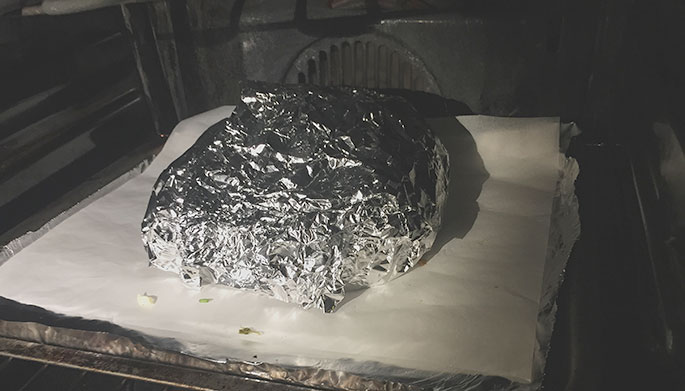 For the last  5-10 minutes you can remove the foil from the top so the cheese can get golden.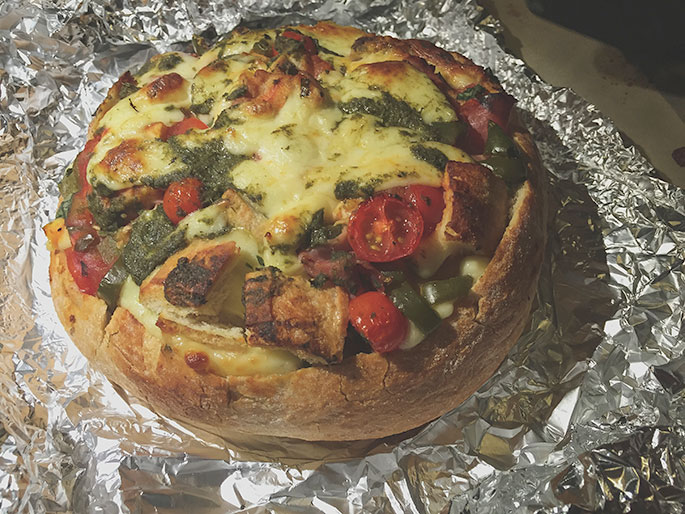 AND VOILA! A perfect melting, oozing, bursting with flavour cheese pie waiting to be attacked by my fork.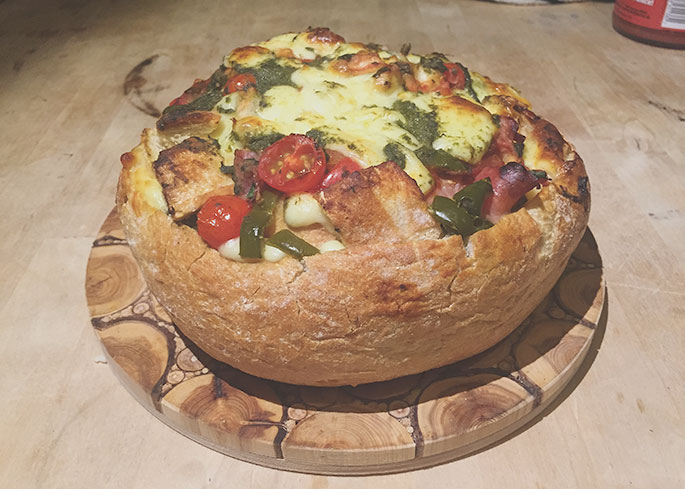 Now, eat this however you must, but may I suggest making it a bit more fun than just cutting up a slice?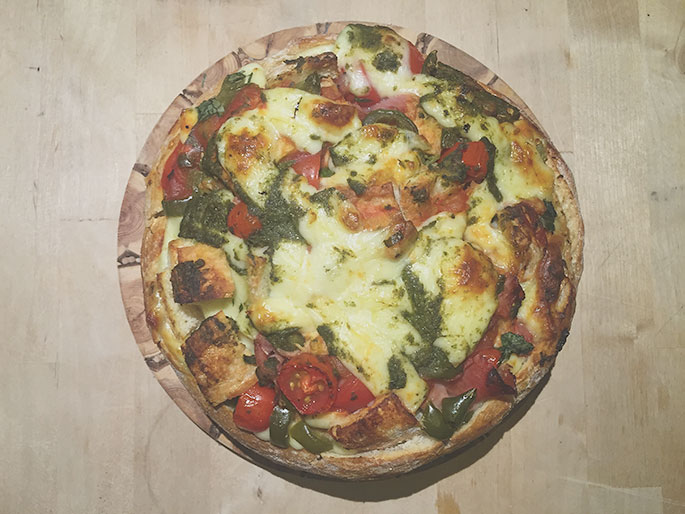 I love dinners where every one gets to dig in. From raclette, to melted camembert. I just love the dipping, pouring nature of having friends around the table tucking into a wholesome meal. This is perfect for serving with friends.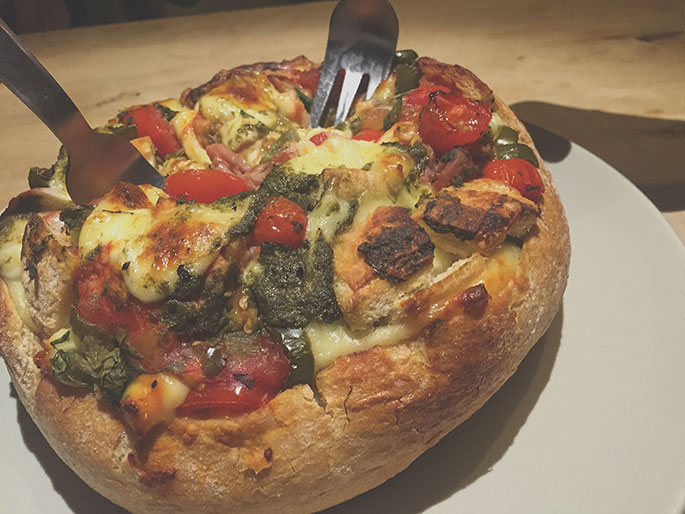 Get stuck in with a fork and watch as that beautiful home made mozzarella stretches straight into your mouth.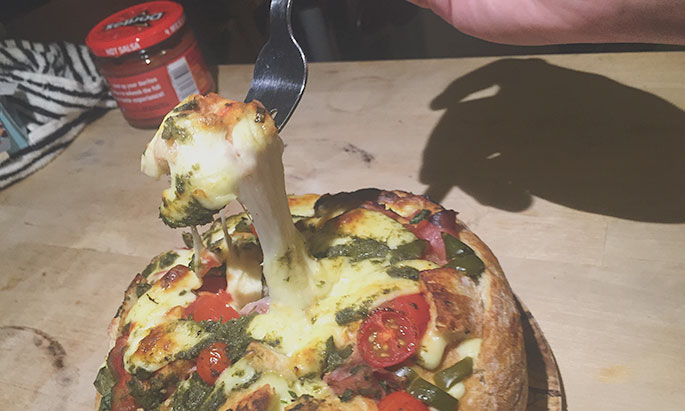 Michael enjoyed it so much he didn't speak to me for the entire dinner.
Going
Going
Gone.
When you're finished with the pie, you can tear up the base and dip into salsa!
Yummmy
If you try this out, let me know what flavour combos you go for in the comments below!
I'm thinking this could be an incredible dessert too. Marscapone and chocolate anyone?