Move over Big Mac, meet the Big Black! Grill My Cheese in London have whipped together a special for National Grilled Cheese Day, so we paid them a visit for a taste test!
The striking creation features activated charcoal bread, Rubies in the Rubble blueberry chipotle barbecue sauce and cheese specialist Norseland's new Ilchester Black Cheddar Total Eclipse slices. The colour of the cheese is from a combination of carob and cocoa powder, and tastes pretty good! Carob comes from the pod of the carob tree which is native to the Mediterranean. The ripe pods contain a sweet pulp that is dried and roasted and then ground into a powder. When heated it melts perfectly.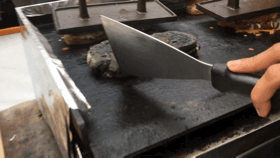 Grill My Cheese co-founder Nishma Chauhan explains, "When Norseland approached us with the idea of an all-black cheese toastie we were intrigued yet a little perplexed. Once we tried the black cheddar slices we knew we could make their idea work. With the chewiness of the charcoal bread, smoothness of the black cheddar and the fruity hit of the black blueberry BBQ sauce, it just worked."
"It might look different, and it does taste different, but for anyone who is a fan of the dark side, it's a toastie you won't forget."
Overall the sandwich was beautiful to look at, and the blueberry BBQ sauce was the perfect marriage for the cheddar. I'd be happy if this was a permanent addition!
Available today at Grill My Cheese's site at Leather Lane, London costing £5! Visit Grill My Cheese Leather Lane, London EC1N 7YH